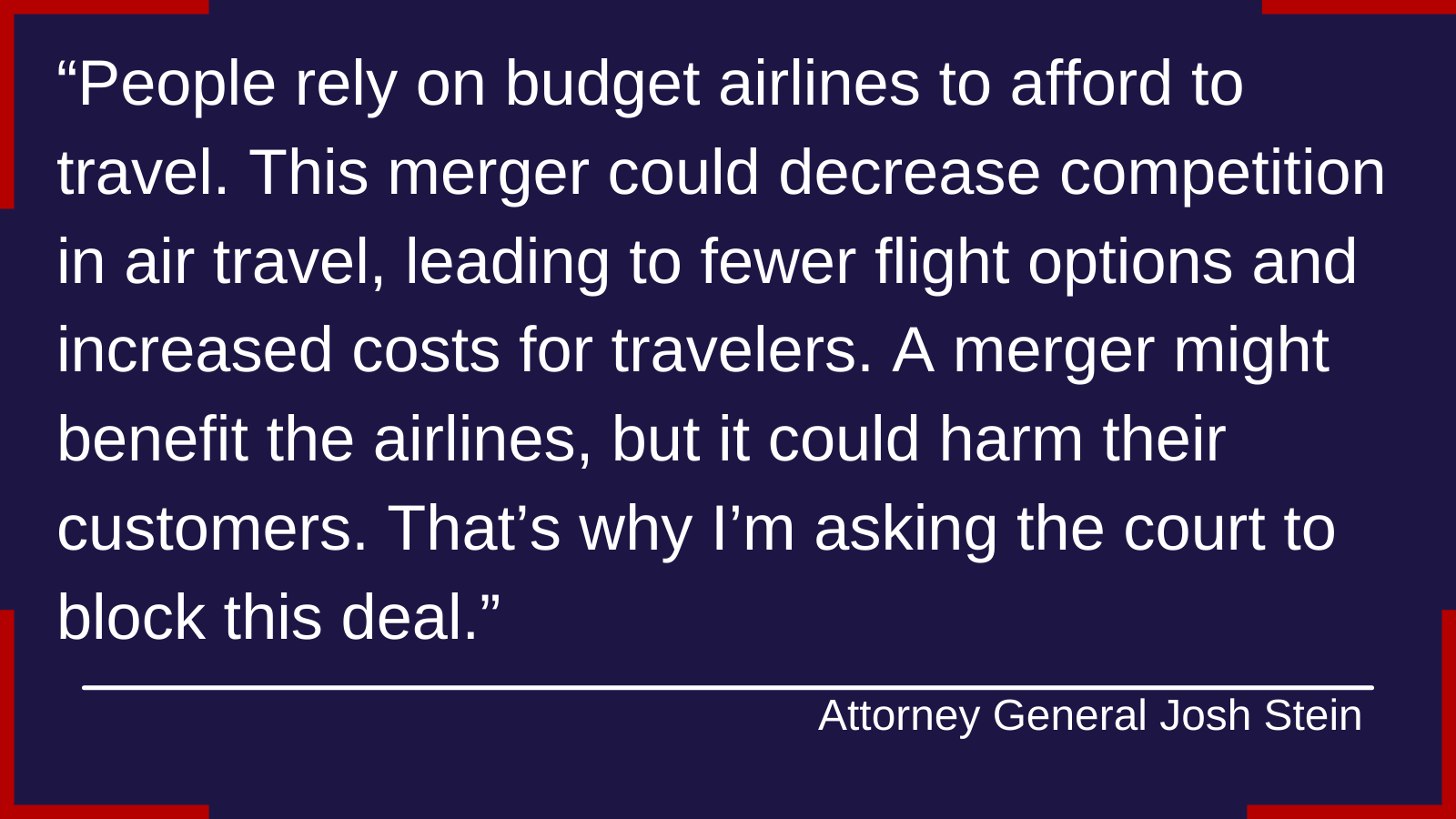 For Immediate Release:
Friday, March 31, 2023
Contact: Nazneen Ahmed
919-716-0060
(RALEIGH) Attorney General Josh Stein today filed an antitrust lawsuit to block JetBlue's takeover of Spirit Airlines, alleging that this deal would lower competition and could increase costs and harm reliability for fliers.
"People rely on budget airlines to afford to travel," said Attorney General Josh Stein. "This merger could decrease competition in air travel, leading to fewer flight options and increased costs for travelers. A merger might benefit the airlines, but it could harm their customers. That's why I'm asking the court to block this deal."
JetBlue is proposing a $3.8 billion hostile takeover of Spirit Airlines. Spirit is the largest and fastest-growing budget airline. When it offers flights to and from certain destinations, other airlines often end up lowering the cost of their own flights as a result, which gives customers more affordable flying options. If JetBlue buys Spirit, it will create a larger airline that has less incentive to offer cheap flights, making it easier for all airlines to increase their prices. JetBlue and Spirit have multiple routes flying in and out of North Carolina, including two popular flights to Miami-Fort Lauderdale originating from Greensboro and Raleigh.
In filing today's complaint, Attorney General Stein joins the U.S. Department of Justice and the Attorneys General of Massachusetts, New York, the District of Columbia, Maryland, New Jersey, California, and Connecticut.
A copy of the complaint is available here.
###