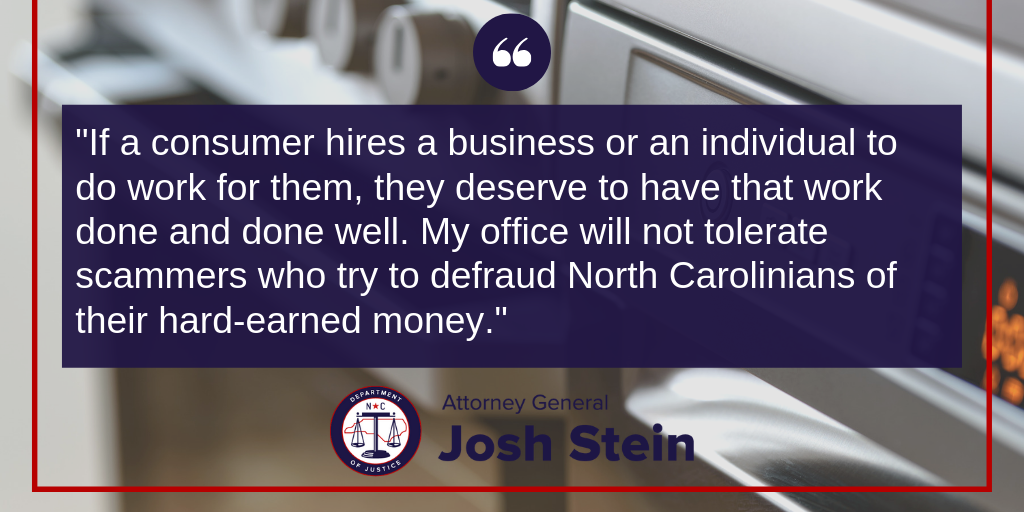 (RALEIGH) Attorney General Josh Stein today filed a lawsuit against Charlotte-area repairman John Jackson and his companies Appliance Maxx, Appliance Max LLC, Professional Appliance Service, Rapid Response Appliance Repair, All Seasons Refrigeration Heating & Cooling, and Star Appliance & HVAC LLC. The lawsuit alleges that the defendants perpetrated an appliance repair scheme that violated North Carolina's Unfair and Deceptive Trade Practices Act.
"If a consumer hires a business or an individual to do work for them, they deserve to have that work done and done well," said Attorney General Josh Stein. "My office will not tolerate scammers who try to defraud North Carolinians of their hard-earned money."
Attorney General Stein began investigating Jackson after receiving 12 complaints related to Jackson and his businesses from consumers in the Charlotte area. The lawsuit alleges that Jackson was engaging in an ongoing appliance repair scheme. When hired, he would perform a sham inspection of the appliance and either pretend to fix the problem or tell the consumer that a new part was needed for repair. Jackson demanded payment for the repair, which never occurred, or the new part and then left without actually fixing the appliance.
Because Jackson used multiple business names and personal aliases, consumers weren't able to get accurate information when they were researching him and his companies before hiring.  As a result, there may be more customers who have been impacted by this scam. Anyone who believes they have been the victim of a scam by these defendants or any other should file a complaint with Attorney General Stein's office here.
Attorney General Stein is seeking a temporary restraining order, preliminary injunction, other injunctive relief, civil penalties, restitution for victims, and attorneys' fees.
A copy of the complaint can be found here.
###