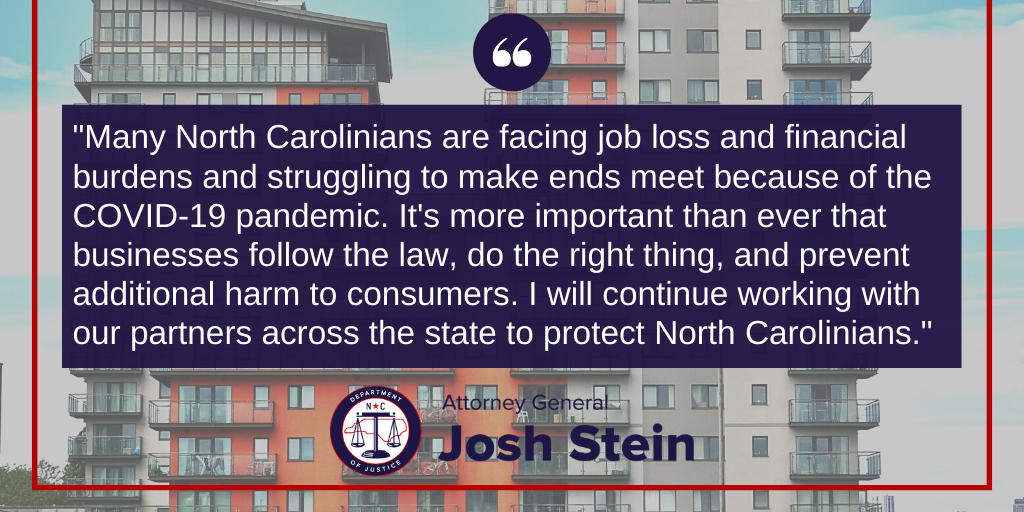 For Immediate Release:
Friday, April 3, 2020
(RALEIGH) Attorney General Josh Stein today took steps to protect North Carolinians living in hotels and motels as their primary residence from being evicted during the COVID-19 pandemic. The North Carolina Department of Justice contacted nearly 100 hotels and motels in North Carolina after being notified by community partners that these businesses may be threatening to evict residents.
"Many North Carolinians are facing job loss and financial burdens and struggling to make ends meet because of the COVID-19 pandemic," said Attorney General Josh Stein. "It's more important than ever that businesses follow the law, do the right thing, and prevent additional harm to consumers. I will continue working with our partners across the state to protect North Carolinians."
The letter notes that "evicting these individuals without a court order may constitute violations of North Carolina's landlord-tenant and consumer protection laws." A North Carolina Court of Appeals ruling held that North Carolina's landlord-tenant laws also protect some individuals who use hotel and motel rooms as their primary residence. This does not apply to business travelers or vacationers, but often applies to individuals using hotels and motels as affordable housing. The landlord-tenant law deems it illegal to remove an individual from a dwelling without obtaining a court order enforced by the local sheriff's office.
In response to the pandemic, Chief Justice Cheri Beasley issued an order halting foreclosure and eviction hearings for 30 days. On Tuesday, Attorney General Stein worked with Gov. Roy Cooper to establish the Governor's executive order supporting Chief Justice Beasley's order, barring new eviction proceedings, and encouraging sheriffs to delay performing evictions on previously-issued eviction orders.
"People want to pay their bills – and if they can, they will and should," said Attorney General Stein. "But many North Carolinians have lost their jobs and their income. That is why I am asking landlords to work out payment plans for these tenants."
A copy of the letter is available here.
More on Attorney General Stein's work to protect North Carolinians during the COVID-19 pandemic:
Contact:
Laura Brewer (919) 716-6484
###