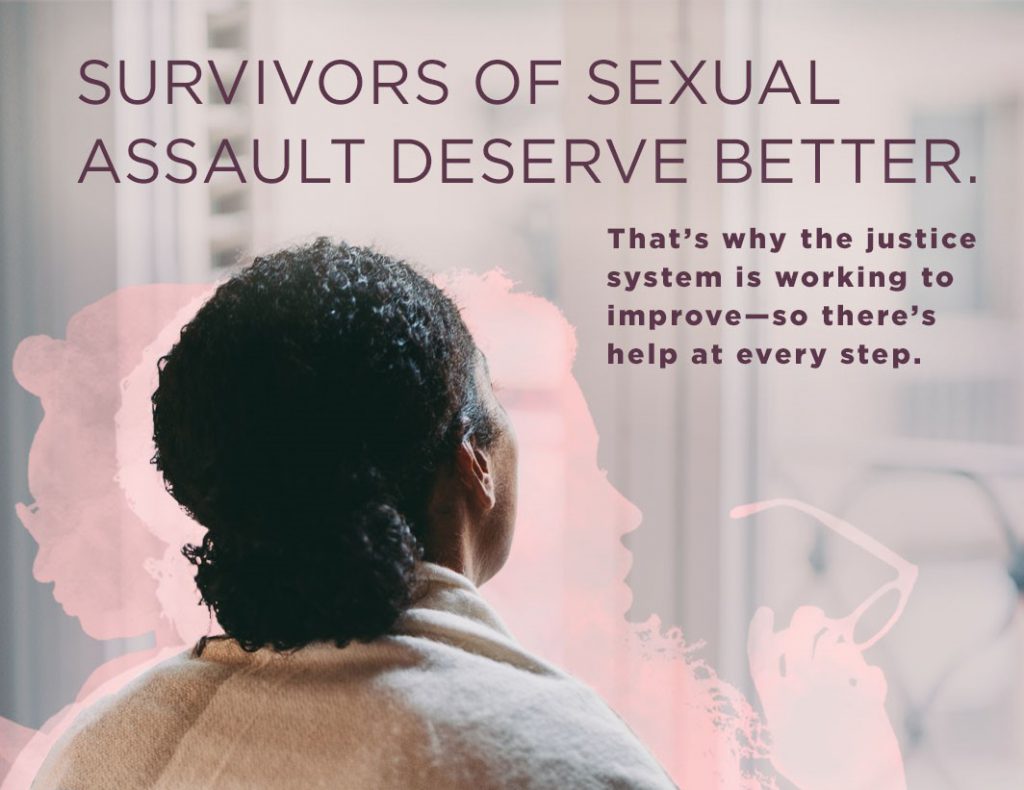 In North Carolina and across the nation, victims and survivors of sexual assault must navigate a series of obstacles in their journey through trauma, justice, and healing. No two victim-survivors share the same story, or the same journey.
But this much is clear: The criminal justice system must do better for victims of sexual assault. While we work to seek justice and hold offenders accountable, we cannot cause additional harm to those who have already suffered so much. The North Carolina Department of Justice and Attorney General Josh Stein are committed to improving the justice system so that there's help and healing at every step.
If you or someone you know is a victim or survivor of sexual assault, we hope these resources help you better understand the options available to you and how the criminal justice system is working to better serve you.
Our Work to Support Victims
The Department of Justice houses several departments that contribute to our work to confront the sexual assault epidemic in North Carolina. We support the investigation and prosecution of sexual assault cases, develop policy and legislation that gives resources and rights to victims and protects individuals from assaults, test sexual assault evidence kits, and educate the public about solutions and ongoing efforts to confront this heinous crime.
We are working to ensure that at every stage of the criminal justice process, we uphold our responsibility to victims by putting them at the center. And while we've still got work to do, we aim to make sure we help victims in a way that is informed by experts, sensitive to their experiences and backgrounds, and helps them wherever they may be in their journey.
This means having honest conversations about changing the culture around sexual assault investigations and prosecutions. Our office houses both the Criminal Justice Education Training and Standards Commission and the Sheriffs' Education Training and Standards Commissions. These commissions develop training standards and establish training topics for law enforcement officers. This includes providing training to law enforcement so they can conduct sexual assault investigations through a victim-centered and trauma-informed approach.
The State Crime Laboratory uses DNA evidence and forensic biology to establish links between alleged perpetrators of a crime and the evidence. Our experts conduct analysis of evidence and test sexual assault kits to aid law enforcement investigations and get justice for survivors and victims. Learn more about the laboratory's forensic biology and DNA testing, and learn what happens when testing kits results in a hit in the DNA CODIS database.
We owe it to every survivor to analyze the evidence in their sexual assault kit. The laboratory launched and began operating the state's North Carolina Sexual Assault Evidence Collection Kit Tracking and Information Management System in October 2018. The system ensures that survivors, law enforcement, medical providers, prosecutors, and laboratory personnel can see the status of their kit. This transparency helps ensure that survivors are not kept in the dark about their kit testing, prevents backlogs, and places greater accountability on criminal justice stakeholders.
Attorneys at the Department of Justice also work to uphold the convictions of those who commit assault when those cases are in North Carolina's appellate courts.
The North Carolina Department of Justice's Public Protection Section works, through policy and public safety education, to support victims and survivors of violent crime, such as domestic violence, sexual assault, human trafficking and stalking.
This includes:
Coordinating with service providers and advocacy organizations
Providing victim services, such as the Address Confidentiality Program, which helps victims keep their address safe from abusers
Improving our criminal justice system by working with ​various stakeholders throughout the state, both in government and in the community.
History of the NC Sexual Assault Kit Initiative
North Carolina Actions to Date