Public Service Loan Forgiveness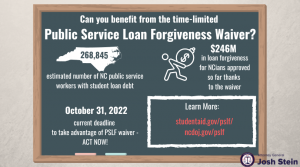 Public Service Loan Forgiveness (PSLF) – and the Limited PSLF Waiver Set to Expire October 31, 2022
The Public Service Loan Forgiveness (PSLF) program forgives the remaining balance on federal direct student loans following 120 months of qualifying payments for certain public service employees – including those who work for governments, 501(c)(3) organizations, and other nonprofits providing certain public services, including military service, law enforcement, early childhood education, public health and many others.
Until October 31, 2022, an important, but temporary PSLF waiver makes it possible for millions of public service workers to receive credit for past periods of repayment that would otherwise not qualify – thereby reducing or potentially eliminating student loan debt.
Under the waiver, North Carolinians have been approved for over $246 million in forgiveness so far – and we want to make sure that all eligible North Carolinians are aware of this opportunity in time to take action before the Halloween deadline.
Update:  Based on an announcement from the U.S. Department of Education (ED) on September 29, 2022, borrowers considering consolidation of non-Direct loans to benefit from PSLF or the PSLF waiver should evaluate the impact of consolidation on the ability to receive the one-time debt relief (up to $20,000 for Federal Pell Grant recipients and up to $10,000 for non-Pell Grant recipients based on income).  Specifically, note the following guidance from ED about one-time debt relief:
–        Consolidation loans are eligible for relief, as long as all of the underlying loans that were consolidated were ED-held loans and were disbursed on or before June 30, 2022.
–        Consolidation loans comprised of any FFEL or Perkins loans not held by ED are also eligible, as long as the borrower applied for consolidation before Sept. 29, 2022.
More information on one-time debt relief is available here.
In addition to the PSLF resources listed here, borrowers should contact your student loan servicer or Federal Student Aid for assistance.
To learn more:
Visit StudentAid.gov/pslf and StudentAid.gov/pslfwaiver
View the PSLF webinar by Attorney General Josh Stein, the Student Borrower Protection Center and the U.S. Department of Education.  The webinar slides are available here.
Contact your student loan servicer and let them know that you are interested in PSLF and the waiver.  Your loan servicer should be able to assist you.
Review the additional resources included below.
Remember – the currently-scheduled deadline for the PSLF waiver is October 31, 2022.  Please set aside time this week to see if you can benefit – and thank you for what you do for your community and our state!
Additional PSLF Resources: