About the Attorney General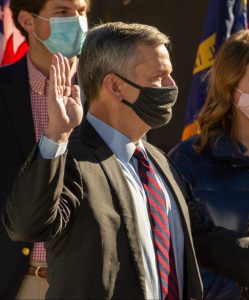 Josh Stein was sworn in as North Carolina's 50th Attorney General on January 1, 2017. The Attorney General is elected by the people of North Carolina every four years as the state's top law enforcement officer and top lawyer. Attorney General Stein is focused on protecting North Carolina families from crime and consumer fraud. Attorney General Stein has also made combating the opioid crisis as a top priority.
As the head of the Department of Justice, the Attorney General oversees criminal appeals from state courts to ensure that criminals are kept behind bars and innocent people are not. Stein also ensures that consumers are protected by going after scam artists and corporate bad actors. The Attorney General protects the taxpayers as well, by providing legal representation to state government agencies, departments and commissions, and by investigating and cracking down on Medicaid fraud.
The Attorney General also oversees the North Carolina Justice Academy and the North Carolina State Crime Lab. The Justice Academy provides training and technical assistance for law enforcement agencies. The Crime Lab examines evidence related to criminal investigations for all public law enforcement agencies in the state.
Prior to being elected, Stein served as a state Senator and as a Senior Deputy Attorney General in the North Carolina Department of Justice. In the State Senate, he successfully led efforts to put more violent criminals behind bars by expanding the state's DNA database. He also wrote the School Safety Act and legislation that banned stalking using GPS tracking devices. As Senior Deputy Attorney General, Stein worked to protect kids from online sexual predators and to help run the payday lenders charging loan shark interest rates out of the state.
AG Stein is a graduate of Dartmouth College and earned law and public policy degrees from Harvard University. He and his wife Anna have three children.