About the Attorney General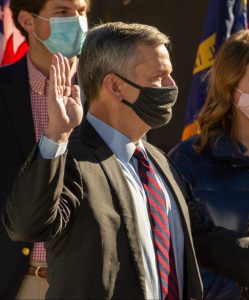 Josh Stein was sworn in for his first term as North Carolina's 50th Attorney General in 2017 and his second term in 2021. As Attorney General, he is focused on protecting North Carolina families from crime and consumer fraud.
Stein works to protect taxpayers, seniors, students, and military families from fraud. His Department of Justice has won awards or settlements of more than $2.5 billion from scam artists since he's taken office, and he's won back more than $260 million in restitution for Medicaid fraud. He is working to keep children safe online, improve data security, and leading a national effort to combat robocalls.
Stein is also leading national efforts to combat the opioid crisis and get treatment and recovery resources for North Carolinians struggling with addiction. He's helped secure more than $50 billion toward opioid recovery and is working hard to confront the fentanyl crisis by prosecuting dealers and traffickers. Stein is also working to make North Carolina's law enforcement and criminal justice systems fairer, protecting clean air and water, and fighting the teen vaping epidemic.
His Department of Justice also houses the North Carolina Justice Academy and the Sheriffs' and Criminal Justice Education and Training Standards Divisions, which work to train and certify public-spirited law enforcement officers.
Stein previously served as a state Senator and as Senior Deputy Attorney General in the North Carolina Department of Justice. In those roles, he successfully led efforts to put more violent criminals behind bars by expanding the state's DNA database, wrote the School Safety Act and the Identity Theft Protection Act, worked to protect kids from online sexual predators, and helped run payday lenders charging loan shark interest rates out of the state.
Stein grew up in Chapel Hill, North Carolina. He is a graduate of Dartmouth College, and earned law and public policy degrees from Harvard University. He and his wife Anna have three children.