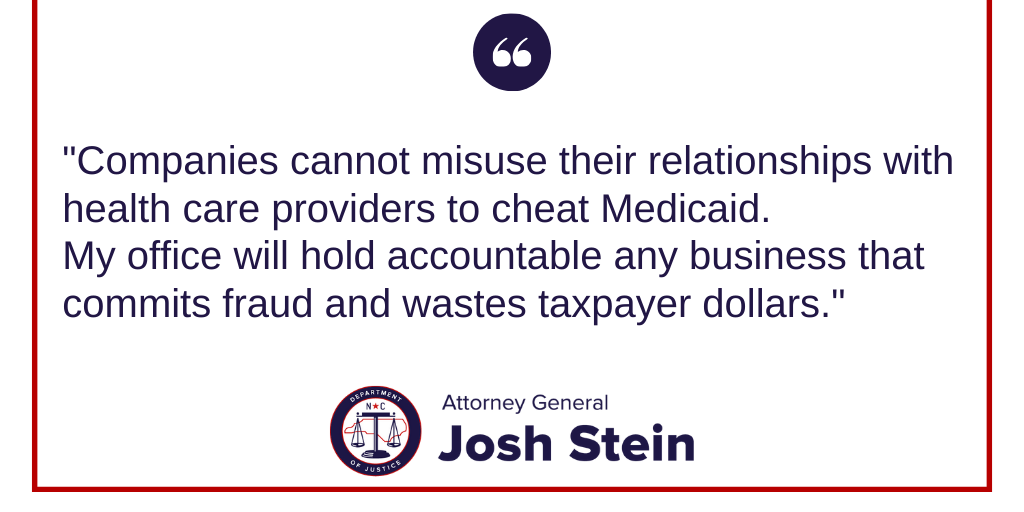 For Immediate Release:
Wednesday, January 22, 2020
(RALEIGH) Attorney General Josh Stein reached a $39.5 million multistate settlement to resolve allegations of Medicaid fraud with ResMed Corp, a Minnesota corporation that sells health care goods and services. The settlement resolves allegations that ResMed caused the submission of false claims to several state Medicaid programs and violated the Federal False Claims Act and the North Carolina False Claims Act. The North Carolina Medicaid Program will receive $176,815.44 in restitution and other costs.
"Companies cannot misuse their relationships with health care providers to cheat Medicaid," said Attorney General Josh Stein. "My office will hold accountable any business that commits fraud and wastes taxpayer dollars."
ResMed manufactures and sells positive airway pressure machines, masks, and other supplies designed to treat or diagnose sleep-related respiratory disorders or for home sleep tests. The company allegedly had unlawful agreements with suppliers, sleep laboratories, physicians, and other health care providers that caused the submission of false Medicaid claims involving the sale or rental of its equipment or the performance of sleep tests.
The investigation and prosecution of this case was conducted by a National Association of Medicaid Fraud Control Units team in conjunction with the U.S. Department of Justice and United States attorney's offices in California and South Carolina. The team included representatives for Attorney General Stein and the Attorneys General of California, Florida, Nevada, and Washington. The North Carolina settlement agreement was reached by the Medicaid Investigations Division of the North Carolina Department of Justice and the North Carolina Division of Health Benefits.
About the Medicaid Investigations Division (MID)
The Attorney General's MID investigates fraud and abuse by healthcare companies and providers, as well as patient abuse and neglect in facilities that are funded by Medicaid. Medicaid is a joint federal-state program that helps provide medical care for people with limited income. To date, the MID has recovered more than $850 million in restitution and penalties for North Carolina.
To report Medicaid fraud in North Carolina, call the North Carolina Medicaid Investigations Division at 919-881-2320.
Contact:
Laura Brewer (919) 716-6484
###