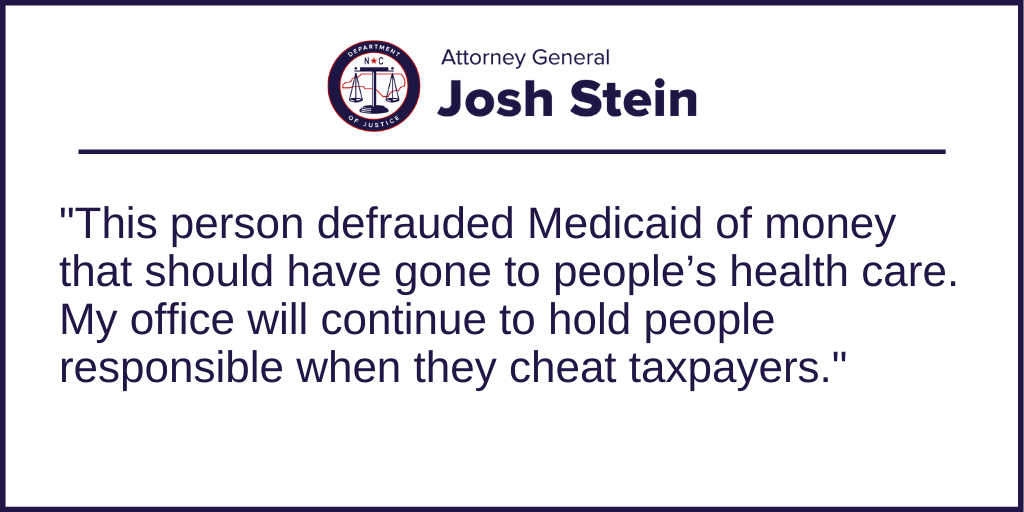 For Immediate Release:
Monday, June 28, 2021
Contact:
Nazneen Ahmed (919) 716-0060
(RALEIGH) Attorney General Josh Stein today announced that Andrea Monique Purnell, formerly of Sanford and previously known as Andrea Boatman Hall, was sentenced to 24 months in prison and three years of supervised release and was ordered to pay $100 in special assessments and $337,615.42 in restitution to the North Carolina Medicaid Program for one count of health care fraud. She pleaded guilty to the charge in March 2019.
"This person defrauded Medicaid of money that should have gone to people's health care," said Attorney General Josh Stein. "My office will continue to hold people responsible when they cheat taxpayers."
Purnell was the owner, operator, manager, and/or CEO of Extended Reach Day Treatment for Children and Adolescents, a Medicaid provider that offered day treatment services and other behavioral health services. From 2013 to 2016, Purnell added extra day treatment services that she never provided on to actual treatment services in her claim submissions for Medicaid recipients. She added extra services on to dates that Medicaid recipients were receiving services, and added services on dates when no services were provided to Medicaid recipients. Purnell also billed Medicaid for psychotherapy services from a licensed medical doctor that were not provided by a doctor. As a result of Purnell's fraud, Medicaid lost $337,615.42.
The investigation and prosecution of this case was conducted by the U.S. Attorney's Office for the Eastern District of North Carolina, The United States Department of Health and Human Services Office of the Inspector General, and the North Carolina Attorney General's Office Medicaid Investigations Division.
About the Medicaid Investigations Division (MID)
The MID investigates and prosecutes health care providers that defraud the Medicaid program, patient abuse of Medicaid recipients, patient abuse of any patient in facilities that receive Medicaid funding, and misappropriation of any patients' private funds in nursing homes that receive Medicaid funding. To report Medicaid fraud or patient abuse in North Carolina, call the MID at 919-881-2320.
The MID receives 75 percent of its funding from the U.S. Department of Health and Human Services under a grant award totaling $6,160,252 for Federal fiscal year (FY) 2020. The remaining 25 percent, totaling $2,053,414 for FY 2020, is funded by the State of North Carolina.
###