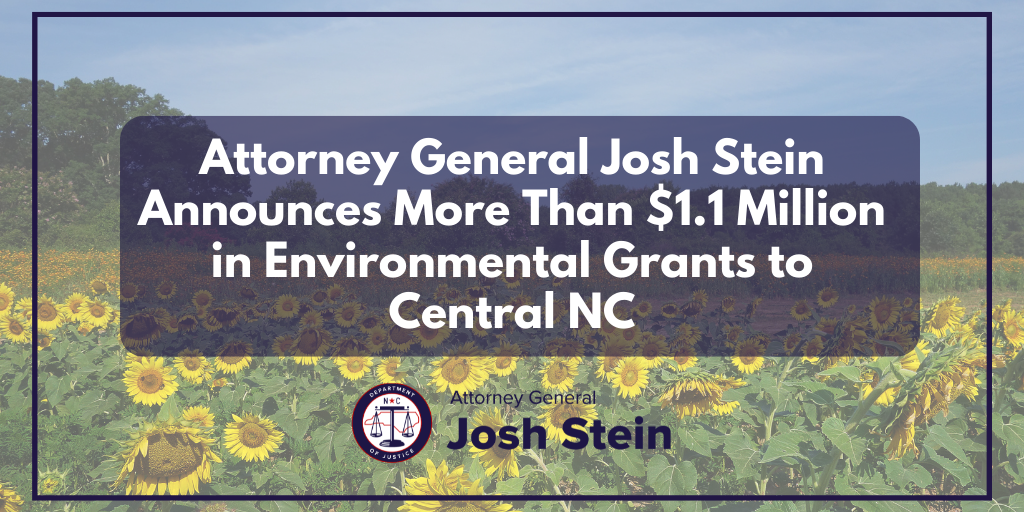 For Immediate Release:
Thursday, December 1, 2022
Contact: Nazneen Ahmed
919-716-0060
(RALEIGH) Attorney General Josh Stein today announced $1,129,770 in grants to preserve natural resources and ensure clean air and drinking water in central North Carolina through the Environmental Enhancement Grant (EEG) program. In 2022, Attorney General Stein is awarding $2.5 million in EEG grants to 23 recipients.
Grant recipients in central North Carolina are:
Durham County
Durham County will receive $225,000 to fix erosion and put in place stormwater control measures at Neal Middle School. The project will also create curriculum to help educate students about water quality, stormwater protection, and the environment.
"Clean water is essential to healthy lives," said Attorney General Josh Stein. "This grant will help provide more clean water while educating the next generation of young scientists and engineers."
"Durham County's stormwater program has four guiding principles: Compliance (with the Falls and Jordan Rules), Efficiency, Resiliency, and Environmental Justice," said Durham County Vice Chair Wendy Jacobs. "The Neal Middle School Bioretention Project meets all four. With this funding from the Environmental Enhancement Grant Program, the County is excited to improve water quality while also providing a learning experience for Neal Middle students and our community."
Haw River Assembly
The Haw River Assembly will receive $105,600 to expand its in-stream litter trap advocacy program to eliminate single use plastics and microplastics monitoring in eight municipalities in the Haw River watershed.
"The Haw River Assembly's program helps keep litter from contaminating our rivers," said Attorney General Josh Stein. "This grant will help keep our water clean and educate community members about the importance of fighting litter."
"Our plastics work has been such a huge success in Durham, and we're eager to expand this program throughout the watershed," said Emily Sutton, Haw Riverkeeper. "This has been a great way to engage new volunteers and advocates through river clean ups and advocacy to minimize single use plastics in our communities."
North Carolina State University
The North Carolina State University (NCSU) will receive $193,773 to conduct a study to identify areas contaminated by waste in mixed use livestock intensive areas of the lower Neuse and Cape Fear watersheds.
"Animal waste can contaminate our water sources," said Attorney General Josh Stein. "This grant will help North Carolina State University identify sources of contamination and help put in place stronger measures to prevent water pollution. Our state is home to a thriving livestock economy; research projects like this one help us to further farming while preventing harm to neighbors."
"Surface waters serve as a source of water for residential communities, agricultural irrigation, agricultural livestock, and businesses," said Jay Levine, professor of epidemiology and public health at NCSU. "However, in multi-use watersheds, each is a potential source of nutrient and fecal waste in the watershed. Effective riparian vegetative buffers and wetlands are carbon sinks, minimize nutrient input, soil erosion and related runoff into adjacent surface waters. The study will be conducted with the aim of identifying locations being degraded by nitrates and fecal waste and identifying opportunities for improved vegetative buffers or wetlands enhancement to prevent surface water contamination."
Piedmont Conservation Council
The Piedmont Conservation Council will receive $100,000 to restore and enhance the riparian buffer along the Flat River in southern Person County.
"Better environmental buffers along our rivers means cleaner drinking water for people," said Attorney General Josh Stein. "I'm pleased to award this grant to the Piedmont Conservation Council for its work along the Flat River."
"Piedmont Conservation Council is truly humbled yet excited to receive funding that continues to enhance and preserve North Carolina's natural resources," said Ginell Rogers, executive director of the Piedmont Conservation Council. "Our partnership with Person County's Tree Farm to Greenspace Stormwater project seeks to preserve almost 20 acres of public farmland by restoring the riparian buffer while creating a green wildlife observation park. This project highlights the core work of what Resource Conservation & Development Councils do. Grant funding will benefit Person County residents by the reduction of nutrient loads and improved stormwater runoff along the Flat River, Falls Lake and the Neuse River Basin. In addition to the environmental improvements, this project will provide an outdoor educational component and enhance outdoor recreation to local residents and neighboring counties including Durham, Wake, Granville, and Orange. We look forward to visiting the recreational park upon completion."
Tar River Land Conservancy
The Tar River Land Conservancy will receive $250,000 to purchase a 669-acre property to protect 8.7 miles of stream and creek banks, wetlands, and habitat around Swift Creek.
"I've seen firsthand the work the Tar River Land Conservancy does to preserve natural resources in North Carolina," said Attorney General Josh Stein. "I'm particularly pleased to see them preserving water sources that will benefit residents of Edgecombe County."
"Tar River Land Conservancy is grateful to Attorney General Stein and his team for their generous support of the Bowers Tract acquisition," said Executive Director Derek Halberg. "The EEG funding brings us one step closer to protecting this incredible property and the critically endangered species that are found on the property in Swift Creek."
Wake County Environmental Services
Wake County Environmental Services will receive $49,957 to expand well water awareness and testing campaigns, particularly in economically and socially vulnerable communities by funding internships to augment the work of county staff.
"I'm excited to grant these funds to engage young people in the work of protecting our drinking water," said Attorney General Josh Stein. "The work they do will help them develop professional skills and help families better understand how to test their own water quality."
"Well water testing and maintenance are critically important for clean, safe drinking water," said Wake County Commission Chair Sig Hutchinson. "The students involved in this program will identify areas for targeted outreach and help raise awareness in vulnerable communities about the need for regular testing."
"We are excited to receive this grant from the NC Attorney General's Office," said Evan Kane, Wake County Groundwater Manager. "This is an amazing opportunity for students to gain real-world experience in a leading environmental health program and an opportunity for Wake County to continue improve our services to private well users."
Water Resources Research Institute at NC State University
The Water Resources Research Institute will receive $205,440 to install green infrastructure and implement wetland restoration practices to reduce and treat stormwater runoff in the Walnut Creek Watershed.
"This project will use environmentally friendly solutions to restore local wetlands and reduce stormwater runoff," said Attorney General Josh Stein. "Importantly, it will help address the environmental harms that the residents of Rochester Heights neighborhood have suffered for years."
"We're excited that the Environmental Enhancement grant will support our connected Walnut Creek Wetlands Community Partnership projects," said Christy Perrin, Sustainable Waters and Communities Coordinator at the Water Resources Research Institute. "It will allow us to reduce stormwater runoff from Biltmore Hills Park that contributes to flooding in the historic Rochester Heights neighborhood, and to enhance the aquatic ecology and engage community members at the new Bailey Drive Gateway to the Walnut Creek Wetland Park just downstream. The EEG grant will help implement plans developed with community members and intended to address environmental injustices experienced in this Southeast Raleigh community."
About the Environmental Enhancement Grant Program
The North Carolina Department of Justice's Environmental Enhancement Grant program began after a 2000 agreement between the Attorney General's Office and Smithfield Foods. Under that agreement, Smithfield provides $2 million to the state every year to be distributed among environmental projects across North Carolina. Including the 2022 grants, the Attorney General Office's has awarded more than $41 million to more than 210 projects in the state.
###