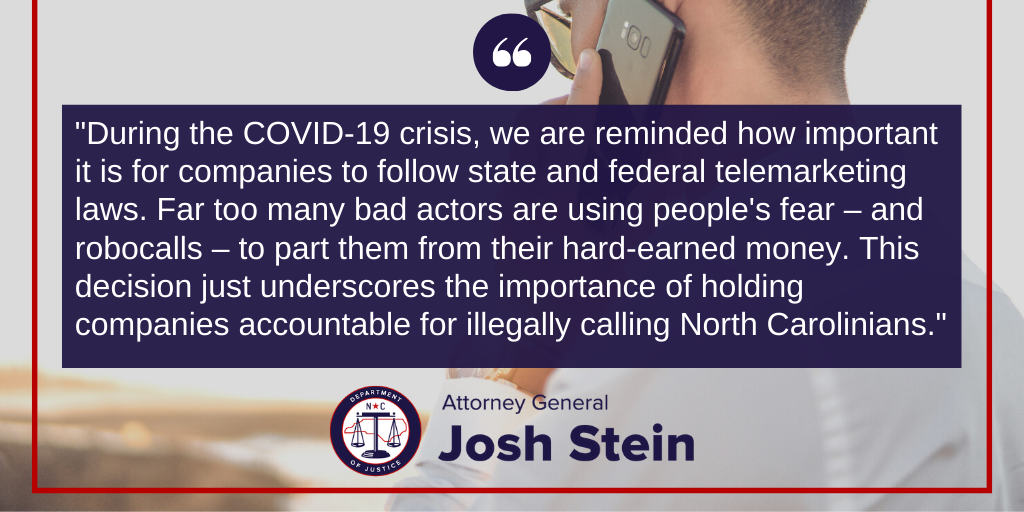 For Immediate Release:
Friday, March 27, 2020
(RALEIGH) Attorney General Josh Stein today applauded an appellate court decision that upholds North Carolina's win at trial against Dish Network. Today's ruling in the Seventh Circuit Court of Appeals affirms the June 2017 trial court judgment holding the company accountable for engaging in an illegal nationwide telemarketing campaign. Dish Network, both directly and through its authorized direct marketing businesses, made millions of unwanted calls to people on the Do Not Call Registry and tens of millions of illegal robocalls.
"During the COVID-19 crisis, we are reminded how important it is for companies to follow state and federal telemarketing laws," said Attorney General Josh Stein. "Far too many bad actors are using people's fear – and robocalls – to part them from their hard-earned money. This decision just underscores the importance of holding companies accountable for illegally calling North Carolinians."
The U.S. District Court for the Central District of Illinois first entered the $280 million judgment against Dish Network in 2017, after a five-week bench trial. The District Court also ordered robust injunctive relief requiring Dish Network to reform its telemarketing practices. The federal government, California, Illinois, and Ohio joined North Carolina as co-plaintiffs in this action.
Contact:
Laura Brewer (919) 716-6484
###