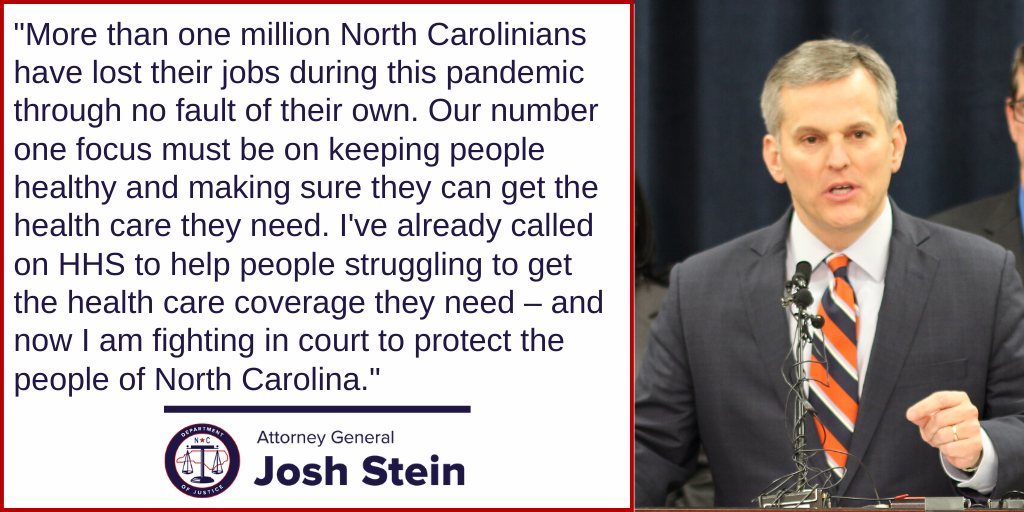 For Immediate Release:
Tuesday, June 23, 2020
Contact:
Laura Brewer (919) 716-6484
(RALEIGH) Attorney General Josh Stein today filed an amicus brief in support of the City of Chicago's lawsuit challenging U.S. Health and Human Services (HHS) for failing to create a special enrollment period in response to COVID-19. People in North Carolina and 37 other states rely on the federal exchange, HealthCare.Gov, for health insurance.
"More than one million North Carolinians have lost their jobs during this pandemic through no fault of their own," said Attorney General Josh Stein. "Our number one focus must be on keeping people healthy and making sure they can get the health care they need. I've already called on HHS to help people struggling to get the health care coverage they need – and now I am fighting in court to protect the people of North Carolina."
The Affordable Care Act (ACA) provides HHS Secretary Alex Azar with the authority to create special enrollment periods outside of the normal enrollment period for hardships or special situations that may warrant it. HHS's failure to open a special enrollment period means uninsured individuals who rely on the federal exchange for coverage may choose to avoid medical care or face massive bills as a result of seeking treatment. As a result of COVID-19, more than 40 million Americans have lost their jobs, but under current regulations, only those who already had health insurance with their job are eligible for a special enrollment period. Individuals who did not have health care coverage through their employer, but experienced job loss, are left with no options.
In April, Attorney General Stein led a 22-state coalition urging HHS to reconsider its shortsighted decision to deny a special enrollment period on HealthCare.Gov during the pandemic. HHS has also ignored repeated calls from Congress, the health care industry, and others to open a special enrollment period.
In the amicus brief, the coalition of 14 attorneys general argues that there is both a critical need for and a legal obligation to create a special enrollment period on HealthCare.Gov to help these individuals obtain health care coverage. The coalition argues that HHS's failure to open a special enrollment period violates the Administrative Procedure Act and is contrary to the text of the ACA and its regulations for opening special enrollment periods. The coalition urges the court to find HHS's inaction unlawful and compel the agency to open a special enrollment period.
Attorney General Stein is joined in filing today's brief by the Attorneys General of California, Michigan, Connecticut, Delaware, Hawaii, Maryland, Minnesota, New Mexico, Oregon, Pennsylvania, Rhode Island, Virginia, and the District of Columbia.
A copy of the brief is available here.
More on Attorney General Stein's work to protect North Carolinians during the COVID-19 pandemic:
###