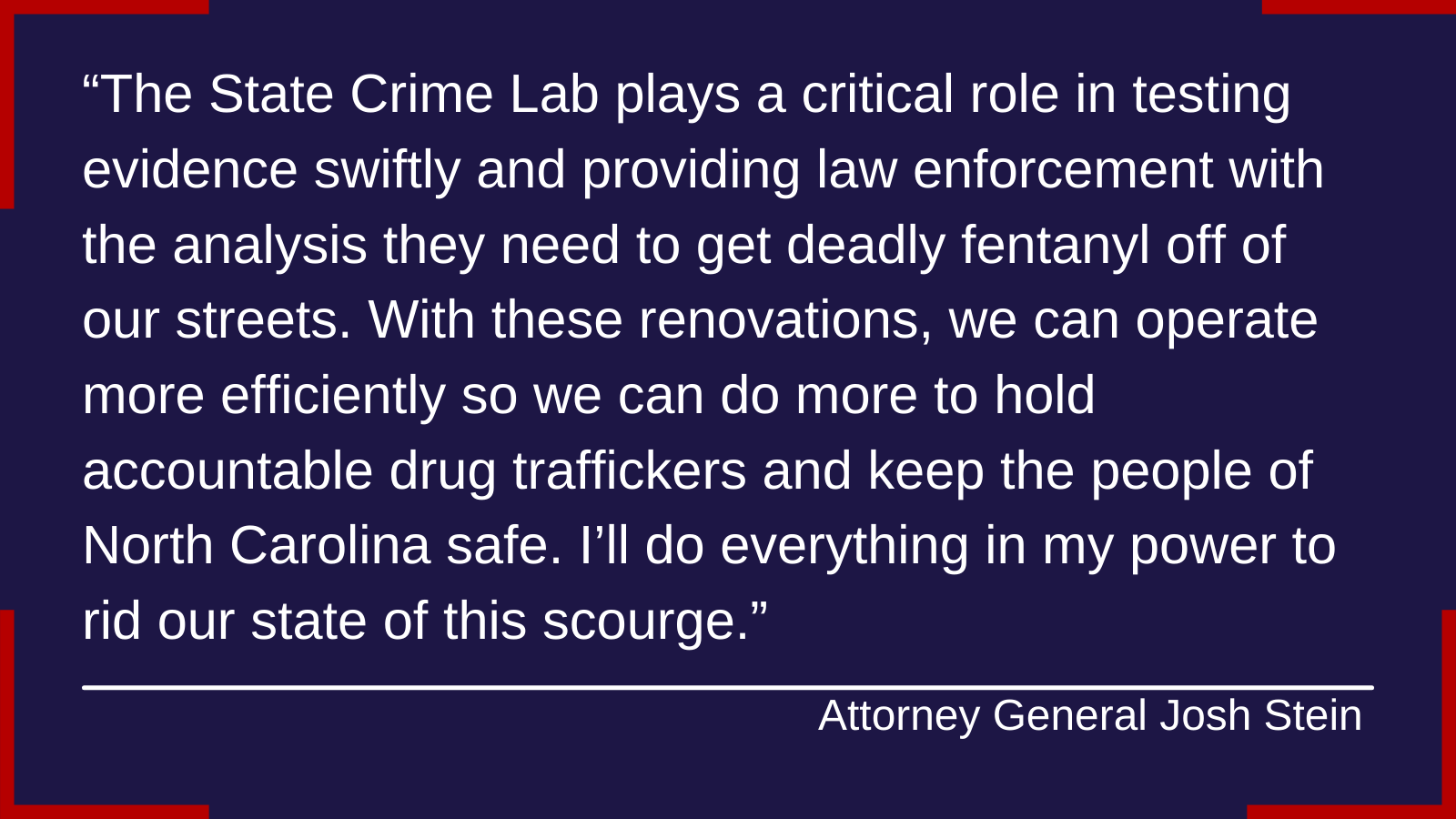 For Immediate Release:
Wednesday, April 19, 2023
Contact:
Nazneen Ahmed (919) 716-0060
State Crime Lab Opens Expanded Drug Chemistry and Toxicology
**Video and pictures from today's event are available here for media use
(RALEIGH) Attorney General Josh Stein today continued leading state efforts to combat the fentanyl crisis by opening the renovated Drug Chemistry and Toxicology sections of the North Carolina State Crime Lab's Raleigh location. The sections are critical to law enforcement's investigation into fentanyl and drug trafficking – fentanyl was the number two drug found in evidence tested at the Lab in 2022.
"The State Crime Lab plays a critical role in testing evidence swiftly and providing law enforcement with the analysis they need to get deadly fentanyl off of our streets," said Attorney General Josh Stein. "With these renovations, we can operate more efficiently so we can do more to hold accountable drug traffickers and keep the people of North Carolina safe. I'll do everything in my power to rid our state of this scourge."
Attorney General Stein has been at the forefront of pushing for solutions to the rise in fentanyl trafficking and fentanyl deaths. The Department of Justice worked with Rep. Hugh Blackwell and others to draft the Novel Opioid Control Act (HB258), which passed the House unanimously and will update state law to protect North Carolinians for nitazines, a class of opioids 40 times more powerful than fentanyl. Attorney General Stein and the department also worked with Sen. Tom McInnis to draft the Stop Counterfeit Pill Act (SB206), which updates North Carolina law to address the growing threat of counterfeit pills containing fentanyl, methamphetamine, or other dangerous drugs. Attorney General Stein is also seeking funding from the legislature to create a Fentanyl Control Unit within the Department of Justice to help local district attorneys handle large-scale fentanyl trafficking, wiretap, and overdose cases.
"The State Crime Lab is one of our most important tools for keeping North Carolinians safe, and I'm proud that the General Assembly was able to provide the funds needed to keep it operating at the highest level," said Rep. Joe John. "This newly renovated toxicology lab is a great weapon in the fight against the opioid epidemic and is a strong investment in a safe future for our state."
These sections test evidence, blood, and urine for the presence of drugs and alcohol and tested a total of three-fourths of all of the evidence submitted to the State Crime Lab in the past fiscal year. The renovation of the fourth floor of the Lab, which houses the Drug Chemistry and Toxicology sections, began in February 2021 with a $4.9 million investment from the North Carolina General Assembly. The project included completely gutting and demolishing 19,000 square feet and replacing the roof, and now houses about 40 staff and room for growth as caseloads continue to increase. The new floor aligns with the Lab's methodology and efficiency measures and allows scientists to have both office space and lab space.
###