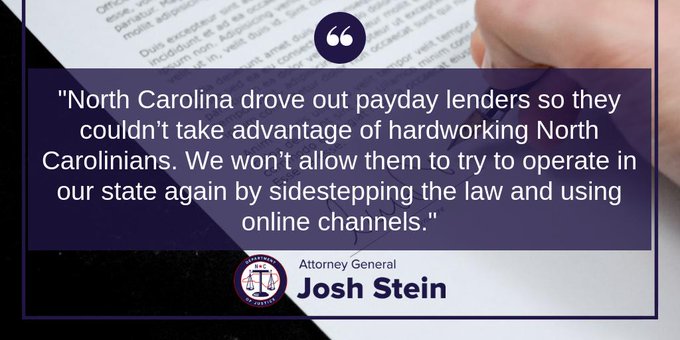 For Immediate Release:
Tuesday, May 21, 2019
(RALEIGH) Attorney General Josh Stein was granted a temporary restraining order against the Miami, Fla.-based online payday lender Approved Financial, Inc. in a case he filed on May 15, 2019. The case alleges illegal, unlicensed lending practices, usury, unlawful debt collection, and unfair and deceptive practices. The temporary restraining order, entered by Superior Court Judge Stephen R. Futrell, prevents Approved Financial from soliciting, making, or collecting on loans to North Carolina consumers, and repossessing or selling their vehicles for the next 35 days until a preliminary injunction hearing.
"North Carolina drove out payday lenders so they couldn't take advantage of hardworking North Carolinians," said Attorney General Josh Stein. "We won't allow them to try to operate in our state again by sidestepping the law and using online channels."
The lawsuit alleges that Approved Financial, which is not licensed to operate in North Carolina, has offered illegal online payday loans to financially distressed North Carolina consumers at interest rates ranging between 120 to 200 percent, which far exceeds the interest rate limits allowed by North Carolina law. According to the complaint, the lender communicates with consumers via email and phone, but has attempted to evade North Carolina's consumer protection laws by requesting borrowers to drive across state lines to South Carolina to pick up their funds. Approved Financial has made more than 380 loans to consumers in North Carolina, ranging in amount from $500 to $5,000.
Approved Financial requires that loans be secured by borrowers' vehicle titles, which allows the company to repossess borrowers' vehicles if borrowers are late or default on a payment.
Attorney General Stein is asking the court to permanently stop Approved Financial from making further loans to North Carolina borrowers, collecting on existing loans, and repossessing vehicles, as well as canceling the company's liens and voiding the existing loans. Attorney General Stein is also seeking refunds for borrowers and civil penalties.
A copy of the temporary restraining order is available here.
Contact:
Laura Brewer (919) 716-6484
###