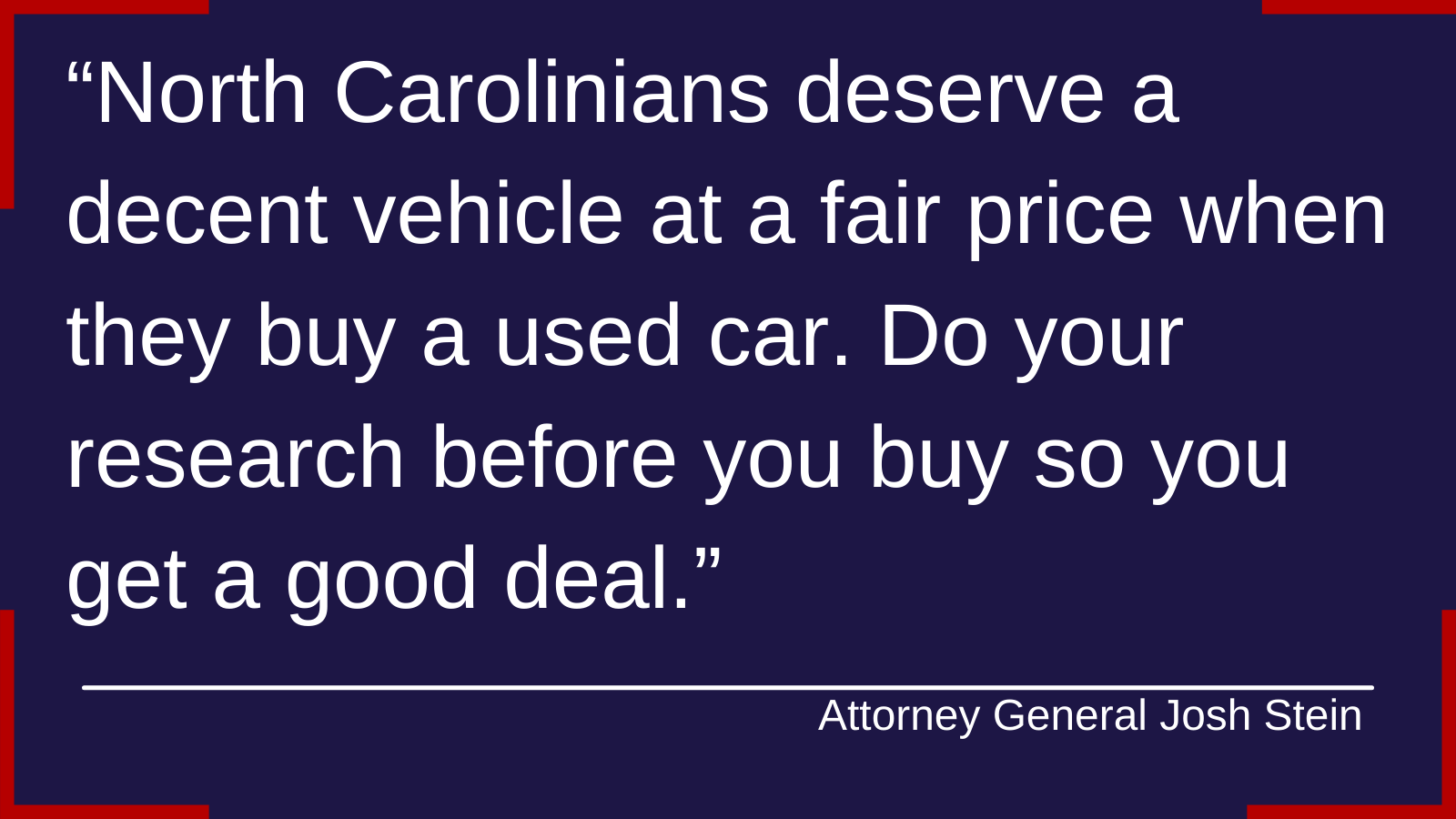 For Immediate Release:
Monday, June 5, 2023
Contact: Nazneen Ahmed
919-716-0060
(RALEIGH) Attorney General Josh Stein today reminded North Carolinians to be careful when buying used or new cars to prevent being the victim of car scams or unscrupulous car dealers and shared updates about ongoing car matters. So far in 2023, North Carolinians have filed 282 auto-related complaints with the Department of Justice. Attorney General Stein also shared updates for people who have purchased cars from American Car Center.
Used Car Buyers Beware:
"North Carolinians deserve a decent vehicle at a fair price when they buy a used car," said Attorney General Josh Stein. "Do your research before you buy so you get a good deal."
If you're buying a used car, here are some tips to consider:
Make sure you're paying a fair price. Check resources at your local library or visit Web sites like www.nadaguides.com or www.edmunds.com to find out the market value of the make and model you are considering.
Read the terms of the contract. If the deal is being financed by the auto dealership or a lender solicited by the dealer, make sure the contract states the interest rate, also known as the annual percentage rate (APR). It should also contain everything you and the dealer have agreed upon.
Take a test drive. Drive the car under many different conditions, such as on hills, highways, and in stop-and-go-traffic.
Inspect the car thoroughly.  Consider taking the car to a mechanic that you trust for a pre-purchase inspection prior to signing any sale documents.
Ask whether the car has ever been in an accident. Get the answer in writing. Find out as much as possible about the car's prior history and examine its maintenance record.
Check on defects and recalls. Visit the National Highway Safety Administration online or call 1-888-DASH-2-DOT to see if the vehicle has had problems or recalls reported.
Update on American Car Center Closures:
American Car Center closed its forty dealerships across the nation, including its Charlotte location, in March and filed for bankruptcy. If you purchased a vehicle from the company in North Carolina and have concerns related to the sudden closure and your ability to get your tags, you should file a complaint with the North Carolina Division of Motor Vehicles License and Theft Bureau here: Official NCDMV: License & Theft Bureau Portal (ncdot.gov).  If you have questions regarding your auto loan or believe you have a claim against American Car Center, you should contact Westlake Portfolio Management at 877.854.5688 or at wpmcustomercare@wpmservicing.com. If you financed your purchase, you or your attorney may wish to also contact your finance company to see what assistance it may afford you. You may also file a complaint with our office here.
More information about American Car Center is available here.
###