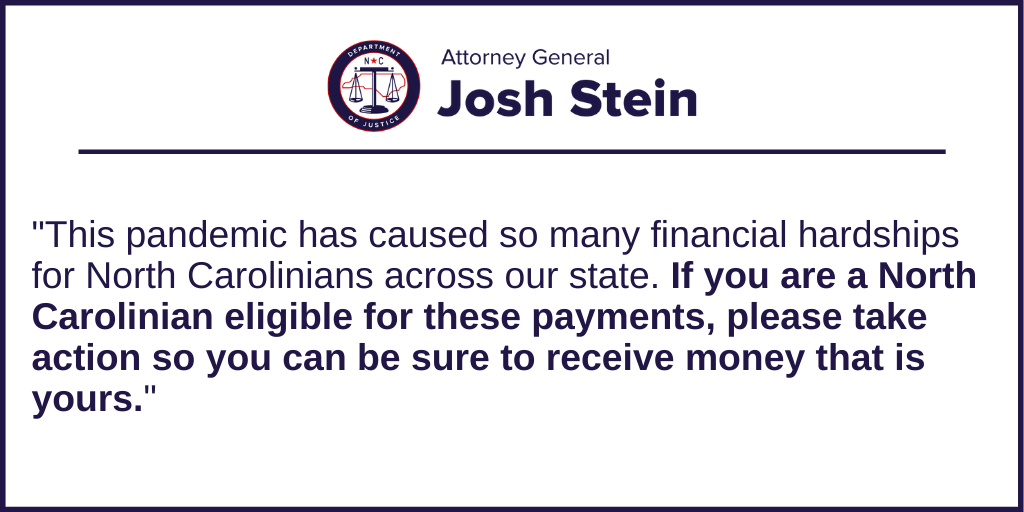 For Immediate Release:
Thursday, October 29, 2020
Contact:
Laura Brewer (919) 716-6484
(RALEIGH) Attorney General Josh Stein today reminded North Carolinians who do not usually file tax returns that they need to submit information to the IRS by Nov. 21 so they can receive their federal economic impact payments. As of Sept. 17, nearly 250,000 North Carolinians who may be eligible for these payments had not claimed them. The IRS extended the deadline from Oct. 15 to Nov. 21.
"This pandemic has caused so many financial hardships for North Carolinians across our state," said Attorney General Josh Stein. "If you are a North Carolinian eligible for these payments, please take action so you can be sure to receive money that is yours."
The federal CARES Act provided individuals with up to $1,200 to help alleviate coronavirus-related economic hardships. Individuals who didn't file a federal tax return for 2018 or 2019 (because they made below the $12,200 gross income amount required to file taxes or for other reasons), don't receive Social Security retirement or other federal benefits, and haven't already received their economic impact payment should submit non-filer information here.
Individuals can choose to receive their payment by direct deposit or check. Two weeks after they register for their payment, individuals can track the status of their payment here.
Additional information is available through the IRS.
###