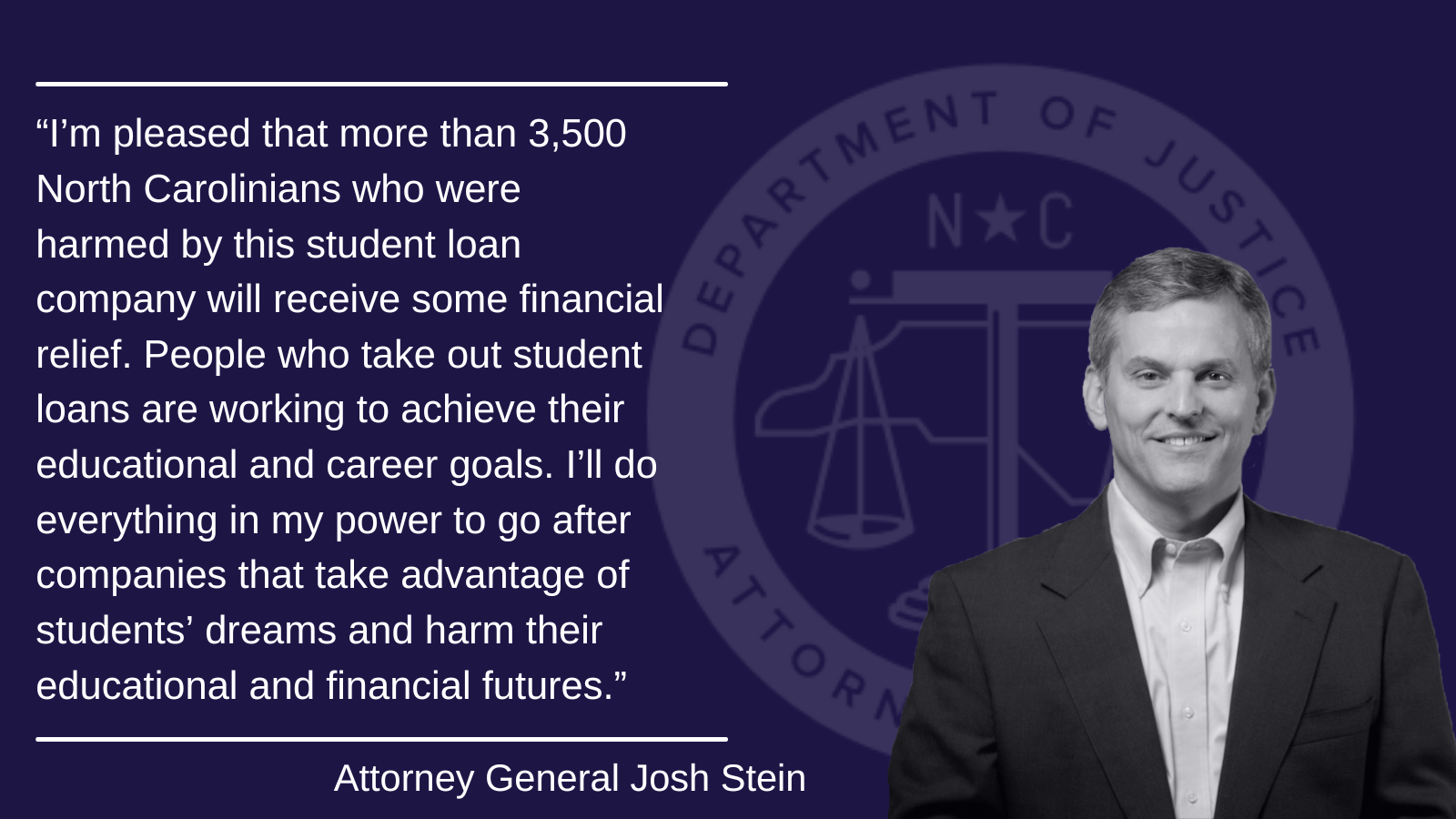 For Immediate Release:
Tuesday, December 13, 2022
Contact: Nazneen Ahmed
919-716-0060
More than 3,500 North Carolinians Will Receive More Than $4 Million in Student Loan Relief
(RALEIGH) Attorney General Josh Stein today announced $95 million in student loan relief for 87,285 student loan borrowers who were harmed by the Consumer Advocacy Center, also known as the Premier Student Loan Center, and additional co-defendants. In North Carolina, 3,649 people will receive $4,072,589 in relief. Borrowers who are eligible for relief do not have to do anything – you will be contacted directly by the third-party company handling the payments.
"I'm pleased that more than 3,500 North Carolinians who were harmed by this student loan company will receive some financial relief," said Attorney General Josh Stein. "People who take out student loans are working to achieve their educational and career goals. I'll do everything in my power to go after companies that take advantage of students' dreams and harm their educational and financial futures."
In 2019, Attorney General Stein, along with the Consumer Financial Protection Bureau, the attorney general of Minnesota, and the Los Angeles City Attorney's Office, sued Premier and its related companies alleging that they violated consumer protection laws with their deceptive student loan debt relief services. Premier made misleading representations to borrowers about their services, automatically placed borrowers' loans into forbearance, and submitted false information to loan servicers and the federal government to help people quality for artificially low monthly payments that they did not actually qualify for. In some cases, that resulted in borrowers facing additional consequences, including paying additional interest or losing certain loan benefits. Premier also charged and collected unlawful advance fees before borrowers' student loans were adjusted or before they made payments toward an adjusted loan. Except for one defendant, all of the defendants in the case have either settled or defaulted. Litigation continues against one remaining individual defendant, Kaine Wen.
Refunds of the illegal fees collected by Premier are being provided through the CFPB's civil penalty relief fund. Borrowers with questions about payments should contact RUST Consulting at premier_info@rustcfpbconsumerprotection.org or (833) 539-2839.
###