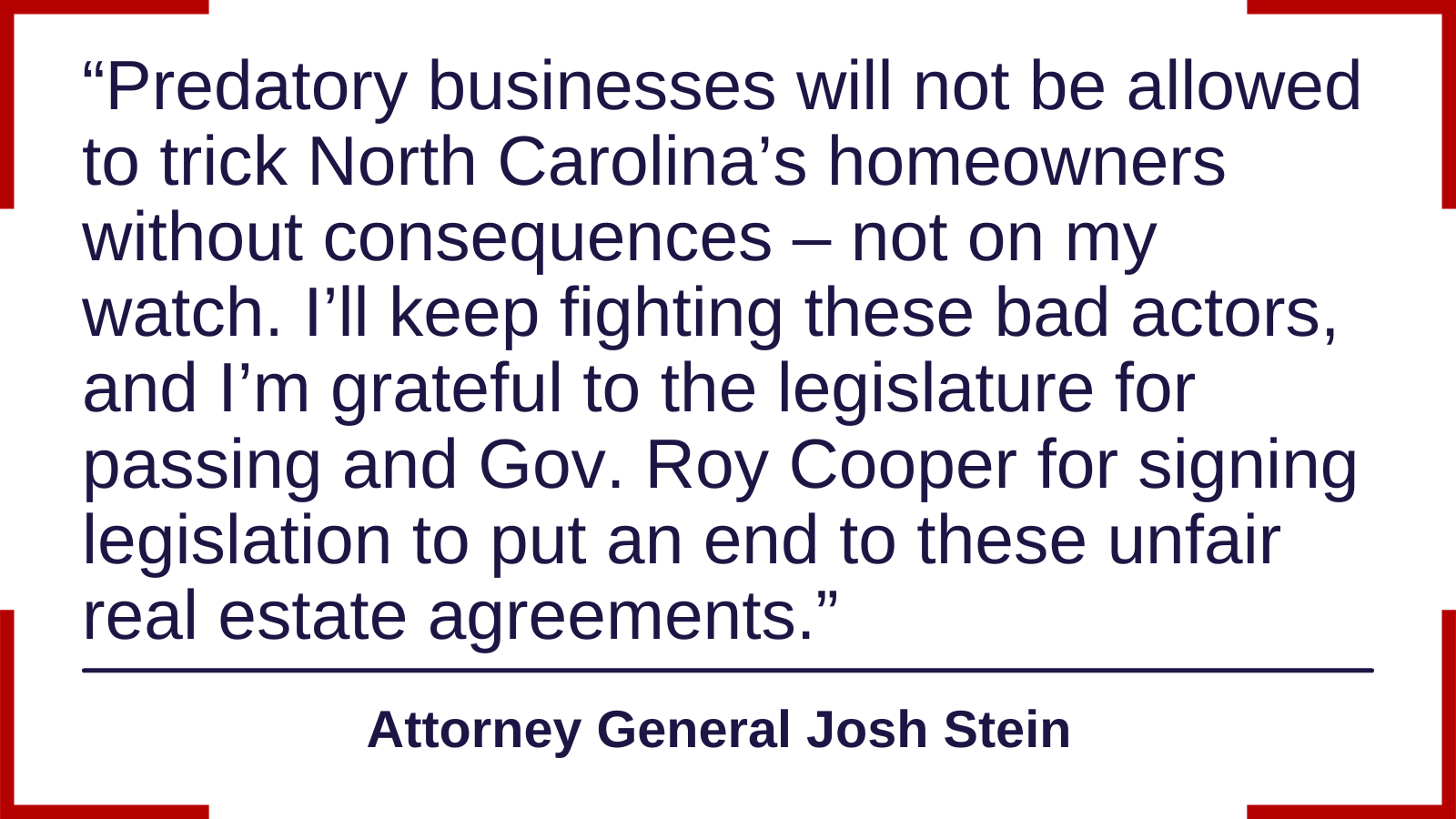 For Immediate Release:
Thursday, August 24, 2023
Contact: Nazneen Ahmed
919-716-0060
(RALEIGH) Attorney General Josh Stein today joined Gov. Roy Cooper as the Governor signed the Unfair Real Estate Agreements Act into law. The attorney general's office worked closely with legislators and stakeholders to draft the bill. The Unfair Real Estate Agreements Act will prohibit companies from using oppressive and excessively long-term agreements that undermine a person's ownership of their home.
"Predatory businesses will not be allowed to trick North Carolina's homeowners without consequences – not on my watch," said Attorney General Josh Stein. "I'll keep fighting these bad actors, and I'm grateful to the legislature for passing and Gov. Roy Cooper for signing legislation to put an end to these unfair real estate agreements."
In March, Attorney General Stein sued real estate company MV Realty alleging that they violated North Carolina's laws prohibiting unfair and deceptive practices, usurious lending, abusive telephone solicitation practices, and unfair debt collection practices by tricking homeowners into signing oppressive, 40-year real estate agreements. The Department of Justice received about 60 complaints beginning in March 2022 and began investigating the company in the fall of 2022. MV Realty enrolled more than 2,100 homeowners in North Carolina in their predatory scheme.
The Unfair Real Estate Agreements Act prohibits "Right to List" service agreements – such as the ones used by MV Realty – that purport to run with the land, create a lien or security interest on a homeowner's property, or are otherwise assigned without the homeowner's clear consent. The legislation is supported by AARP, The NC Land Title Association, The NC REALTORS, The NC Real Estate Commission, and Zillow.
The bill was sponsored in the House by Reps. Kyle Hall, Charles Miller, Hugh Blackwell, and Vernetta Alston, and in the Senate by Sens. Joyce Krawiec, Brad Overcash, and Paul Lowe. It passed the House and the Senate unanimously.
###