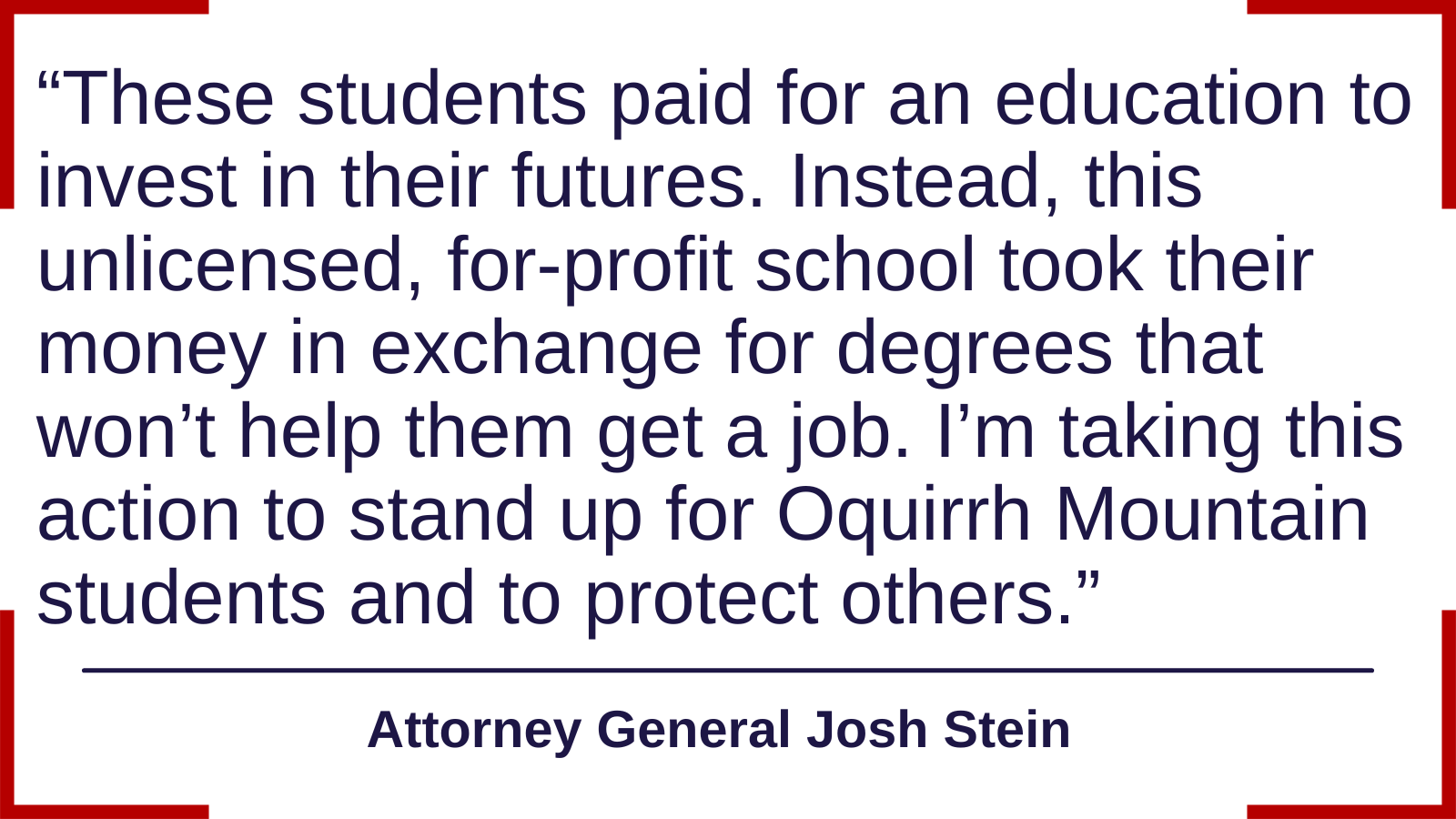 For Immediate Release:
Monday, November 13, 2023
Contact:
Nazneen Ahmed (919) 716-0060
(RALEIGH) Attorney General Josh Stein sued Oquirrh Mountain Phlebotomy School in Wilmington for allegedly falsely advertising their phlebotomy certification program without telling students the program is not licensed by the state. Attorney General Stein is seeking a court order to prevent Oquirrh Mountain from holding further unlicensed classes as well as restitution for students who Oquirrh Mountain's owner, Dallas Rasmussen, deceived.
"These students paid for an education to invest in their futures," said Attorney General Josh Stein. "Instead, this unlicensed, for-profit school took their money in exchange for degrees that won't help them get a job. I'm taking this action to stand up for Oquirrh Mountain students and to protect others."
Oquirrh Mountain is an unlicensed, for-profit school that operates in North Carolina and other states. They offer students three-day programs that are advertised to prepare students to take a national phlebotomy certification exam. However, they have done this without registering with the State Board of Proprietary Schools, in uninspected facilities, and with instructors whose credentials are unverified. These licenses are important, especially for for-profit schools, to ensure that they are meeting minimum quality standards and to provide a financial backstop that protects students whose schools unexpectedly close. Oquirrh Mountain allegedly deceives students about the training they receive and their ability to get phlebotomy jobs in the future by refusing to disclose that the program is unlicensed.
A copy of the complaint is available here.
###