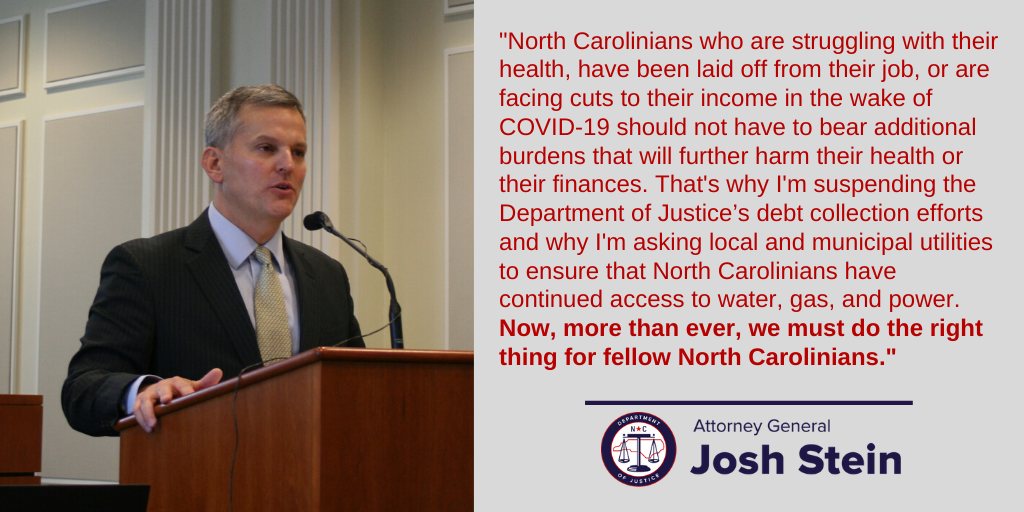 For Immediate Release:
Thursday, March 26, 2020
(RALEIGH) Attorney General Josh Stein took two additional steps today to help protect North Carolinians as many face financial difficulties during the COVID-19 pandemic. Attorney General Stein is suspending all of the North Carolina Department of Justice's collections efforts of state debts effective immediately and until further notice. He is also asking all local and municipal utilities to commit to maintaining access to water, power, gas, and other vital services for residents.
"North Carolinians who are struggling with their health, have been laid off from their job, or are facing cuts to their income in the wake of COVID-19 should not have to bear additional burdens that will further harm their health or their finances," said Attorney General Josh Stein. "That's why I'm suspending the Department of Justice's debt collection efforts and why I'm asking local and municipal utilities to ensure that North Carolinians have continued access to water, gas, and power. Now, more than ever, we must do the right thing for fellow North Carolinians."
The Department's suspension action include suspending the issuance of demand letters and any other collections activities for agencies and universities that the North Carolina Department of Justice represents, including the Department of Environmental Quality, the University of North Carolina system, the North Carolina Department of Health and Human Services, and the North Carolina Department of Transportation. This applies to all debt collection, except where necessary to meet statutes of limitations or other court-imposed deadlines.
State Controller Dr. Linda Combs, who leads the Office of the State Controller's efforts to protect the financial integrity of the State, also supported Attorney General Stein's order.
Attorney General Stein also wrote to all local and municipal utilities in North Carolina that provide essential services including water, power, and gas, asking that they pledge not to disconnect residents from utility services and suspend late fees for nonpayment of utility service. The North Carolina Utilities Commission issued a similar order to all public utilities earlier this month.
A copy of the letter to local and municipal utilities is available here.
More on Attorney General Stein's work to protect North Carolinians during the COVID-19 pandemic:
Contact:
Laura Brewer (919) 716-6484
###