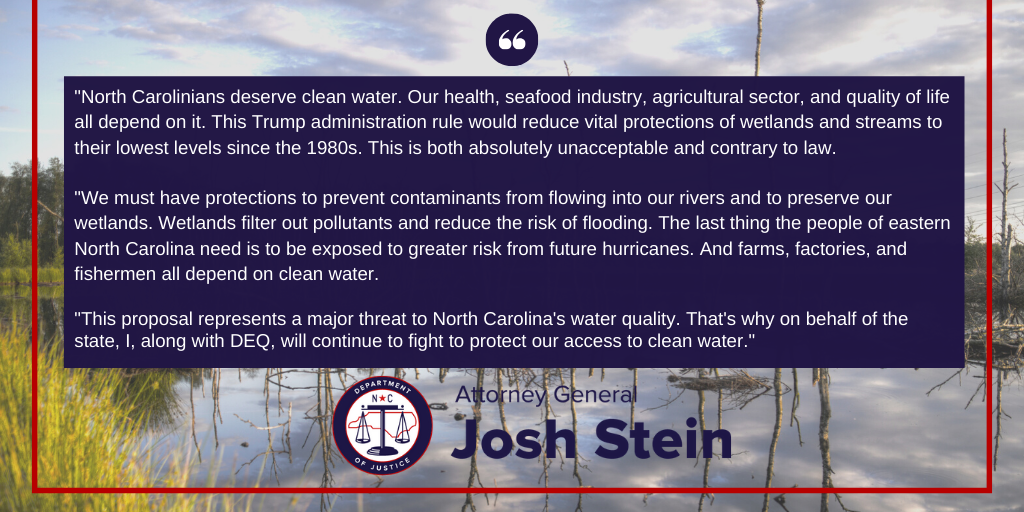 For Immediate Release:
Friday, May 1, 2020
(RALEIGH) To protect water quality in North Carolina, Attorney General Josh Stein today filed a lawsuit against a Trump administration proposal to weaken Clean Water Act protections of our rivers, lakes, and fisheries. The proposal – the Waters of the United States (WOTUS) Rule – would endanger them to a degree North Carolina has not seen in decades. Stein's lawsuit seeks to preserve the status quo – the rule as it was under the George W. Bush administration.
"North Carolinians deserve clean water. Our health, seafood industry, agricultural sector, and quality of life all depend on it. This Trump administration rule would reduce vital protections of wetlands and streams to their lowest levels since the 1980s. This is both absolutely unacceptable and contrary to law.
"We must have protections to prevent contaminants from flowing into our rivers and to preserve our wetlands. Wetlands filter out pollutants and reduce the risk of flooding. The last thing the people of eastern North Carolina need is to be exposed to greater risk from future hurricanes. And farms, factories, and fishermen all depend on clean water.
"This proposal represents a major threat to North Carolina's water quality. That's why on behalf of the state, I, along with DEQ, will continue to fight to protect our access to clean water."
Attorney General Stein is joined in filing this lawsuit by the Attorneys General of California, New York, Connecticut, Illinois, Maine, Maryland, Michigan, New Jersey, New Mexico, Oregon, Rhode Island, Vermont, Washington, Wisconsin, Massachusetts, Virginia, and the District of Columbia, as well as the City of New York.
A copy of the filing is available here.
Contact:
Laura Brewer (919) 716-6484
###