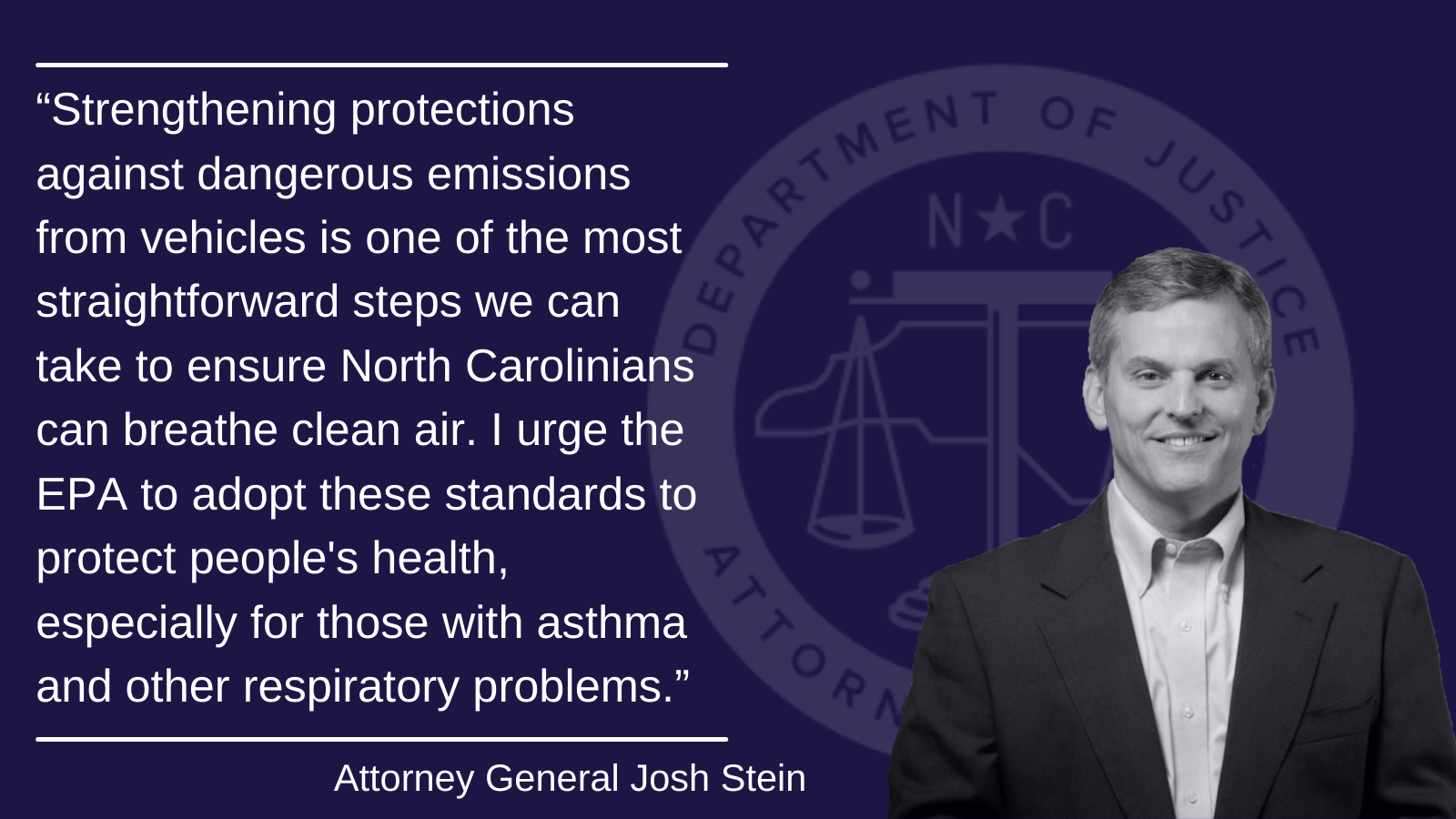 For Immediate Release:
Tuesday, May 17, 2022
Contact: Nazneen Ahmed
919-716-0060
(RALEIGH) Attorney General Josh Stein is calling on the Environmental Protection Agency (EPA) to impose stronger protections against heavy-duty truck emissions of nitrogen oxide (NOx) and other pollutants. NOx is a smog-forming pollutant that worsens asthma and other health problems.
"Strengthening protections against dangerous emissions from vehicles is one of the most straightforward steps we can take to ensure North Carolinians can breathe clean air," said Attorney General Josh Stein. "I urge the EPA to adopt these standards to protect people's health, especially for those with asthma and other respiratory problems."
On-road heavy-duty vehicles are the largest source of transportation-related NOx emissions. Communities of color and communities with lower incomes disproportionately live, work, or attend school near railyards, ports, warehouses, and major roadways and are most vulnerable to NOx pollution and the resulting health effects. But while the environmental and health impacts of NOx are well known, today's heavy-duty trucks do not effectively control NOx emissions, especially when they are idle, moving slowly, or in stop-and-go traffic.
In the letter, Attorney General Stein and 18 other attorneys general are urging the EPA to adopt strong protections against NOx emissions from heavy-duty trucks. These stronger standards are vital to protecting vulnerable people and communities and to helping states attain and maintain national ambient air quality standards for ozone and particulate matter. These standards are already in effect in California, where they have been shown to be good for the environment and public health, as well as technologically feasible and cost effective.
Attorney General Stein is joined in sending this letter by the Attorneys General of California, Colorado, Connecticut, Delaware, Hawaii, Illinois, Maine, Maryland, Massachusetts, Minnesota, New Jersey, New York, Oregon, Rhode Island, Vermont, Washington, Wisconsin, and the District of Columbia.
A copy of the letter is available here.
###