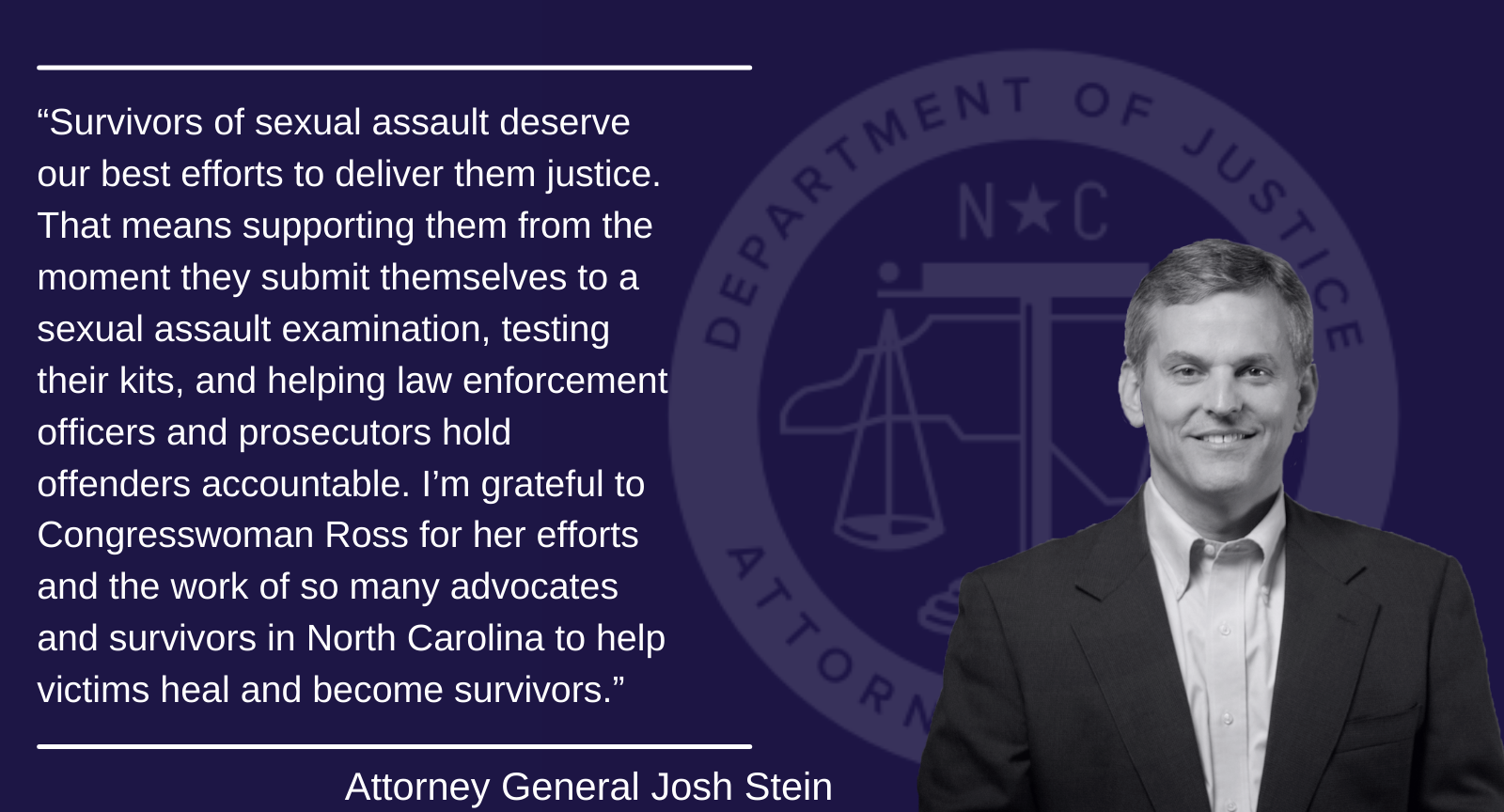 For Immediate Release:
Thursday, April 21, 2022
Contact:
Nazneen Ahmed (919) 716-0060
Contact: MacKensie Kvalvik
MacKensie.Kvalvik@mail.house.gov
202-480-7954
April is Sexual Assault Awareness Month
(RALEIGH) Congresswoman Deborah Ross (NC-02) and Attorney General Josh Stein today shared updates on federal and state efforts to support victims and survivors of domestic violence and sexual assault in North Carolina. They were joined by N.C. House Representative Gale Adcock, representatives from the North Carolina Coalition Against Sexual Assault and the North Carolina Coalition Against Domestic Violence, and other survivors and advocates.
"Survivors of sexual assault deserve our best efforts to deliver them justice," said Attorney General Josh Stein. "That means supporting them from the moment they submit themselves to a sexual assault examination, testing their kits, and helping law enforcement officers and prosecutors hold offenders accountable. I'm grateful to Congresswoman Ross for her efforts and the work of so many advocates and survivors in North Carolina to help victims heal and become survivors."
"We owe it to survivors who have endured unspeakable trauma to ensure they receive the care they deserve and are able to seek justice in court," said Congresswoman Ross. "My legislation authorizes $30 million per year dedicated to the training and retention of sexual assault nurses here in North Carolina and beyond. I'm incredibly grateful for partners like Attorney General Stein, who has made this a priority in North Carolina."
Last month, President Biden signed into law the reauthorization of the Violence Against Women Act (VAWA). Congresswoman Ross has been a champion of the reauthorization of VAWA, which makes vital improvements to programs and laws dealing with gender-based violence and addresses gaps in current law based on extensive consultation with victim service providers, law enforcement, and other experts.
Attorney General Stein and Congresswoman Ross are also working to end the shortage of Sexual Assault Nurse Examiners (SANE nurses) in North Carolina and across the nation. SANE nurses help victims of sexual assault begin to process their trauma and collect evidence in the immediate aftermath of an incident to help law enforcement move investigations forward. Attorney General Stein recently announced a new program in partnership with the Southern Regional Area Health Education Center to train 50 North Carolina nurses in hospitals across the state to serve as SANEs by the end of the summer. Additionally, the VAWA reauthorization included Congresswoman Ross' legislation, the Supporting Access to Nurse Exams (SANE) Act, to address the nationwide shortage of SANEs.
Attorney General Stein also shared an update on the work to test older, untested sexual assault kits in local law enforcement custody. Of the inventory of 16,237 kits, 12,496 kits require or may require testing based on the criteria of the Survivor Act. Of those kits, more than three-fourths have been tested (5,775) or are in the process of being tested (3,852). DNA samples from 2,091 kits tested have been entered into the CODIS DNA database and 40 percent (851) of those samples have resulted in a hit that may help law enforcement further investigations and solve cold cases. In recent years, law enforcement have made at least 63 arrests related to at least 91 assaults, including kidnapping, robbery, and attempted murder.
Funding in the state budget will help continue to test older kits and provide for additional scientists at the State Crime Lab to test new kits to prevent another backlog.
"Women who have been traumatized by sexual assault need increased access to a trusted, compassionate, specially trained SANE nurse in their community, at a hospital near them," said Rep. Gale Adcock. "The combined efforts of AG Stein, U.S. Representative Deborah Ross, the NC legislature, the NC Healthcare Association and advocates for victims of domestic violence and sexual assault are committed to increasing the number of SANE nurses across our state, and to strengthening the network of support services needed to help victims move from surviving to thriving."
"NCCASA applauds the efforts of every branch of government for acknowledging Sexual Assault Awareness Month for their ongoing commitment to ensuring survivors receive trauma informed services and support," said Monika Johnson Hostler, North Carolina Coalition Against Sexual Assault Executive Director. "The Violence Against Women Act reauthorization addresses the many needs identified during the engagement with the tireless advocates and survivors, including expanding resources for sexual assault services, prevention, housing, and sexual assault forensic examinations. We are proud NC is a leader in identifying and addressing these needs."
"When violence does occur, we know that survivors not only need access to trauma-informed medical and legal services, they also need paid family and medical leave so that they can comfortably access these resources," said attorney Nisha Williams, North Carolina Coalition Against Domestic Violence Legal Director. "They need insurance that allows them to afford essential health care for themselves and their families. And, they need a voice in what accountability and safety looks like in their situation."
"To people who have experienced sexual assault: the moment you walk away, you are a survivor," said Ms. Linda, a sexual assault survivor and advocate. "Your journey to healing begins now. You will not be alone."
###