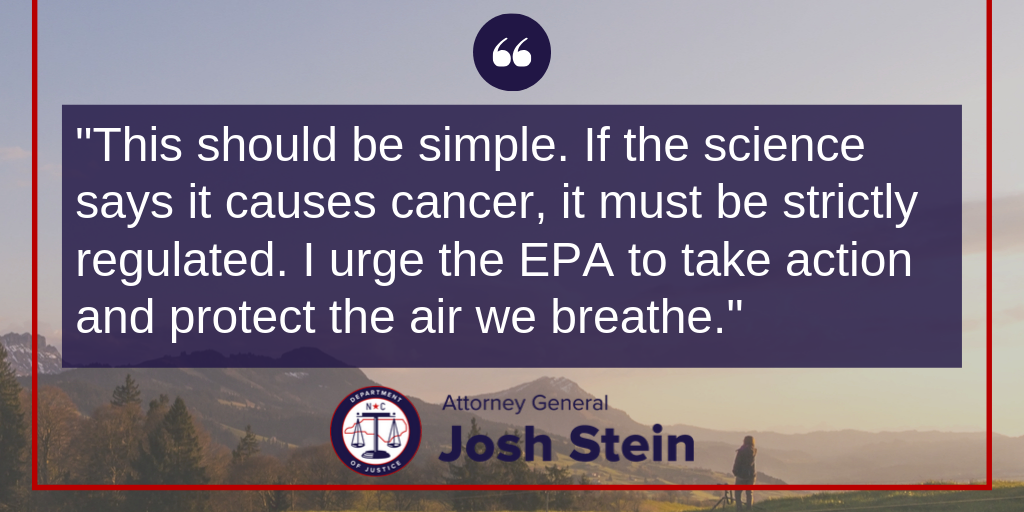 For Immediate Release:
Thursday, October 10, 2019
(RALEIGH) Attorney General Josh Stein today urged the U.S. Environmental Protection Agency (EPA) to promptly propose and finalize stricter standards for ethylene oxide (EtO) emissions. According to EPA's own assessment, EtO is a carcinogen to humans when it is inhaled.
"This should be simple," said Attorney General Josh Stein. "If the science says it causes cancer, it must be strictly regulated. I urge the EPA to take action and protect the air we breathe."
In 2016, EPA completed a risk assessment that found EtO was 30 times more dangerous than previously estimated. EPA is now five years late on its deadline under the Clean Air Act to review emissions standards for EtO.
In a letter, Attorney General Stein, along with 15 other state attorneys general, argues that EPA must accelerate its efforts to adopt a new, stricter national standard for EtO emissions. The coalition recognizes that a critical step in reducing EtO emissions is to reduce the use of EtO, which is why the attorneys general are also calling on the EPA to work with the U.S. Food and Drug Administration to support research into effective alternatives to EtO sterilization of medical equipment. More than 288,000 people live in areas around the country, including in North Carolina, that the EPA identified to be at elevated risk from EtO exposure.
Attorney General Stein is joined by the Attorneys General of California, Connecticut, Delaware, the District of Columbia, Illinois, Iowa, Maryland, Massachusetts, Minnesota, New Mexico, New York, Rhode Island, Vermont, Virginia, and Wisconsin in sending the letter.
A copy of the letter is available here.
Contact:
Laura Brewer (919) 716-6484
###