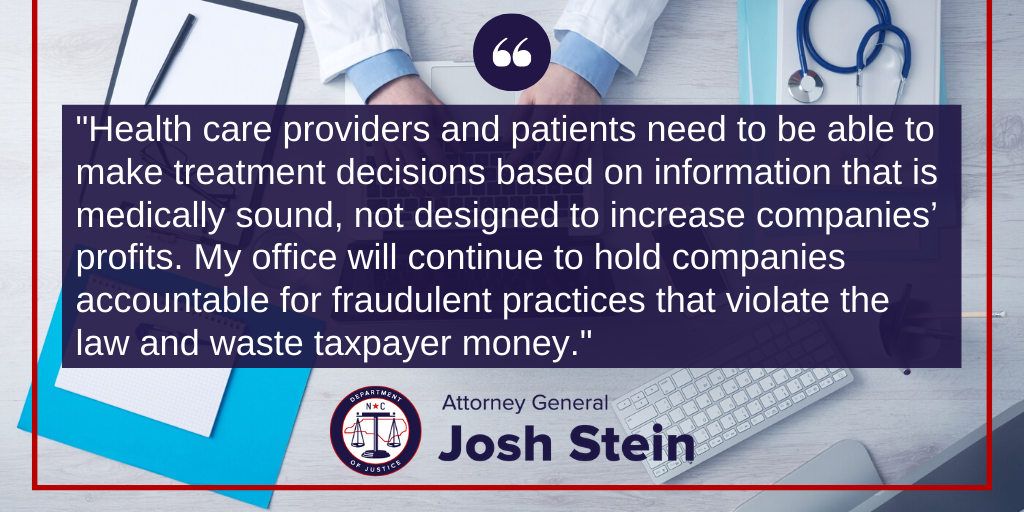 For Immediate Release:
Wednesday, January 29, 2020
(RALEIGH) Attorney General Josh Stein today announced a $118,642,000 settlement with web-based electronic health records company Practice Fusion over allegations that the company accepted payments from some drug manufacturers in exchange for using its software to promote their drugs to physicians. These payments constituted kickbacks in violation of the federal Anti-Kickback Statute, Civil Monetary Penalties Law, and related state laws. The North Carolina Medicaid Program will receive $721,826.98 in restitution and other recoveries.
"Health care providers and patients need to be able to make treatment decisions based on information that is medically sound, not designed to increase companies' profits," said Attorney General Josh Stein. "My office will continue to hold companies accountable for fraudulent practices that violate the law and waste taxpayer money."
Within its electronic health records platform, Practice Fusion was able to deploy clinical decision support alerts to health care providers that appeared to provide unbiased medical information – but in reality, the alerts were designed to encourage providers to prescribe a specific drug or class of drugs in some instances and did not always reflect accepted medical standards. From November 2013 to August 2017, Practice Fusion allegedly solicited and received improper payments from certain drug manufacturers based on the anticipated financial benefit from increased sales of drugs that the alerts would encourage providers to prescribe. Drug manufacturers that paid Practice Fusion selected guidelines used to develop the alert, set criteria that would determine when a provider received an alert, and in some cases, even drafted the language used in the alert itself. This behavior resulted in false claims or information being submitted or presented to state Medicaid programs for reimbursement. The settlement covers 14 separate alert agreements that Practice Fusion entered into during the relevant time frame.
This settlement arises from an investigation conducted by the United States Department of Justice. A National Association of Medicaid Fraud Control Units ("NAMFCU") Team participated in settlement negotiations. The team included representatives from the offices of the Attorneys General of California, Illinois, Indiana, Louisiana, Missouri, New York, Texas, and Virginia. The North Carolina settlement agreement was reached by the Medicaid Investigations Division of the North Carolina Department of Justice and the North Carolina Division of Health Benefits.
About the Medicaid Investigations Division (MID)
The Attorney General's MID investigates fraud and abuse by healthcare companies and providers, as well as patient abuse and neglect in facilities that are funded by Medicaid. Medicaid is a joint federal-state program that helps provide medical care for people with limited income. To date, the MID has recovered more than $850 million in restitution and penalties for North Carolina.
To report Medicaid fraud in North Carolina, call the North Carolina Medicaid Investigations Division at 919-881-2320.
Contact:
Laura Brewer (919) 716-6484
###