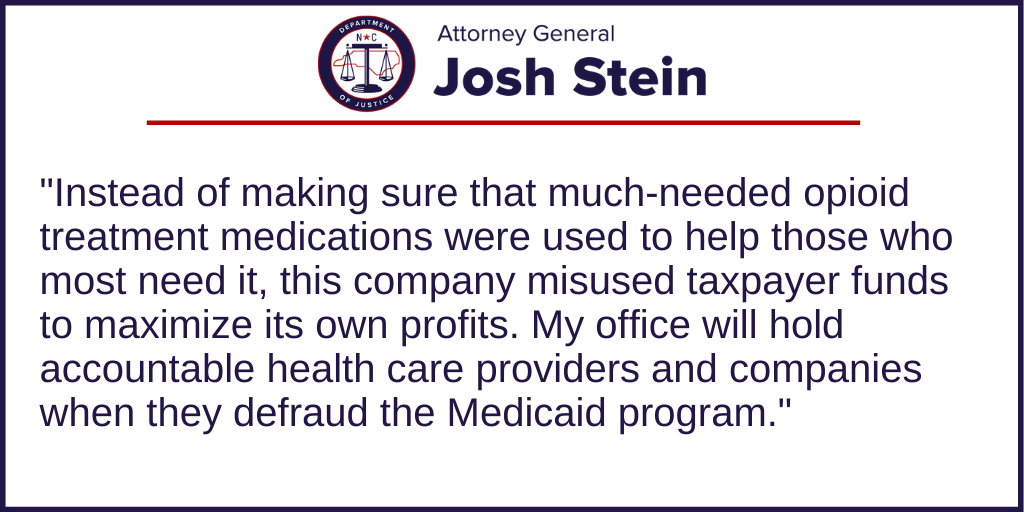 For Immediate Release:
Monday, May 3, 2021
Contact:
Laura Brewer (919) 716-6484
(RALEIGH) Attorney General Josh Stein today announced a $300 million settlement to settle allegations that pharmaceutical companies Indivior plc and Indivior Inc. (collectively Indivior) falsely and aggressively marketed and otherwise promoted the drug Suboxone, which resulted in the improper expenditures of state Medicaid funds. North Carolina will receive $7,018,626.59 in restitution and other recoveries.
"Instead of making sure that much-needed opioid treatment medications were used to help those who most need it, this company misused taxpayer funds to maximize its own profits," said Attorney General Josh Stein. "My office will hold accountable health care providers and companies when they defraud the Medicaid program."
Suboxone is approved to help people struggling with opioid addiction avoid or reduce withdrawal symptoms as they go through treatment. Suboxone and its active ingredient, buprenorphine, are powerful and addictive opioids.
The settlement resolves allegations that from 2010 to 2015, Indivior promoted the sale and use of Suboxone to physicians for prescriptions that lacked a legitimate medical purpose and were for unsafe and ineffective uses, promoted the sale or use of Suboxone Sublingual Film based on false and misleading claims, and submitted a petition to the FDA that fraudulently took steps to delay the entry of generic competition for various forms of Suboxone.
In a federal criminal case, Indivior Solutions, a subsidiary of Indivior, pleaded guilty to one count of felony information and admitted to making false statements to promote Suboxone Film to the Massachusetts Medicaid program and was sentenced to pay $289 million in criminal fines, forfeiture, and restitution. In addition to the criminal and civil resolutions, Indivior executed a five-year Corporate Integrity Agreement with the U.S. Department of Health and Human Services-Office of Inspector General that will require the company to implement numerous accountability and auditing provisions. Various officials at Indivior and its subsidiaries have also pleaded guilty in relation to this conduct.
Indivior Inc. was formerly known as Reckitt Benckiser Pharmaceuticals Inc. – Attorney General Stein reached a $700 million civil settlement with Reckitt in 2019 over similar allegations involving Suboxone.
A National Association of Medicaid Fraud Control Units ("NAMFCU") Team participated in settlement negotiations. The North Carolina settlement agreement was reached by the Medicaid Investigations Division of the North Carolina Department of Justice and the North Carolina Division of Health Benefits.
About the Medicaid Investigations Division (MID)
The Attorney General's MID investigates fraud and abuse by health care companies and providers, as well as patient abuse and neglect in facilities that are funded by Medicaid. Medicaid is a joint federal-state program that helps provide medical care for people with limited income. To date, the MID has recovered more than $900 million in restitution and penalties for North Carolina.
The Medicaid Investigations Division receives 75 percent of its funding from the U.S. Department of Health and Human Services under a grant award totaling $6,160,252 for Federal fiscal year (FY) 2020. The remaining 25 percent, totaling $2,053,414 for FY 2020, is funded by the State of North Carolina.
To report Medicaid fraud in North Carolina, call the North Carolina Medicaid Investigations Division at 919-881-2320.
###