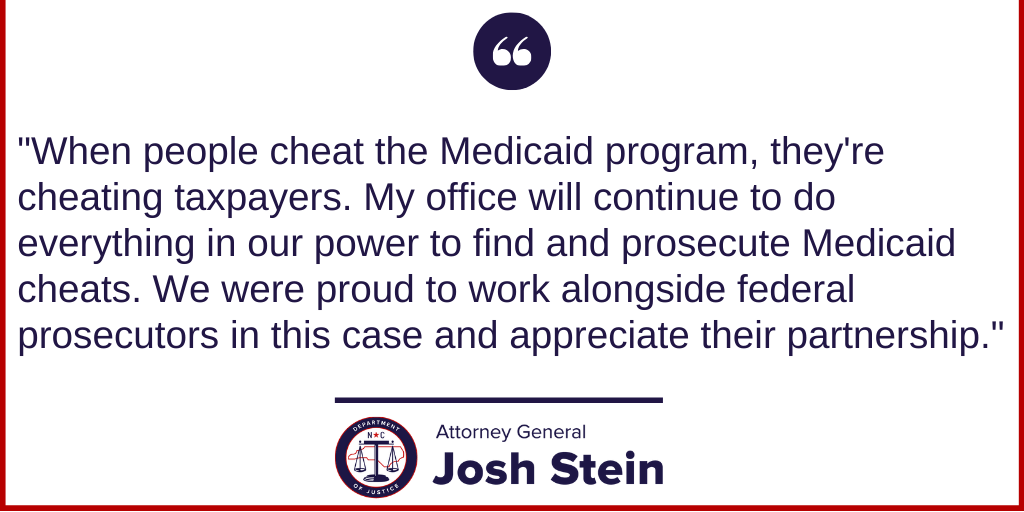 For Immediate Release:
Wednesday, April 29, 2020
(RALEIGH) Attorney General Josh Stein today announced an $8.8 million dollar settlement with Dr. Ibrahim Oudeh, his wife Teresa Sloan-Oudeh, and his medical practice over allegations of Medicaid fraud. Dr. Oudeh, Mrs. Sloan-Oudeh, and the medical practice agreed to relinquish assets valued at approximately $3,300,000 and further agreed to a conditional consent judgment of $5,500,000 to settle civil False Claims Act liability for allegedly false Medicare and Medicaid claims.
"When people cheat the Medicaid program, they're cheating taxpayers," said Attorney General Josh Stein. "My office will continue to do everything in our power to find and prosecute Medicaid cheats. We were proud to work alongside federal prosecutors in this case and appreciate their partnership."
The lawsuit alleged that Dr. Oudeh, Mrs. Sloan-Oudeh, and the practice fraudulently submitted more than 40,000 claims to Medicare and Medicaid between 2010 and 2017. The lawsuit alleged that these claims were for medically unnecessary and improper nerve conduction studies, medically unnecessary and improper diagnostic tests, and physician visits that did not reflect the services actually rendered.
The investigation and prosecution of this case was conducted by the Medicaid Investigations Division of the North Carolina Department of Justice in partnership with the United States Attorney's Office of the Eastern District of North Carolina. A settlement agreement is not an admission of liability, nor a concession by the State that its claims are not well founded. Defendants deny the allegations in this matter.
About the Medicaid Investigations Division (MID)
The Attorney General's MID investigates fraud and abuse by healthcare companies and providers, as well as patient abuse and neglect in facilities that are funded by Medicaid. Medicaid is a joint federal-state program that helps provide medical care for people with limited income. To date, the MID has recovered more than $850 million in restitution and penalties for North Carolina.
To report Medicaid fraud in North Carolina, call the North Carolina Medicaid Investigations Division at 919-881-2320.
Contact:
Laura Brewer (919) 716-6484
###