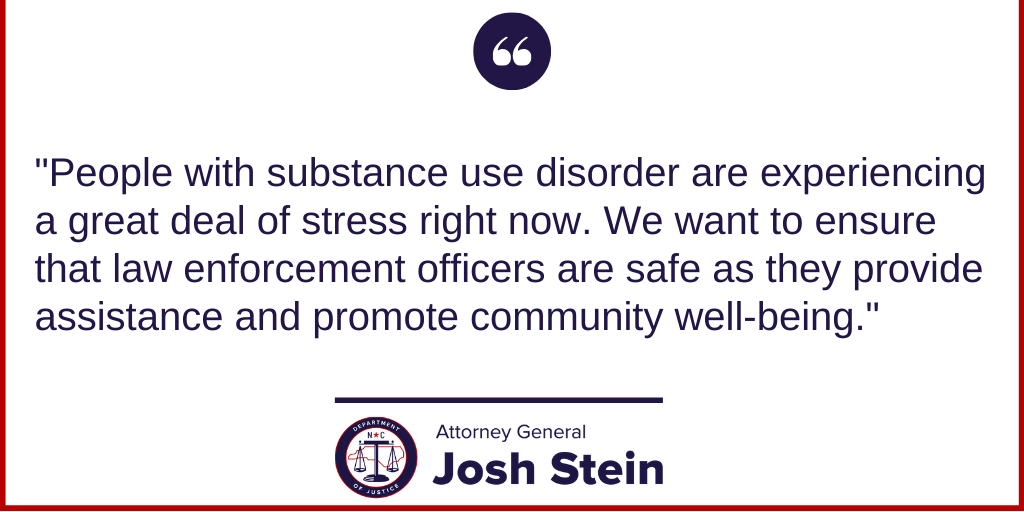 For Immediate Release:
Wednesday, April 29, 2020
(RALEIGH) Attorney General Josh Stein today announced that he, along with Addiction Professionals of North Carolina and the North Carolina Harm Reduction Coalition, has released new resources for law enforcement officers encountering people with addictions during the COVID-19 pandemic. You can access these resources here.
"People with substance use disorder are experiencing a great deal of stress right now," said Attorney General Josh Stein. "We want to ensure that law enforcement officers are safe as they provide assistance and promote community well-being."
"During this unprecedented time, everyone is looking for guidance, reassurance, and best practices for achieving safety and success," said High Point Police Chief Kenneth Shultz. "Although the pandemic is impacting nearly every aspect of police work, it is important that we do not overlook our at-risk community members, including people with addictions. This guide provides beneficial information for handling such interactions and highlights other resources available to assist us in these critical efforts."
The COVID-19 pandemic has put people with addictions under heightened stress and a greater risk of overdose. Many people face disruptions in access to medications, treatment, and recovery supports. If you are caring for someone with substance use disorder, please consider working with them on a plan to get or maintain treatment. For information on finding treatment and recovery support, visit www.MorePowerfulNC.org.
More on Attorney General Stein's work to protect North Carolinians during the COVID-19 pandemic:
Contact:
Laura Brewer (919) 716-6484
###