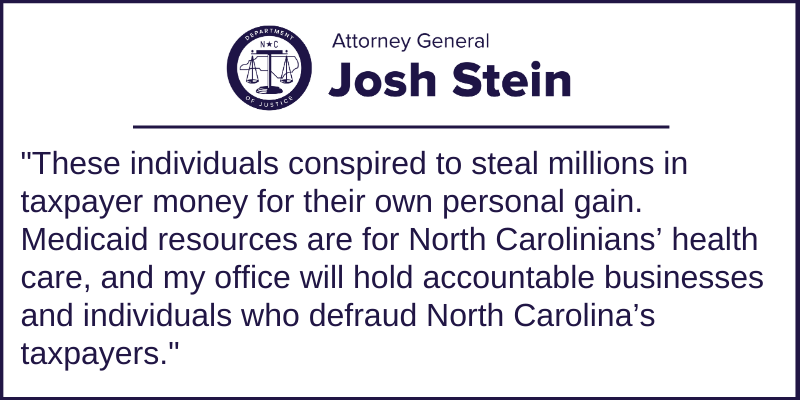 For Immediate Releaes:
Friday, October 23, 2020
Contact:
Laura Brewer (919) 716-6484
(RALEIGH) Attorney General Josh Stein today announced that Jerry Lewis Taylor of Wingate was sentenced to five years in prison followed by two years of supervised release and ordered to pay more than $6.1 million to the North Carolina Medicaid program and more than $346,000 to the IRS for conspiring to steal millions from Medicaid and committing tax evasion. Taylor's co-conspirator, Ameera Ali, was also sentenced this week to 84 months in prison and one year of supervised release. Attorney General Stein previously announced in July that the leader of this fraud scheme, Tony Garrett Taylor, was sentenced to 96 months in prison.
"These individuals conspired to steal millions in taxpayer money for their own personal gain," said Attorney General Josh Stein. "Medicaid resources are for North Carolinians' health care, and my office will hold accountable businesses and individuals who defraud North Carolina's taxpayers."
From June 2015 to December 2017, Jerry and Tony Taylor submitted false reimbursement claims for misrepresented or non-existent patient services to Medicaid. The Taylors submitted the claims through companies they owned and/or operated for at-risk youth, including Taylor Behavioral Health Center LLC and Options Driven LLC in Monroe, Design for Change LLC in Raleigh, and SHG Consultants Inc. in Gastonia.
Jerry Taylor prepared and submitted the fraudulent claims through a third-party billing company owned by Ali. Ali also provided patient lists containing identifying information for eligible Medicaid beneficiaries that the Taylors used to file the reimbursement claims for services that were never provided or to increase the reimbursement amount received. As a result of this scheme, more than $9.4 million in fraudulent claims were submitted to Medicaid, resulting in approximately $6.1 million in fraudulent payments from Medicaid.
Jerry Taylor also committed tax evasion for tax years 2016 and 2017 by failing to report more than $1.6 million in in Medicaid reimbursements that were used for personal expenses. A fourth individual was also previously sentenced in this case, and a fifth individual has pled guilty and is awaiting sentencing.
The investigation and prosecution of this case was conducted by the North Carolina Department of Justice's Medicaid Investigations Division, the United States Attorney's Office for the Western District of North Carolina, the Federal Bureau of Investigation – Charlotte Division, the Internal Revenue Service's Criminal Investigation Division – Charlotte Field Office, and the U.S. Postal Inspection Service.
About the Medicaid Investigations Division (MID)
The Attorney General's MID investigates fraud and abuse by health care companies and providers, as well as patient abuse and neglect in facilities that are funded by Medicaid. Medicaid is a joint federal-state program that helps provide medical care for people with limited income. To date, the MID has recovered more than $900 million in restitution and penalties for North Carolina.
The Medicaid Investigations Division receives 75 percent of its funding from the U.S. Department of Health and Human Services under a grant award totaling $6,348,028 for Federal fiscal year (FY) 2021. The remaining 25 percent, totaling $2,116,008 for FY 2021, is funded by the State of North Carolina.
To report Medicaid fraud in North Carolina, call the North Carolina Medicaid Investigations Division at 919-881-2320.
###