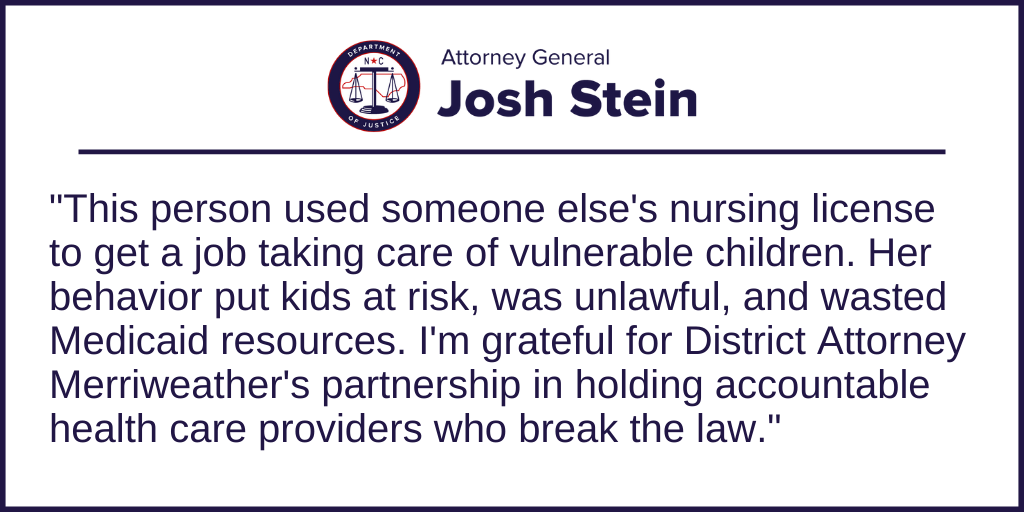 For Immediate Release:
Wednesday, September 29, 2021
Contact:
Nazneen Ahmed (919) 716-0060
(RALEIGH) Attorney General Josh Stein announced that Brittany White of Charlotte pleaded guilty to medical assistance provider fraud in Mecklenburg County Superior Court. She was sentenced to four to 14 months in prison and ordered to pay $23,401.05 in restitution. The active sentence was suspended and she was placed on 36 months of unsupervised probation.
"This person used someone else's nursing license to get a job taking care of vulnerable children," said Attorney General Josh Stein. "Her behavior put kids at risk, was unlawful, and wasted Medicaid resources. I'm grateful for District Attorney Merriweather's partnership in holding accountable health care providers who break the law."
White was a licensed practical nurse in Tennessee and continued to work in North Carolina under an established agreement between the two states. However, she allowed her out-of-state license to lapse in that time and then illegally used the license number of a licensed Tennessee nurse who had a similar name to obtain employment in North Carolina as a nurse at Continuum Pediatric Nursing Inc. (CPN). CPN hired White based on her false representation that she was an actively licensed nurse.
From May 4, 2018, to February 8, 2019, White cared for three pediatric patients at CPN despite not being licensed and was paid $23,401.05 for these services. CPN submitted claims to Medicaid for reimbursement for White's nursing services. CPN has already reimbursed Medicaid, and the court ordered White to pay restitution to CPN.
This conviction was obtained by the Attorney General's Medicaid Investigations Division and the Mecklenburg County District Attorney's Office.
About the Medicaid Investigations Division (MID)
The Attorney General's MID investigates fraud and abuse by health care companies and providers, as well as patient abuse and neglect in facilities that are funded by Medicaid. Medicaid is a joint federal-state program that helps provide medical care for people with limited income. To date, the MID has recovered more than $900 million in restitution and penalties for North Carolina.
The Medicaid Investigations Division receives 75 percent of its funding from the U.S. Department of Health and Human Services under a grant award totaling $6,160,252 for Federal fiscal year (FY) 2020. The remaining 25 percent, totaling $2,053,414 for FY 2020, is funded by the State of North Carolina.
To report Medicaid fraud in North Carolina, call the North Carolina Medicaid Investigations Division at 919-881-2320.
###