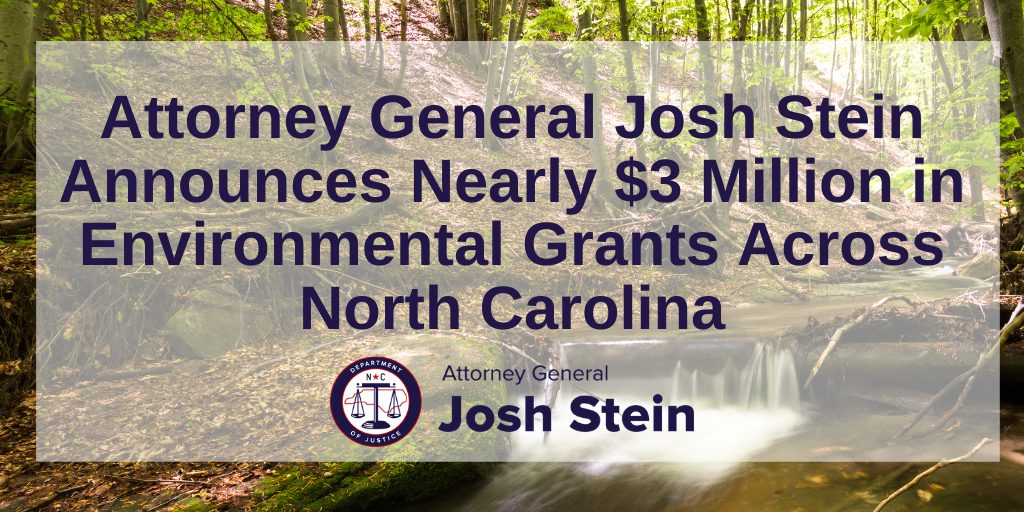 For Immediate Release:
Tuesday, October 27, 2020
Contact:
Laura Brewer (919) 716-6484
(RALEIGH) Attorney General Josh Stein today announced $150,000 in grants to protect and improve the environment in Ashe and Lincoln Counties through the Environmental Enhancement Grant (EEG) program. Across the state, Attorney General Stein will award nearly $3 million in grants to 22 grantees. That includes 10 construction projects; five planning, research, and education projects; three land acquisition projects; and four small grants.
Awards include:
Ashe County
The New River Conservancy will receive $100,000 to improve New River headwaters by restoring riparian buffers along approximately 500 linear feet in New River State Park.
"During the pandemic, more and more North Carolinians have taken advantage of the beauty and adventure in our state parks," said Attorney General Josh Stein. "That's great – but it also reminds us that we must maintain these lands to protect and preserve them for future use."
"New River Conservancy greatly appreciates the EEG program and its role in restoring the headwaters of the New River Watershed," said Chelsea Blount, Restoration Director. "Our river restoration effort at the Elk Shoals Access of the New River State Park is critical to protecting and enhancing the ecological function of the riparian buffer and stream bed habitat, especially during the time of COVID-19. During June-August 2020, the New River State Park experienced approximately 144,000 visitors; a 42.5% increase over the same period in 2019. By stabilizing and restoring the riparian buffer of the New River at Elk Shoals now, we are ensuring its resilience for the future. With more visitation than ever, this project will make certain that the streambank is stable enough to handle high traffic and that the riparian buffer is full, healthy, and protected from trampling. The headwaters of the New River contain some of the highest quality water in the state and New River Conservancy is committed to making sure that it remains that way."
Lincoln County
The Catawba Lands Conservancy will receive $50,000 to restore an impaired stream in Forney Creek. The funds will also allow the Catawba Lands Conservancy to begin to design and permit work to restore 3.5 miles of stream at Forney Creek's headwaters.
"Protecting our water resources is critically important – as is ensuring that we learn from our conservation efforts," said Attorney General Josh Stein. "I am pleased to support this project that will make a significant difference to the people of Lincoln County."
"Catawba Lands Conservancy is thankful to the Attorney General and the NCDOJ's Environmental Enhancement Grant for sharing our vision for Forney Creek," said Sean Bloom, Biologist and GIS Director at the Catawba Land Conservancy. "Your support for our efforts to improve the upper watershed of this 303d impaired stream will enable us to take the initial steps on a long-term project to restore five miles of the Forney Creek. In addition to the creek, a broad swath of low-lying areas will also benefit, including plants, animals, and human hikers on the adjacent trail who can witness the return of the natural state of the stream and its supported habitat. Additionally, everyone downstream reaps the benefit of fewer flash floods and higher water quality. It's a wonderful benefit for the residents of East Lincoln County and the many who drink water from the Catawba River, into which Forney Creek flows."
Statewide Projects
Waterkeepers North Carolina will receive $188,000 to research microplastic pollution in 30 streams and rivers, identify types of microplastics, and estimate loading rates from stormwater.
"It is critically important that we do everything we can to address pollution in our invaluable water sources," said Attorney General Josh Stein. "I appreciate the work Waterkeepers North Carolina does to do just that, and I am pleased to provide them with this additional funding."
UNC Charlotte will receive $101,792 to research whether biosolid land application contributes to PFAS occurrence in surface water, groundwater, and soil statewide.
"I am extremely concerned about the presence of forever chemicals like PFAS in our drinking water," said Attorney General Josh Stein. "I am suing DuPont over its role in polluting our water with PFAS. I am pleased to be supporting this work that will help inform our state's efforts to clean up the mess these dangerous chemicals have created."
"PFAS contamination has caused widespread health concerns among our residents in NC," said Mei Sun, Assistant Professor and Lead Researcher at UNC Charlotte. "This project is to provide information to policymakers, water engineers, and community stakeholders to better understand if biosolids land application will contribute PFAS to our precious water resources, improve PFAS exposure assessment, and guide sustainable applications of biosolids in affected areas."
About the EEG Program
These funds are distributed through the Environmental Enhancement Grant (EEG) program, which began after an agreement between the Attorney General's Office and Smithfield Foods in 2000. Under that agreement, Smithfield provides the Department of Justice $2 million each year for environmental projects across the state.
Due to ongoing litigation, this year's is the second grant cycle since 2016. This grant cycle includes the distribution of nearly $3 million to 22 grantees. Earlier in 2020, Attorney General Stein distributed more than $3.5 million to 27 grantees.
###