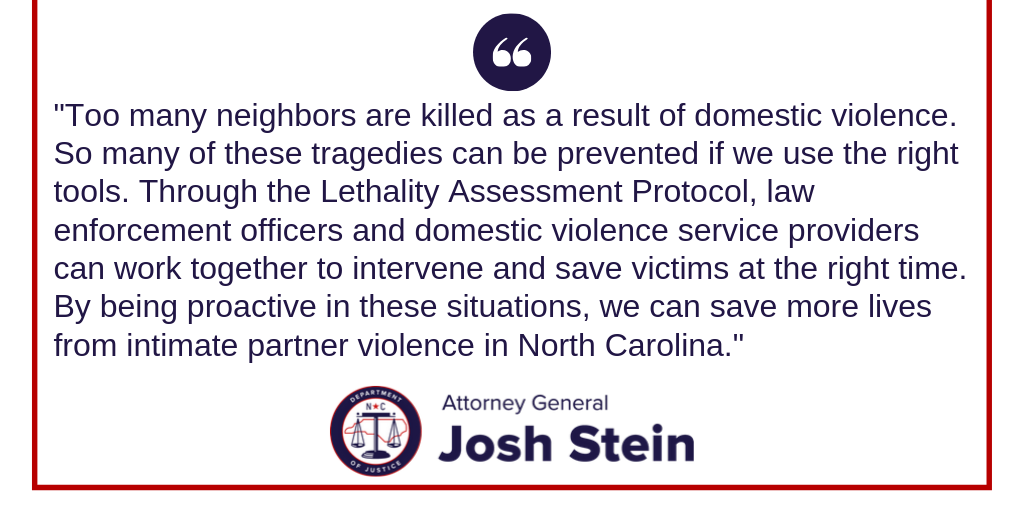 For Immediate Release:
Wednesday, October 2, 2019
(RALEIGH) Attorney General Josh Stein today announced a new statewide strategy that will allow law enforcement officers to proactively and quickly protect domestic violence victims who are at risk of being killed by their partners. The Lethality Assessment Protocol (LAP) gives law enforcement a research-based checklist of factors to consider when responding to a domestic violence incident. If an officer determines that a victim is at risk of injury or death, the officer will follow a clear procedure to connect the victim to local domestic violence service providers for support.
"Too many neighbors are killed as a result of domestic violence. So many of these tragedies can be prevented if we use the right tools," said Attorney General Josh Stein. "Through the Lethality Assessment Protocol, law enforcement officers and domestic violence service providers can work together to intervene and save victims at the right time. By being proactive in these situations, we can save more lives from intimate partner violence in North Carolina."
When officers respond to a domestic violence incident, they have a critical opportunity to take action and save victims. Nearly half of abusers who kill their partners were arrested the year before, and almost a third of victims had contacted the police.
LAP, originally developed by researchers in Maryland, brings law enforcement officers and domestic violence service providers together so they can build relationships and collaborate to save victims. LAP gives law enforcement officers a set of criteria to consider when determining whether a person is in danger of being killed by his or her partner. That criteria includes past incidents of violence, as well as other non-violent and non-illegal behavior that research indicates may be linked to homicides. Officers then on the spot connect the victims with domestic violence service providers so they have information and access to resources to get and stay safe.
The North Carolina Department of Justice and the North Carolina Justice Academy will provide trainings on the LAP to officers and domestic violence service providers across North Carolina. Currently in North Carolina, Mecklenburg County, along with law enforcement agencies in Wake, Durham, Buncombe, Alamance, and Davidson Counties are implementing LAP.
Contact:
Laura Brewer (919) 716-6484
###