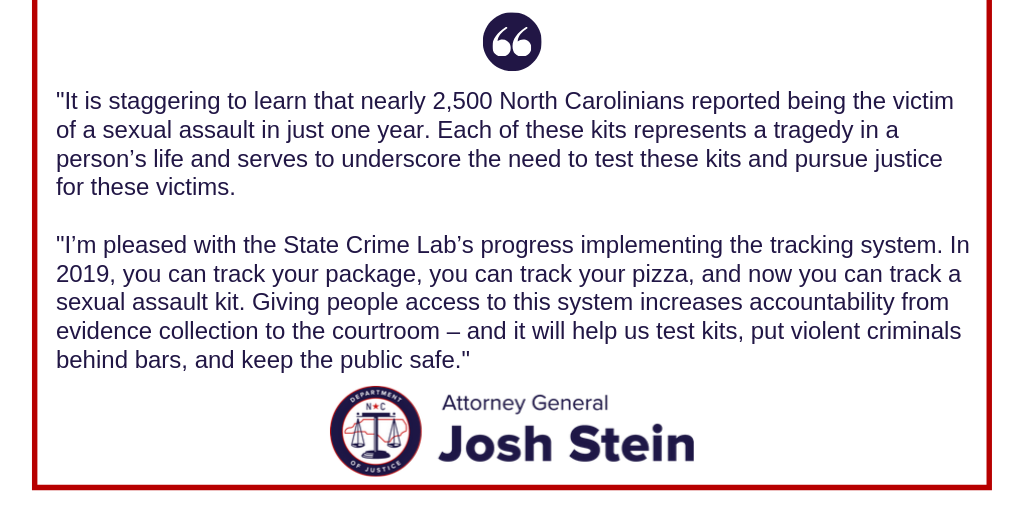 For Immediate Release:
Thursday, October 3, 2019
(RALEIGH) This week marks the one-year anniversary of North Carolina's sexual assault kit tracking system. On Oct. 1, 2018, Attorney General Josh Stein and the North Carolina State Crime Laboratory implemented a tracking system to ensure that survivors, law enforcement officers, and others would have a way to track sexual assault kits once they are collected to prevent backlogs and increase accountability.
Over the last year, 2,460 new sexual assault kits have been collected statewide and entered into the system. In addition to those new kits, 8,299 older kits in local law enforcement custody have been entered into the system. Entering these older kits into the tracking system is an important step in North Carolina's efforts to address the thousands of older, untested kits in law enforcement custody.
Attorney General Stein made the following statement:
"It is staggering to learn that nearly 2,500 North Carolinians reported being the victim of a sexual assault in just one year. Each of these kits represents a tragedy in a person's life and serves to underscore the need to test these kits and pursue justice for these victims.
"I'm pleased with the State Crime Lab's progress implementing the tracking system. In 2019, you can track your package, you can track your pizza, and now you can track a sexual assault kit. Giving people access to this system increases accountability from evidence collection to the courtroom – and it will help us test kits, put violent criminals behind bars, and keep the public safe."
Earlier this week, the North Carolina Department of Justice submitted to the legislature a report on sexual assault kit tracking and submission. Click here to view the report. Please note that the numbers in this press release are slightly higher than in the report; they're the newest numbers as of Oct. 2, 2019.
A graphic that illustrates North Carolina's progress addressing the sexual assault kit backlog is available here.
Contact:
Laura Brewer (919) 716-6484
###