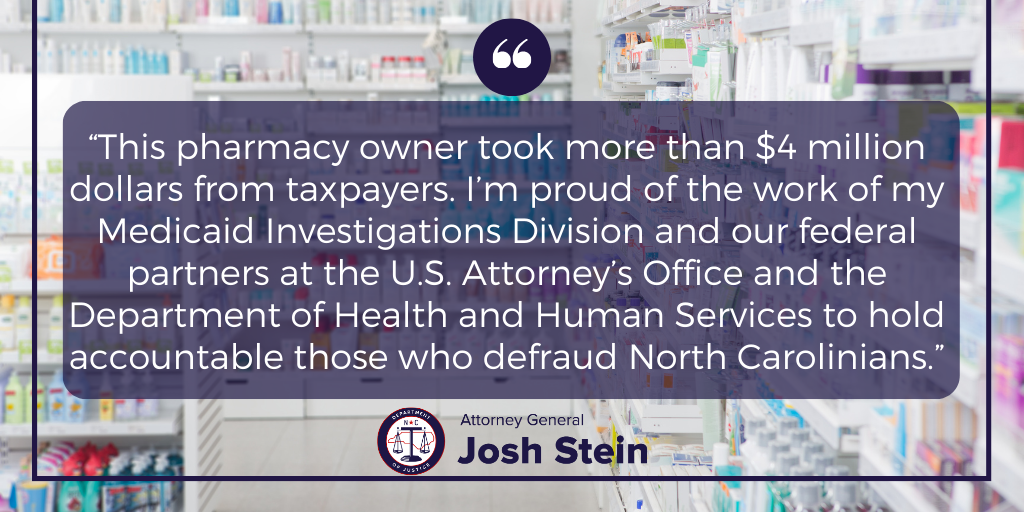 For Immediate Release:
Friday, August 11, 2023
Contact: Nazneen Ahmed
919-716-0060
(RALEIGH) Attorney General Josh Stein today announced that James Craig Bell, the owner of Townsend's Pharmacy in Robeson County, was sentenced to two years in prison for conspiracy to commit health care fraud. His fraudulent practices cost Medicare and the North Carolina Medicaid program more than $4 million over a decade.
"This pharmacy owner took more than $4 million dollars from taxpayers," said Attorney General Josh Stein. "I'm proud of the work of my Medicaid Investigations Division and our federal partners at the U.S. Attorney's Office and the Department of Health and Human Services to hold accountable those who defraud North Carolinians."
From 2006 to 2017, Bell's company billed Medicare, Medicaid, and private health plans for prescription drugs that were never dispensed. Bell trained other employees on how to bill health care plans for undispersed medications and how to fraudulently reauthorize existing prescriptions from a licensed medical professional. Mr. Bell's codefendant and former employee was sentenced last month to two years in prison as well, followed by three years of supervised release, after pleading guilty in connection to this matter.
The case was prosecuted by the U.S. Attorney's Office for the Eastern District of North Carolina. The U.S. Attorney's Office, the United States Department of Health and Human Services Office of the Inspector General, and the North Carolina Department of Justice's Medicaid Investigations Division worked together during the investigation and prosecution of this case.
About the Medicaid Investigations Division (MID)
The Attorney General's MID investigates and prosecutes health care providers that defraud the Medicaid program, patient abuse of Medicaid recipients, patient abuse of any patient in facilities that receive Medicaid funding, and misappropriation of any patients' private funds in nursing homes that receive Medicaid funding.
To date, the MID has recovered more than $1 billion in restitution and penalties for North Carolina. To report Medicaid fraud or patient abuse in North Carolina, call the MID at 919-881-2320. The MID receives 75 percent of its funding from the U.S. Department of Health and Human Services under a grant award totaling $6,106,236 for Federal fiscal year (FY) 2022. The remaining 25 percent, totaling $2,035,412 for FY 2022, is funded by the State of North Carolina.
###