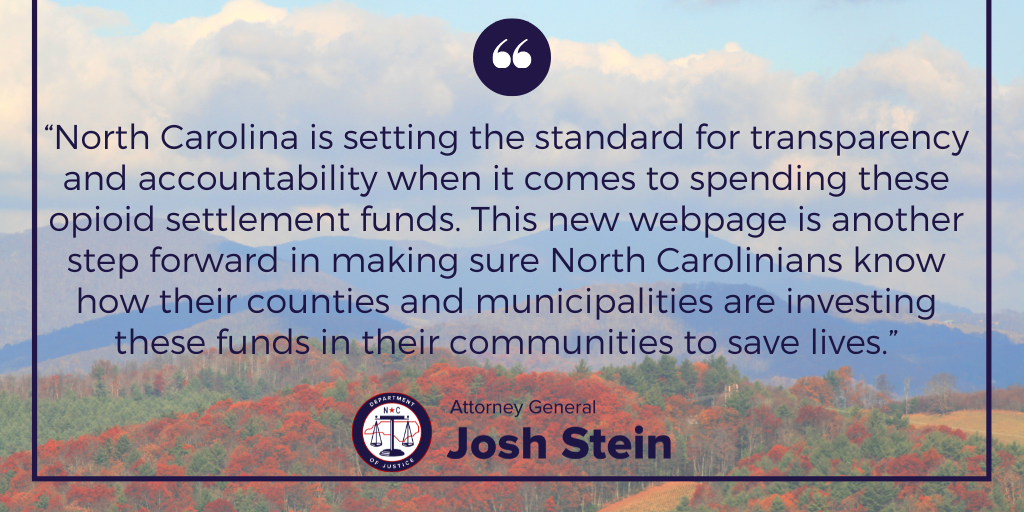 For Immediate Release:
Tuesday, August 15, 2023
Contact: Nazneen Ahmed
919-716-0060
(RALEIGH) Attorney General Josh Stein announced today that North Carolinians can view how their local governments plan to spend the approximately $1.2 billion coming to counties and municipalities to combat the opioid overdose crisis. The information is available on the Community Opioid Resources Engine for North Carolina (CORE-NC), which was created in partnership with the UNC Injury Prevention Research Center, North Carolina Association of County Commissioners, and the North Carolina Department of Health and Human Services.
"North Carolina is setting the standard for transparency and accountability when it comes to spending these opioid settlement funds," said Attorney General Josh Stein. "This new webpage is another step forward in making sure North Carolinians know how their counties and municipalities are investing these funds in their communities to save lives."
The new dashboard on CORE-NC shows preliminary data on what strategies counties and municipalities plan to fund with their share of the settlement funds. People will be able to view each local government's planned strategies as they determine them. The dashboard currently includes data submitted to CORE-NC before July 1, 2023, and will be updated periodically.
Transparency and accountability are a hallmark of North Carolina's approach to opioid settlement spending. CORE-NC includes resources, payment schedules, and extensive county-specific data to help guide local spending and guidance on strategies that work. In addition, CORE-NC will serve as an information clearinghouse for reports on the use and impact of opioid settlement funds for the duration of the 18-year settlement.
North Carolina recently received an award for excellence from a public health coalition led by the Johns Hopkins Bloomberg School of Public Health for devoting almost all of these settlement funds to addressing the opioid epidemic and for creating CORE-NC to share information and promote evidence-based solutions.
###