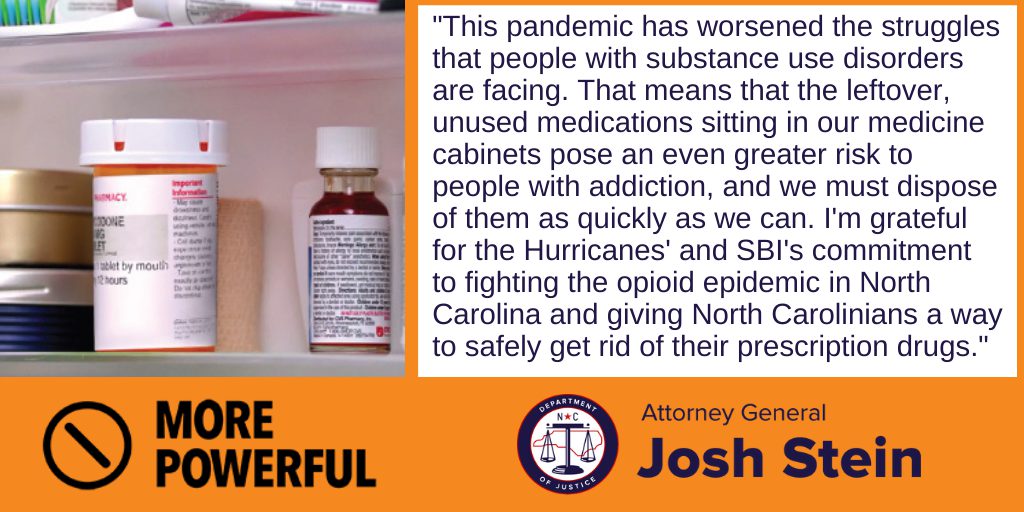 For Immediate Release:
Wednesday, January 27, 2021
Contact:
Laura Brewer (919) 716-6484
(RALEIGH) Attorney General Josh Stein today announced a three-day prescription drug take back event in partnership with the Carolina Hurricanes and the North Carolina State Bureau of Investigation. From 11:30 a.m. to 1:30 p.m., January 27-29, North Carolinians will be able to safely dispose of leftover medications at a drop-off site in front of the PNC Arena box office.
"This pandemic has worsened the struggles that people with substance use disorders are facing," said Attorney General Josh Stein. "That means that the leftover, unused medications sitting in our medicine cabinets pose an even greater risk to people with addiction, and we must dispose of them as quickly as we can. I'm grateful for the Hurricanes' and SBI's commitment to fighting the opioid epidemic in North Carolina and giving North Carolinians a way to safely get rid of their prescription drugs."
"It's so important that we each do our part to properly dispose of old prescriptions that we have in our medicine cabinets," said SBI Director Bob Schurmeier. "At a time when the opioid crisis has destroyed so many lives and so many families, we still have so much work to do and that's why the Prescription Drug Take Back Event is so important."
In 2018, 10.3 million people in the United States misused prescription medications. Most people who do so report getting these medications from the homes and medicine cabinets of their friends and loved ones.
The COVID-19 pandemic—and the necessary need for isolation and disruption in access to needed medications and treatment and recovery support—has led to increases in overdoses among people with addiction. Attorney General Stein previously shared these resources to help people with addiction and their friends and loved ones during the pandemic.
###