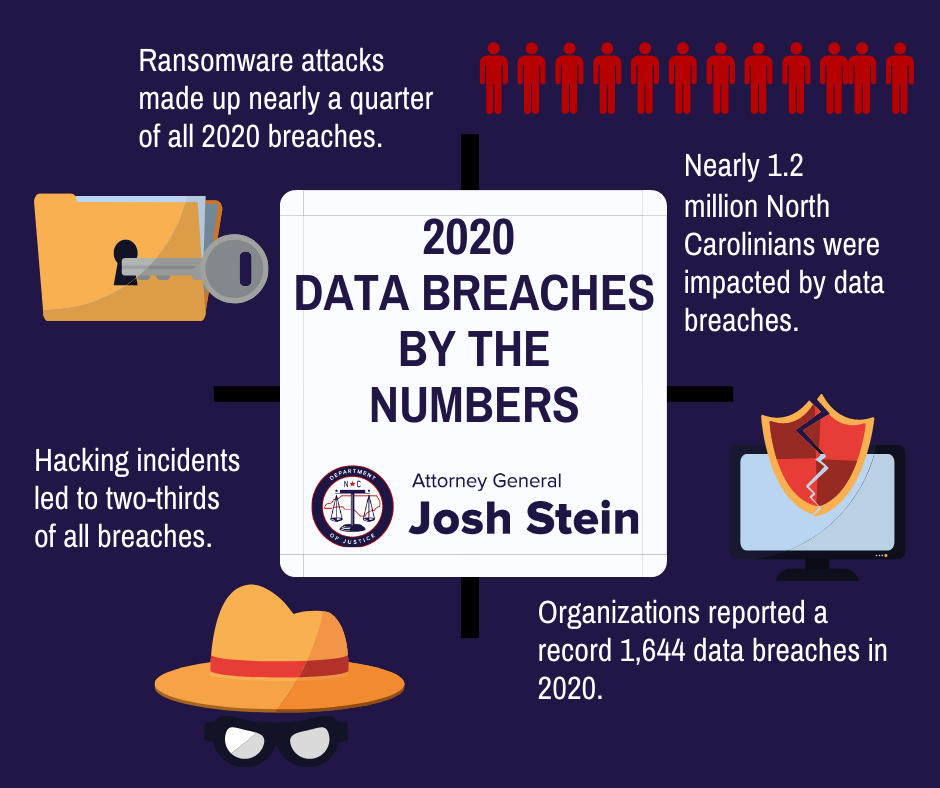 For Immediate Release:
Thursday, January 28, 2021
Contact:
Laura Brewer (919) 716-6484
(RALEIGH) Attorney General Josh Stein today released the North Carolina Department of Justice's 2020 data breach report, reporting that a record 1,644 data breaches were reported to the department last year. Attorney General Stein also shared a one-page guide to help North Carolinians secure their data and protect their privacy online.
"We spent much of 2020 more online than ever before – and it came at a cost to the security of our information," said Attorney General Josh Stein. "This increase in data breaches means that we have much more to do to protect our privacy online, and people and businesses have an even stronger responsibility to make sure they do everything they can to safeguard our personal information. I hope North Carolinians will use this opportunity to review their online security settings and practices to help protect themselves from the bad actors who are trying to access their data."
Breaches caused by ransomware jumped dramatically in 2020 – a total of 356 were reported to our office. Ransomware breaches occur when hackers use malware to gain access to a device or network, and then encrypt and hold the data available for ransom in exchange for money. Even if a person or business pays the ransom, they may not always be able to recover their data, and the financial impact can be overwhelming. The increase in ransomware incidents contributed to a continued rise in hacking breaches, which made up nearly 70 percent of all reported breaches.
Additional highlights from the 2020 data breach report include:
The 1,644 data breach notices submitted this year represent a 36 percent increase from 2019.
In 2020, nearly 1.2 million North Carolinians were affected by data breaches.
Email breaches made up nearly 40 percent of all breaches in 2020, about a 10 percent drop from 2019.
Businesses and state and local government agencies are required to report incidents of unauthorized access or acquisition of records or data concerning personal information to the North Carolina Department of Justice.
More on Attorney General Stein's work to protect North Carolinians' personal and financial information:
###