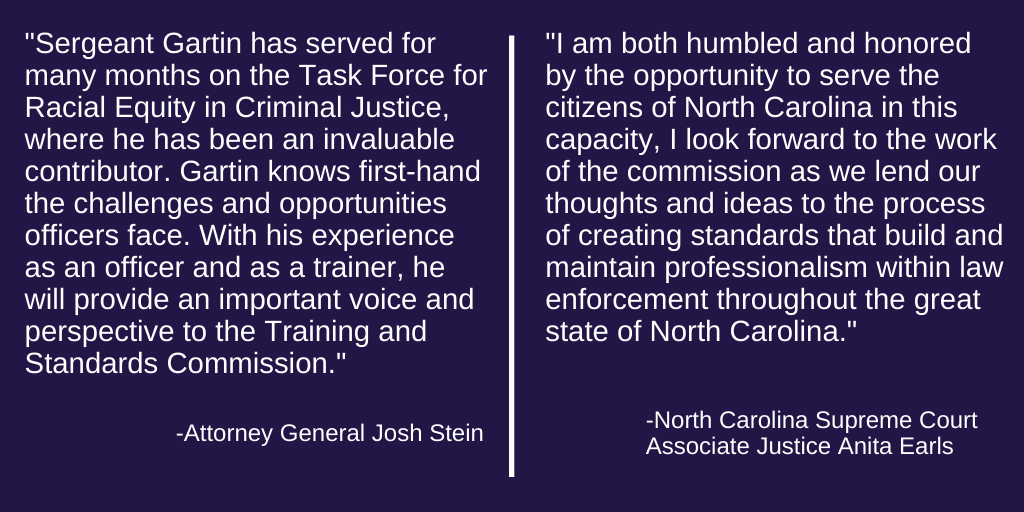 For Immediate Release:
Monday, February 1, 2021
Contact:
Laura Brewer (919) 716-6484
(RALEIGH) Attorney General Josh Stein today announced that he has appointed Sergeant Billy Gartin of the Raleigh Police Department to serve on the North Carolina Criminal Justice Education and Training Standards Commission. The Commission develops training and standards requirements for all police officers in North Carolina, including developing curricula for training, certifying officers, and taking action to decertify officers when standards are not met.
"Sergeant Gartin has served for many months on the Task Force for Racial Equity in Criminal Justice, where he has been an invaluable contributor," said Attorney General Josh Stein. "Gartin knows first-hand the challenges and opportunities officers face. With his experience as an officer and as a trainer, he will provide an important voice and perspective to the Training and Standards Commission."
Sergeant Gartin has been with the Raleigh Police Department over 18 years. He has spent the majority of his career there as a trainer. He has specialized instructor certifications in a number of subject matters. Gartin is currently assigned as the Raleigh Police Academy Commandant. Prior to becoming a Raleigh Police Officer Gartin served in the United States Marine Corps. He is a graduate of Liberty University.
"I am both humbled and honored by the opportunity to serve the citizens of North Carolina in this capacity, I look forward to the work of the commission as we lend our thoughts and ideas to the process of creating standards that build and maintain professionalism within law enforcement throughout the great state of North Carolina," said Gartin.
Sergeant David Rose of the Winston Salem Police Department served as the Attorney General's appointment on the Commission for the past four years. Sergeant Rose has served ably and represented law enforcement officers well during his term.
Attorney General Stein said, "I want to thank Sergeant Rose for his dedication to the profession on the commission these past four years and am grateful for his service to the people of Winston-Salem as an officer."
###