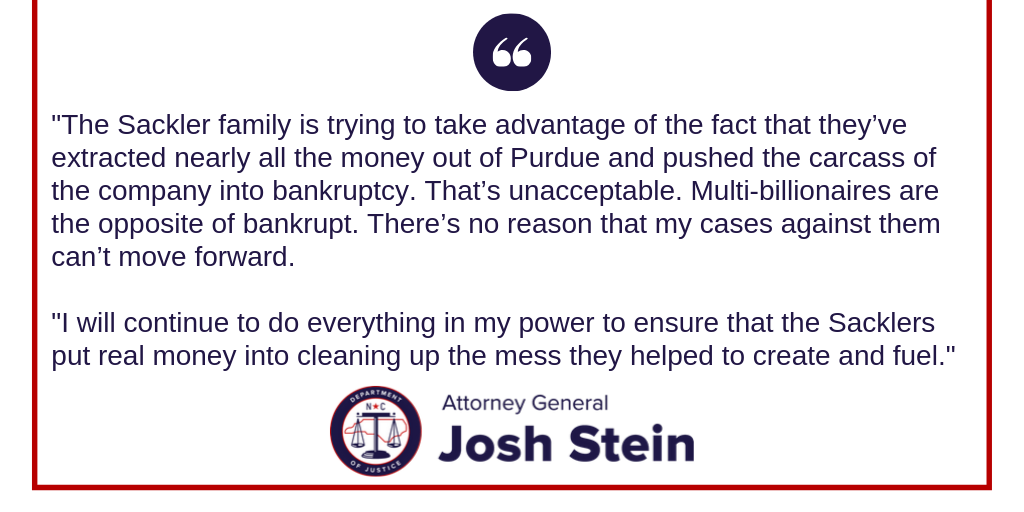 For Immediate Release:
Friday, October 4, 2019
(RALEIGH) Attorney General Josh Stein today submitted additional filings related to his cases against Purdue Pharma and eight members of the Sackler family. Specifically, Purdue has sued Attorney General Stein seeking to stop his cases against it and the Sacklers due to the Purdue bankruptcy. Attorney General Stein's filings oppose that effort.
Attorney General Stein released the following statement:
"The Sackler family is trying to take advantage of the fact that they've extracted nearly all the money out of Purdue and pushed the carcass of the company into bankruptcy. That's unacceptable. Multi-billionaires are the opposite of bankrupt. There's no reason that my cases against them can't move forward.
"I will continue to do everything in my power to ensure that the Sacklers put real money into cleaning up the mess they helped to create and fuel."
Attorney General Stein took this action today along with the Attorneys General of California, Colorado, Connecticut, Delaware, the District of Columbia, Hawaii, Idaho, Illinois, Iowa, Maine, Maryland, Massachusetts, Minnesota, Nevada, New Hampshire, New Jersey, New York, Oregon, Pennsylvania, Rhode Island, Vermont, Virginia, Washington, and Wisconsin.
Yesterday, Attorney General Stein formally opposed Purdue's efforts to pay out tens of millions of dollars in bonuses to its executives.
The filing related to Attorney General Stein's case against Purdue Pharma is available here.
The filing related to Attorney General Stein's case against members of the Sackler family is available here.
Contact:
Laura Brewer (919) 716-6484
###