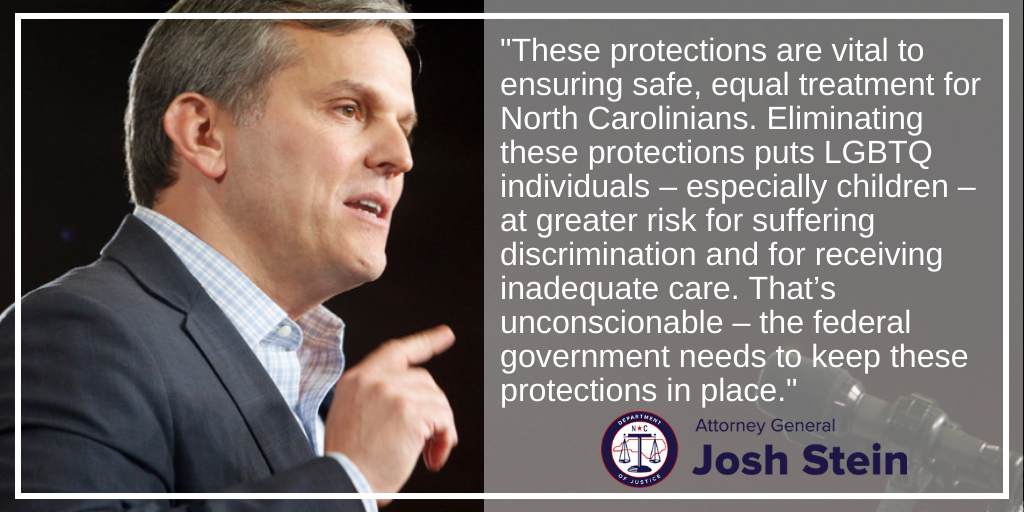 For Immediate Release:
Friday, December 20, 2019
(RALEIGH) Attorney General Josh Stein today condemned the federal government's latest effort to undermine the health care rights of LGBTQ individuals and families. Under a new federal proposal, the U.S. Department of Health and Human Services (HHS) is attempting to eliminate explicit protections for "gender identity or sexual orientation" in federal grant regulations.
"These protections are vital to ensuring safe, equal treatment for North Carolinians," said Attorney General Josh Stein. "Eliminating these protections puts LGBTQ individuals – especially children – at greater risk for suffering discrimination and for receiving inadequate care. That's unconscionable – the federal government needs to keep these protections in place."
The proposal would apply to a broad range of HHS grant programs, including maternal and child health grants, federally-assisted health training programs, Head Start programs, and mental health and substance abuse grants. The coalition of attorneys general notes that this proposal is arbitrary and capricious and that the agency failed to provide any adequate explanation for its weakening.
This proposal marks only the latest step the federal government has taken to deny LGBTQ individuals, youth, and families access to care and critical social services. LGBTQ families who foster and adopt children are among the most likely to be harmed by potentially being excluded from participation in federally funded child-welfare programs and from caring for vulnerable children. There are an estimated 27,000 same-sex couples raising 58,000 children through adoption and foster care across the United States. Additionally, discrimination against LGBTQ foster youth in care or services can have significant health consequences. In 2015, almost 20 percent of youth in foster care identified as LGBTQ, as compared to an estimated 8.3 percent in the general population.
Additionally, the Trump administration is moving the goalposts on defining who is eligible for anti-discrimination protections under federal statutes. For instance, the Trump administration is currently in the process of working to undermine Title VII of the Civil Rights Act by arguing before the U.S. Supreme Court that the law does not protect against discrimination based on sexual orientation or transgender status.
Attorney General Stein is joined in submitting the comment letter by the Attorneys General of California, Massachusetts, Pennsylvania, Colorado, Delaware, Hawaii, Illinois, Iowa, Maryland, Minnesota, Nevada, New Jersey, New York, Rhode Island, Vermont, Virginia, Washington, and the District of Columbia.
A copy of the comment letter can be found here.
Contact:
Laura Brewer (919) 716-6484
###