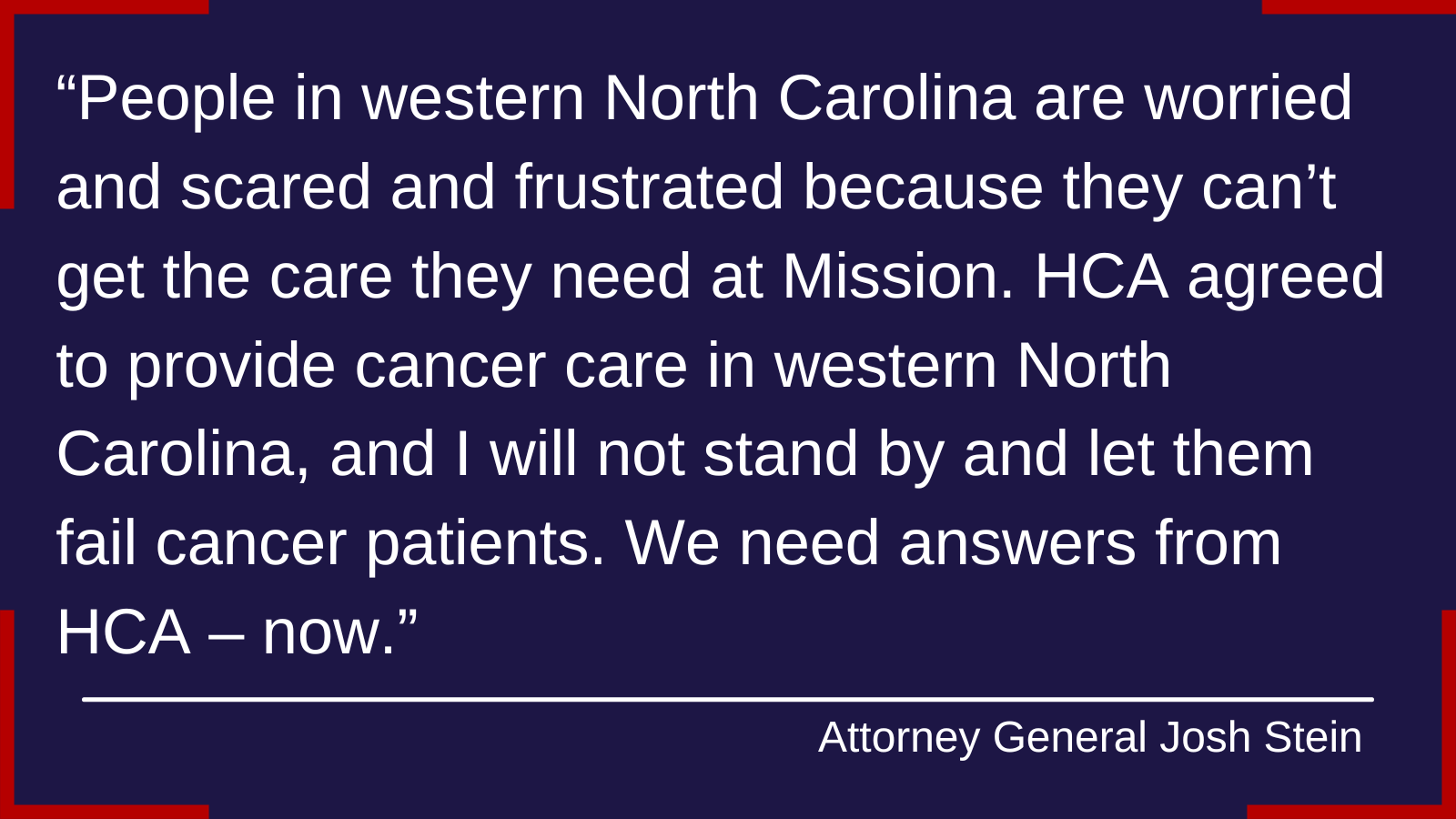 For Immediate Release:
Friday, September 29, 2023
Contact: Nazneen Ahmed
919-716-0060
(RALEIGH) Attorney General Josh Stein today demanded that HCA explain decreases in cancer services. Specifically, the Attorney General informed HCA that it might be in violation of the agreement it signed with the attorney general's office when it purchased Mission Hospital. Attorney General Stein is currently investigating HCA over these potential violations.
"People in western North Carolina are worried and scared and frustrated because they can't get the care they need at Mission," said Attorney General Josh Stein. "HCA agreed to provide cancer care in western North Carolina, and I will not stand by and let them fail cancer patients. We need answers from HCA – now."
Attorney General Stein's letter cites public reports that the Messino Cancer Group will no longer provide inpatient hematology treatment at Mission Hospital to adults with leukemia and lymphoma because HCA failed to adequately staff and provide resources to support the chemotherapy treatments. Additionally, GenesisCare, another private oncology practice, has declared bankruptcy and its doctors will no longer staff Mission's oncology practice. Now, people with some of the most severe forms of cancer can't get treatment in western North Carolina. Instead, they will have to travel hours to Charlotte, the Research Triangle Park, or out of state to get lifesaving care.
These allegations are especially concerning because the attorney general made HCA promise to continue offering oncology services as a condition of its purchase of Mission. Attorney General Stein is asking HCA leadership how it attempted to resolve the care delivery issues that led Messino Cancer Group to decide it was unsafe to provide certain cancer treatments at Mission, its future plans to provide cancer treatment at Mission, and other questions about staffing and patient care.
As Attorney General Stein continues his investigation, he's asking North Carolinians in western North Carolina to file complaints with his office if they are being affected by the lack of certain cancer treatments for adults with leukemia and lymphoma at Mission Hospital in Asheville. People can file complaints at www.ncdoj.gov/complaint. One of NCDOJ's Consumer Protection specialists has been assigned to review all complaints that people submit on this matter.
A copy of the letter is available here.
###