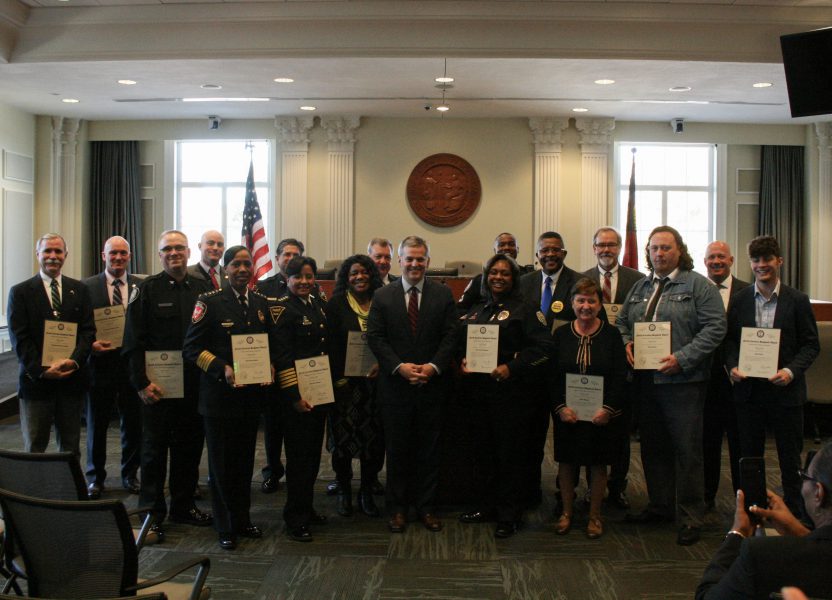 For Immediate Release:
Tuesday, November 26, 2019
(RALEIGH) Attorney General Josh Stein today awarded 22 North Carolinians with the Attorney General's Dogwood Award. These awards are given annually to honor North Carolinians who are dedicated to keeping people safe, healthy, and happy in their communities. Each of today's 22 recipients have been working to address issues that make North Carolina safer and stronger, including testing sexual assault kits, fighting addiction, protecting our environment, addressing food insecurity, improving people's health, and facilitating reentry of formerly incarcerated people.
"This year's Dogwood Award winners are working hard in their communities on behalf of their friends and neighbors," said Attorney General Josh Stein. "I applaud their commitment to service and their contributions to our state. I am proud to honor each with a Dogwood Award."
A full list of 2019 Dogwood Award Recipients is below:
Wanda Boone, Together for Resilient Youth, Durham
Mark Bowling, East Carolina University's Brody School of Medicine and Vidant Health, Greenville
Tom Brewer, President, Professional Fire Fighters and Paramedics Association of North Carolina, Charlotte
Danny Britt, Columbus and Robeson County
Mandy Cohen, North Carolina Department of Health and Human Services, Raleigh
Casey Cooper, Chief Executive Officer, Cherokee Indian Hospital, Cherokee
Chief Cerelyn "CJ" Davis, Durham Police Department
Molly Diggins, State Director, Sierra Club, Raleigh
Officer D.K. Evans, School Resource Officer, Greensboro Police Department
Randy Evans, Founder and Director, Walking Tall Wilmington
Dennis Gaddy, Founder and Executive Director, Community Success Initiative, Raleigh
Chief Gina Hawkins, Fayetteville Police Department
Sheriff John Ingram, Brunswick County
Luka Kinard, Student/Speaker on Dangers of E-cigarettes, High Point
Sheriff Alan Norman, Cleveland County
Dennis Riddell, Alamance County
Mayor Bob Scott, Franklin
Chief Wayne Scott, Greensboro Police Department
Mayor Patrick Taylor, Highlands
Chief Catrina Thompson, Winston-Salem Police Department
Don Waddell, General Manager, Carolina Hurricanes, Raleigh
Chief Mike Yaniero, Jacksonville Police Department
Contact:
Laura Brewer (919) 716-6484
###