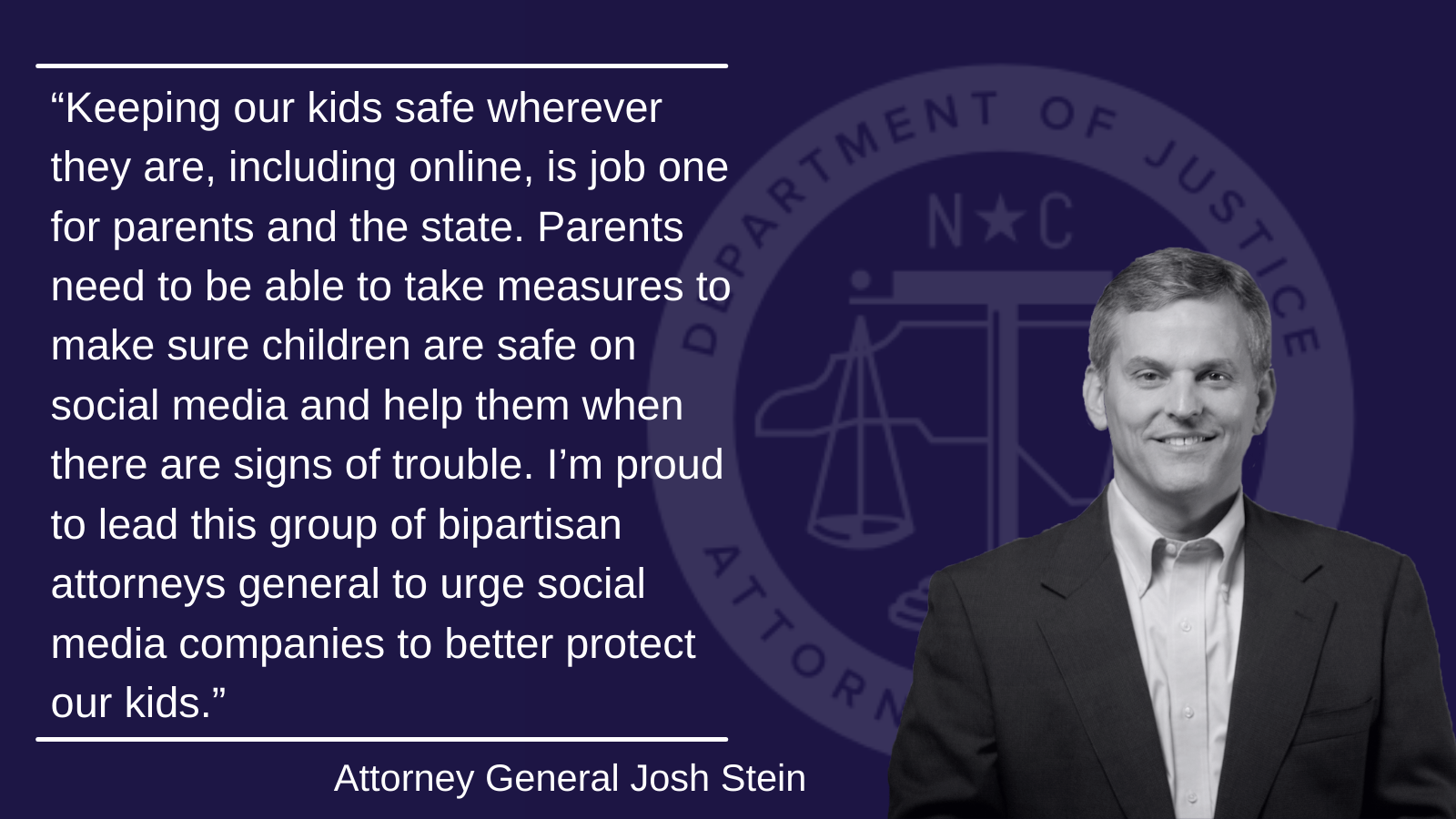 For Immediate Release:
Tuesday, March 29, 2022
Contact:
Nazneen Ahmed (919) 716-0060
(RALEIGH) Attorney General Josh Stein and Mississippi Attorney General Lynn Fitch today led a bipartisan group of 44 attorneys general asking social media companies TikTok and Snapchat to give parents more ability to protect their children online by allowing third party apps that empower parents to monitor content. More than half of young people between 12 and 17 use Snapchat on a weekly basis, and nearly two-thirds use TikTok on a weekly basis.
"Keeping our kids safe wherever they are, including online, is job one for parents and the state," said Attorney General Josh Stein. "Parents need to be able to take measures to make sure children are safe on social media and help them when there are signs of trouble. I'm proud to lead this group of bipartisan attorneys general to urge social media companies to better protect our kids." 
In their letter to TikTok and Snapchat, the attorneys general assert that protecting kids online is the responsibility of both parents and social media companies. Parental control apps empower parents by alerting them to potentially harmful messages, including content related to bullying, self-harm, and suicide, so parents can intervene and get help for their children. Furthermore, parental control apps can monitor content that the platform itself does not monitor, such direct or private messages. Many other platforms already allow parental control apps that help parents protect their children. 
In addition to asking these companies to collaborate with parental control apps, the attorneys general are also asking TikTok and Snapchat to strengthen their own internal parental controls and content moderation. This is particularly necessary because both platforms have "Discover" or "For You" pages that often serve children content that includes disturbing sexual images, explicit drug use, and abusive relationships. This content can have far-reaching harm on children's understanding of healthy relationships and domestic abuse and could be screened out with better content moderation. 
Attorney General Stein is investigating TikTok to determine how the social media platform is attracting children and young adults, whether TikTok usage harms young users, and what it is doing to protect kids. He is also part of an executive committee of states investigating Meta, formerly known as Facebook, for providing and promoting Instagram to kids. In May, he was part of a bipartisan coalition of 44 attorneys general that urged Facebook to abandon its plans to launch a version of Instagram for children under the age of 13.
Attorney General Stein and Attorney General Fitch are joined in sending this letter by the Attorneys General of Alabama, Alaska, Arkansas, Connecticut, Delaware, District of Columbia, Florida, Georgia, Guam, Hawaii, Idaho, Iowa, Kansas, Kentucky, Louisiana, Maine, Maryland, Massachusetts, Michigan, Minnesota, Montana, Nebraska, Nevada, New Hampshire, New Mexico, New York, North Dakota, Ohio, Oklahoma, Oregon, Pennsylvania, Rhode Island, South Carolina, South Dakota, Tennessee, Utah, Vermont, Virginia, Washington, West Virginia, Wisconsin, and Wyoming. 
A copy of the letter is available here. 
###