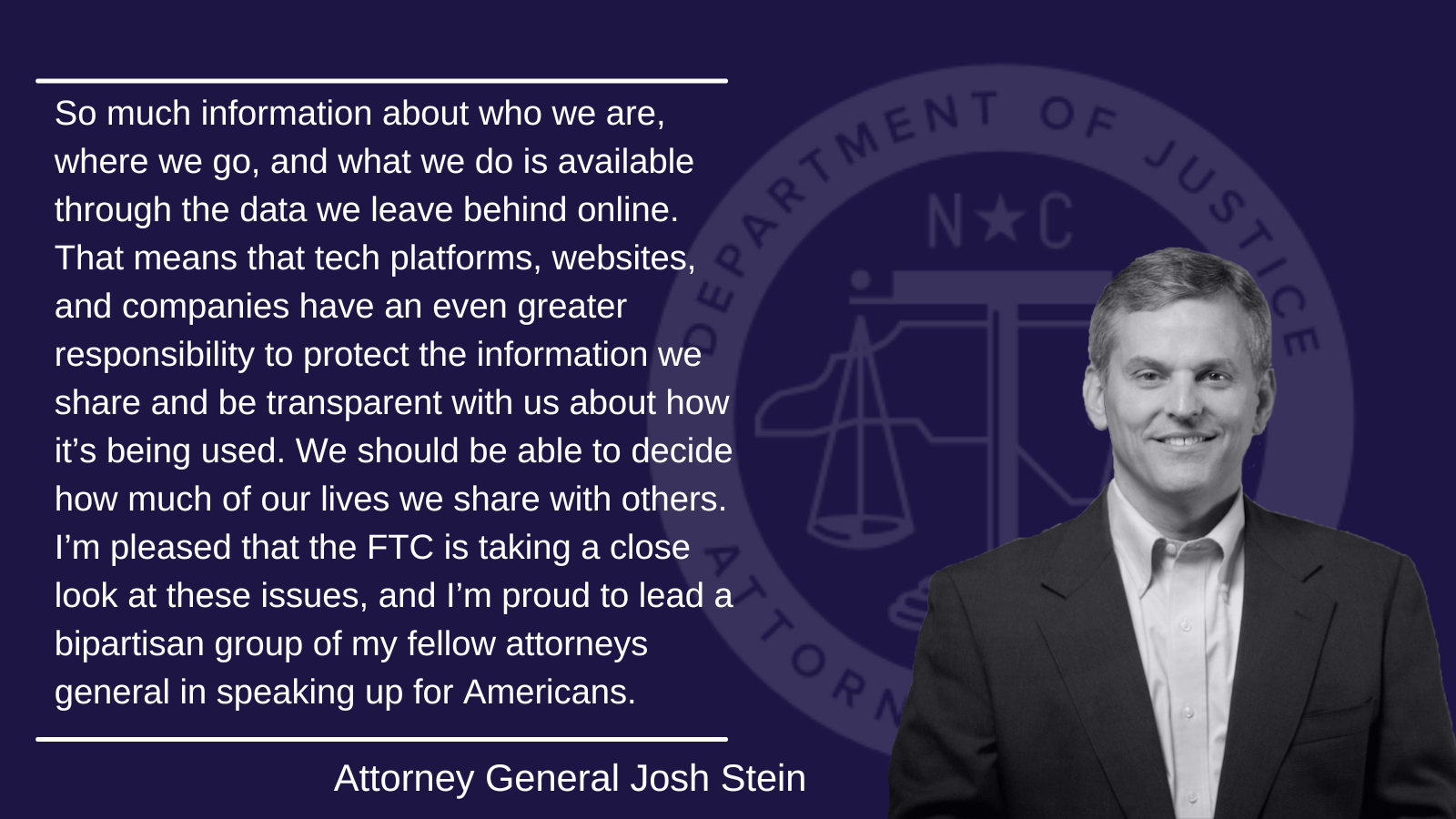 For Immediate Release:
Thursday, November 17, 2022
Contact: Nazneen Ahmed
919-716-0060
(RALEIGH) Attorney General Josh Stein and the Attorneys General of Connecticut, Illinois, Massachusetts, New Jersey, and Oregon today led a bipartisan group of 33 attorneys general calling on the Federal Trade Commission (FTC) to consider stronger surveillance and data security protections to prevent misconduct and promote transparency and accountability around online data collection.
"So much information about who we are, where we go, and what we do is available through the data we leave behind online," said Attorney General Josh Stein. "That means that tech platforms, websites, and companies have an even greater responsibility to protect the information we share and be transparent with us about how it's being used. We should be able to decide how much of our lives we share with others. I'm pleased that the FTC is taking a close look at these issues, and I'm proud to lead a bipartisan group of my fellow attorneys general in speaking up for Americans."
In a comment letter filed today, the attorneys general urge the FTC to acknowledge the heightened sensitivity around people's medical data, biometric data, and location data, along with the dangers that arise from data brokers and the surveillance of consumers. The coalition also asked that the FTC consider data minimization, which limits the amount of data collected by businesses to only what is required for a specific purpose, to help mitigate concerns surrounding data aggregation.
In their letter, the attorneys general ask the FTC to consider stronger protections for the following types of data concerns:
Location data: Many people are not even aware that sensitive information about their location is being collected, and they often have limited options when they try to disable location sharing.
Biometric data: Many people provide facial data, fingerprints, and other biometric information to companies for security purposes or to learn about their ancestry, but they aren't always aware when their data is being collected, how it is used, or if it is resold for other purposes.
Medical data: Technology devices collect a lot of health data and medical information through smartwatches, heart monitors, sleep monitors, and apps, which create concerns about how that data is being stored or passed to others through online trackers.
Data brokers: Data brokers profile online users by scouring social media profiles, internet browsing history, purchase history, credit card information, and government records like driver's licenses, census data, birth certificates, marriage licenses, and voter registration information. They use that information to create and sell consumer profiles for advertising and marketing purposes. That information can identify people and put them at risk of scams, unwanted and persistent advertising, identity theft, and lack of consumer trust in the websites they visit.
Data minimization: Minimizing the type of data that companies can gather to only what is necessary can help keep that data secure and minimize the risk of data theft.
Attorney General Stein has focused on giving North Carolinians more tools to make informed decisions about the information they share and allow companies to collect. He recently unveiled a tech safety agreement to help parents and caregivers talk to their kids about how to use the internet and social media responsibly while safeguarding kids' well-being and personal information, staying on the alert for warning signs of scams and predatory behavior, and making good decisions. The agreement can be downloaded here.
Attorney General Stein is joined in sending this letter by the Attorneys General of Connecticut, Illinois, Massachusetts, New Jersey, Oregon, Arizona, Colorado, Delaware, the District of Columbia, Hawaii, Idaho, Indiana, Iowa, Maine, Maryland, Minnesota, Michigan, Montana, Nebraska, Nevada, New Hampshire, New Mexico, New York, Oklahoma, Pennsylvania, Rhode Island, South Carolina, Texas, Utah, Vermont, Washington, and Wisconsin.
A copy of the letter is available here.
###