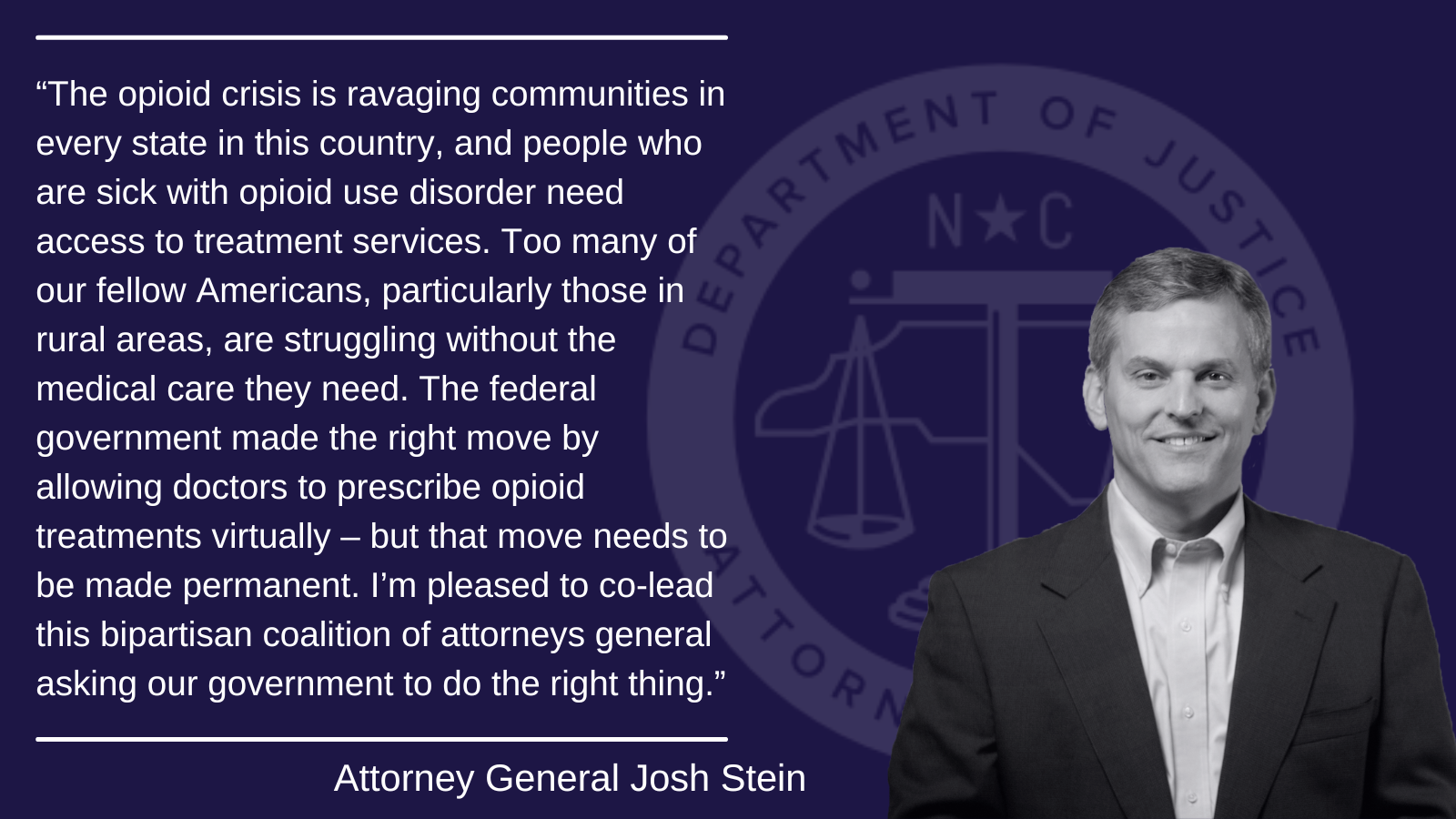 For Immediate Release:
Thursday, November 17, 2022
Contact: Nazneen Ahmed
919-716-0060
(RALEIGH) Attorney General Josh Stein and Florida Attorney General Ashley Moody today led a coalition of 45 attorneys general urging the Drug Enforcement Administration (DEA) and the Substance Abuse and Mental Health Services Administration (SAMHSA) to permanently extend the ability for health care providers to prescribe buprenorphine through telehealth. Buprenorphine is one of three medications that is approved by the Food and Drug Administration to treat patients with opioid use disorder.
"The opioid crisis is ravaging communities in every state in this country, and people who are sick with opioid use disorder need access to treatment services," said Attorney General Josh Stein. "Too many of our fellow Americans, particularly those in rural areas, are struggling without the medical care they need. The federal government made the right move by allowing doctors to prescribe opioid treatments virtually – but that move needs to be made permanent. I'm pleased to co-lead this bipartisan coalition of attorneys general asking our government to do the right thing."
"Telehealth has been a powerful tool in allowing us to improve access to life-saving addiction treatment across North Carolina, especially in rural and underserved areas," said Dr. Robyn Jordan, Director of the NC Substance Treatment And Recovery Network and the UNC Addiction Program and Associate Professor at the University of North Carolina. "Many of our patients live in extreme circumstances, often without housing or transportation. Many would have no access to addiction treatment without telehealth. As an addiction treatment professional, I join those urging the federal government to preserve this essential service."
In March 2020, the DEA allowed audio-visual telemedicine services to prescribe all Schedule II-V controlled substances, including buprenorphine as a condition of the COVID-19 public health emergency. These telehealth services helped increase the number of people who were able to begin and continue treatment for opioid use disorder with buprenorphine, especially those who may have struggled to get the medication because they live farther away from a treatment provider. An estimated 28 million Americans live more than 10 miles away and about 3 million live more than 30 miles away from a buprenorphine provider. People who were prescribed buprenorphine virtually also had lower overdose rates.
If the government doesn't permanently extend the ability, the public health emergency will expire and cut off an estimated 2.5 million U.S. adults from getting the opioid use disorder treatment they need.
Attorneys General Stein and Moody are joined in sending this letter by the Attorneys General of Arizona, California, Colorado, Connecticut, Delaware, District of Columbia, Georgia, Guam, Hawaii, Idaho, Illinois, Iowa, Kansas, Kentucky, Louisiana, Maine, Massachusetts, Michigan, Minnesota, Mississippi, Nebraska, Nevada, New Hampshire, New Jersey, New Mexico, New York, North Dakota, Ohio, Oklahoma, Oregon, Pennsylvania, Puerto Rico, Rhode Island, South Carolina, South Dakota, Texas, Utah, Vermont, Virginia, Washington, West Virginia, Wisconsin, and Wyoming.
To read the full letter, click here.
###