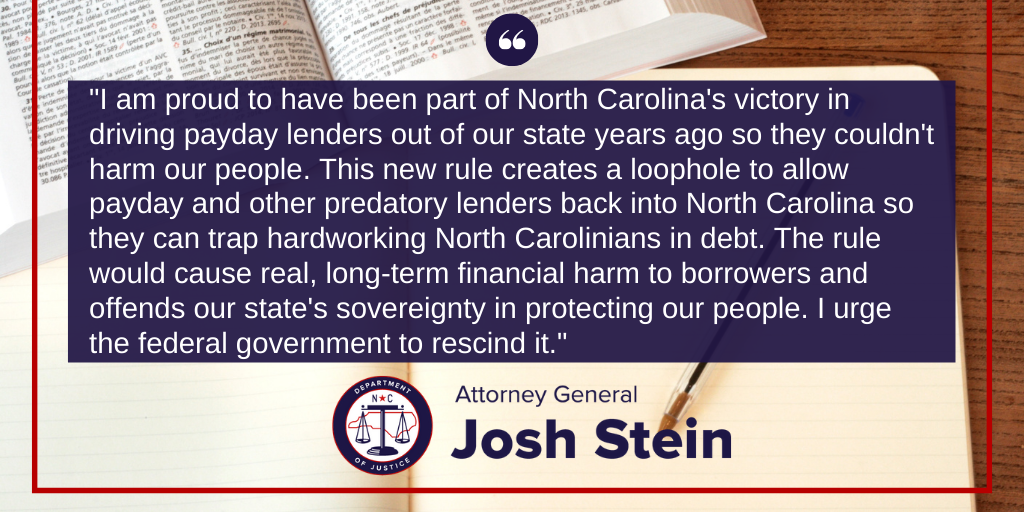 For Immediate Release:
Friday, September 4, 2020
Contact:
Laura Brewer (919) 716-6484
(RALEIGH) Attorney General Josh Stein, along with New York Attorney General Letitia James and Minnesota Attorney General Keith Ellison, led a coalition of 24 states in objecting to a proposed federal rule that would authorize predatory lenders to charge high interest rates on loans to take advantage of vulnerable North Carolinians in contravention of state interest rate caps.
"I am proud to have been part of North Carolina's victory in driving payday lenders out of our state years ago so they couldn't harm our people," said Attorney General Josh Stein. "This new rule creates a loophole to allow payday and other predatory lenders back into North Carolina so they can trap hardworking North Carolinians in debt. The rule would cause real, long-term financial harm to borrowers and offends our state's sovereignty in protecting our people. I urge the federal government to rescind it."
Under the federal National Bank Act, national banks that are licensed and regulated by the Office of the Comptroller of the Currency (OCC) can charge interest on loans at the maximum rate permitted by their "home" state, even in other states where the home state interest rate would violate state usury laws. The exemption allows national banks to lend money at rates that exceed what would be permissible under state law, and this privilege is granted to national banks because they are subject to extensive federal oversight and supervision.
The OCC's proposed rule would allow for rent-a-bank schemes, arrangements in which these national banks partner with non-bank lenders. Under the arrangements, the banks act as lenders in name only, while the non-bank lenders take advantage of this interest rate exemption on loans and charge exorbitantly high interest rates that would otherwise be illegal. This proposed rule change would leave North Carolinians vulnerable to predatory payday, auto title, and installment lenders.
Congress has previously rejected legislation to expand the National Bank Act preemption to non-banks, and regulators in North Carolina have examined these rent-a-bank schemes and concluded that the national bank is not the "true lender" of the loan. Thus, North Carolina's 30 percent interest rate limit should apply to the non-bank lenders. The new regulations proposed by the OCC would attempt to prevent courts and regulators from engaging in any such inquiry as long as the national bank is either named as the lender on loan documents or the bank initially "funds" the loan. Further, the new proposed rule would allow the bank to instantly sell the loan and never take any meaningful risk on it.
The attorneys general argue that the proposed rule conflicts with the National Bank Act and the Dodd-Frank Act, exceeds the OCC's statutory authority, and violates the Administrative Procedure Act.
Attorneys General Stein, James, and Ellison are joined in sending this comment letter by the Attorneys General of California, Colorado, Connecticut, Hawaii, Illinois, Iowa, Maine, Maryland, Massachusetts, Michigan, Nevada, New Jersey, New Mexico, Oregon, Pennsylvania, Rhode Island, Vermont, Virginia, Washington, Wisconsin, and the District of Columbia, as well as the Hawaii Office of Consumer Protection.
A copy of the letter is available here.
###