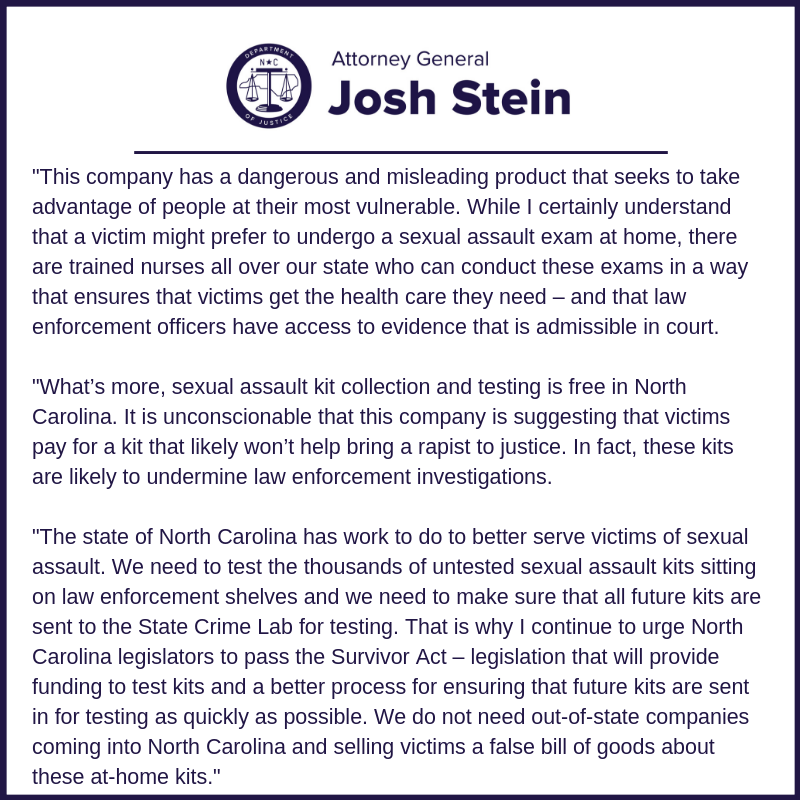 For Immediate Release:
Wednesday, September 4, 2019
(RALEIGH) Attorney General Josh Stein today warned North Carolinians to avoid "Me Too Kits" – a privately sold and tested sexual assault kit for at-home use. Anyone who is the victim of a sexual assault should contact law enforcement or a medical professional. Attorney General Stein is also reviewing this company's products to determine whether or not they violate North Carolina's consumer protection laws.
Attorney General Stein released the following statement:
"This company has a dangerous and misleading product that seeks to take advantage of people at their most vulnerable. While I certainly understand that a victim might prefer to undergo a sexual assault exam at home, there are trained nurses all over our state who can conduct these exams in a way that ensures that victims get the health care they need – and that law enforcement officers have access to evidence that is admissible in court.
"What's more, sexual assault kit collection and testing is free in North Carolina. It is unconscionable that this company is suggesting that victims pay for a kit that likely won't help bring a rapist to justice. In fact, these kits are likely to undermine law enforcement investigations.
"The state of North Carolina has work to do to better serve victims of sexual assault. We need to test the thousands of untested sexual assault kits sitting on law enforcement shelves and we need to make sure that all future kits are sent to the State Crime Lab for testing. That is why I continue to urge North Carolina legislators to pass the Survivor Act – legislation that will provide funding to test kits and a better process for ensuring that future kits are sent in for testing as quickly as possible. We do not need out-of-state companies coming into North Carolina and selling victims a false bill of goods about these at-home kits."
Me Too Kits Company, a New York-based company, is marketing sexual assault evidence kits as the "first ever sexual assault evidence kit for at-home use." Using such a kit at home would exclude the role of SANE (sexual assault nurse examiners) nurses, who identify and treat injuries, provide medications for the prevention of pregnancy and treatment of sexually transmitted infections, and connect victims with emotional support resources. SANE nurses also take photographs, document injuries, and conduct a thorough anatomical investigation consistent with medical forensic practices.
Contact:
Laura Brewer (919) 716-6484
###