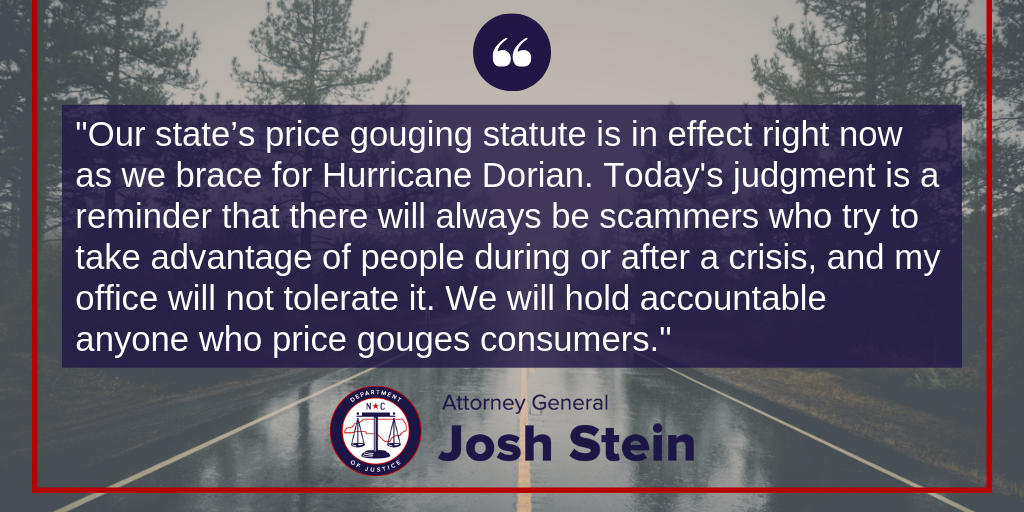 For Immediate Release:
Tuesday, September 3, 2019
(RALEIGH) Attorney General Josh Stein today was granted a default judgment in a price gouging lawsuit against Nicholas Downey, a Kentucky resident, and his company Action Tree Pros Inc. As a result of the judgment entered by Chief Resident Superior Court Judge Paul Ridgeway, Downey is barred from collecting any amounts for tree removal work done in North Carolina following Hurricane Florence and is banned from conducting any future tree work in North Carolina. The judgment also requires him to pay $2,500 in restitution and $11,000 in civil penalties.
"Our state's price gouging statute is in effect right now as we brace for Hurricane Dorian," said Attorney General Josh Stein. "Today's judgment is a reminder that there will always be scammers who try to take advantage of people during or after a crisis, and my office will not tolerate it. We will hold accountable anyone who price gouges consumers."
Attorney General Stein took the defendants to court in October 2018. After Hurricane Florence, Downey allegedly estimated $5,000 to do tree removal work on a Wilmington-area property, but submitted a bill for $10,565 when the work was completed. After the property manager ordered Downey not to work on any other properties she managed, the complaint alleged Downey ignored this and contracted with co-defendants to take down other trees at excessive prices. In all, the defendants charged homeowners a total of $93,365.02 for several tree removal jobs, including one tree for $29,500.
North Carolina's price gouging law is once again in effect after Gov. Roy Cooper declared a state of emergency on Friday, Aug. 31. People can report potential price gouging by calling 1-877-5-NO-SCAM or by filing a complaint at https://ncdoj.gov/file-a-complaint/price-gouging/.
After Hurricanes Michael and Florence devastated North Carolina in 2018, Attorney General Stein brought seven lawsuits against 22 defendants under North Carolina's price gouging statute. He has obtained seven judgments against 15 defendants, including a $274,000 settlement that was one of the largest price gouging settlements in the department's history. The Attorney General's Office has won more than $550,000 in these judgments, including:
$242,500 in consumer restitution
$239,500 in money companies are barred from collecting from homeowners
$91,000 in penalties and fees
A copy of the judgment is available here.
Contact:
Laura Brewer (919) 716-6484
###