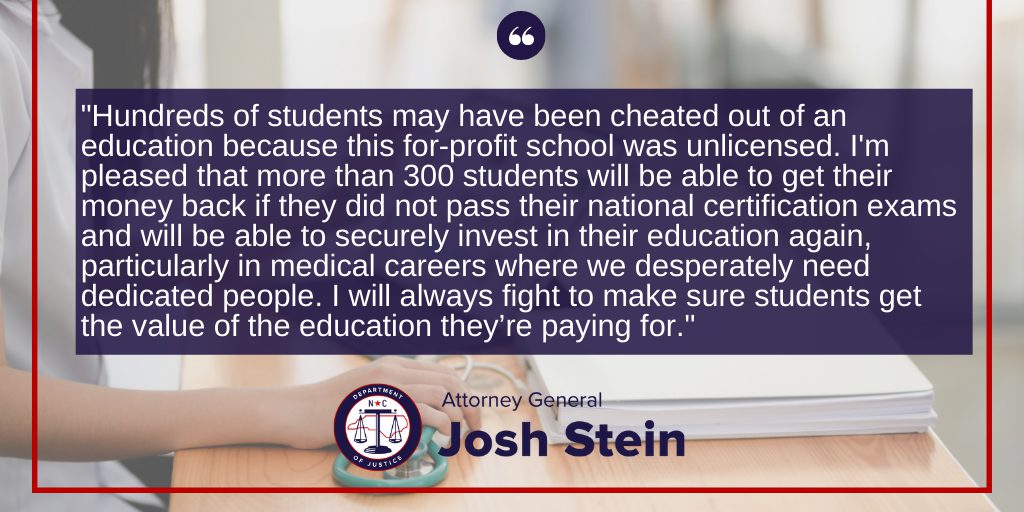 For Immediate Release:
Monday, September 20, 2021
Contact:
Nazneen Ahmed (919) 716-0060
(RALEIGH) Attorney General Josh Stein reached a consent judgment with Stepping Stone Phlebotomy LLC (also known as Stepping Stone Medical), a medical training program in Statesville he sued in June 2020 for operating without license. Stepping Stone later applied for and received a license in November 2020, but as a result of this judgment, the school will not advertise or enter into contracts for education or instructive services, ask or accept payment from customers for these services, or collect any further payments from customers if unlicensed. The order requires the school to provide a full refund upon request to students who did not pass the national certification exam.
"Hundreds of students may have been cheated out of an education because this for-profit school was unlicensed," said Attorney General Josh Stein. "I'm pleased that more than 300 students will be able to get their money back if they did not pass their national certification exams and will be able to securely invest in their education again, particularly in medical careers where we desperately need dedicated people. I will always fight to make sure students get the value of the education they're paying for."
Stepping Stone offered vocational training courses to people interested in becoming phlebotomy technicians, EKG technicians, medical assistants, and medical billers and coders, but it did so without a proprietary license to operate in North Carolina. Attorney General Stein alleged that the company was violating North Carolina's Unfair and Deceptive Trade Practices Act by unlawfully operating a school without a license, failing to disclose in advertising that it was unlicensed, and making false statements about the employment prospects and qualifications students would get if they enrolled in Stepping Stone's programs.
A copy of the judgment is available here.
###