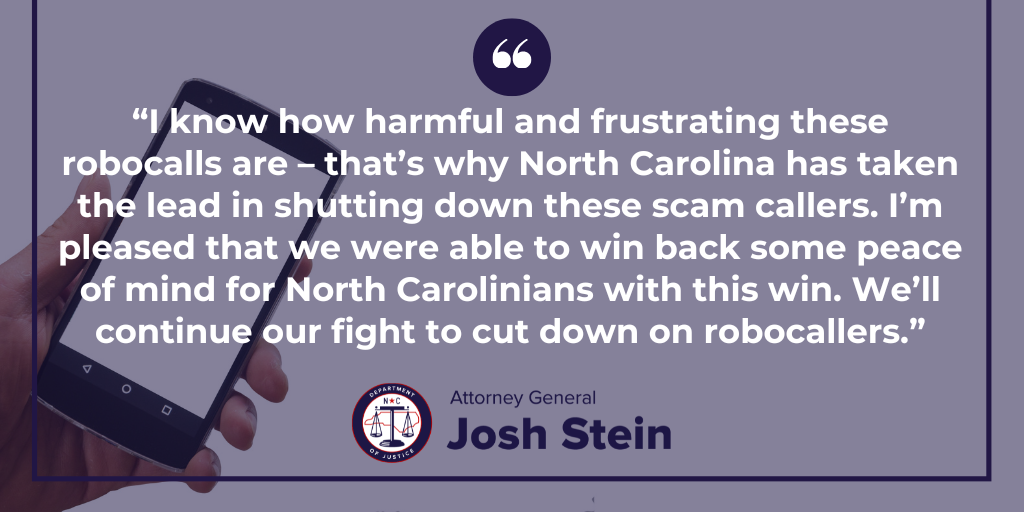 For Immediate Release:
Wednesday, August 16, 2023
Contact: Nazneen Ahmed
919-716-0060
(RALEIGH) Attorney General Josh Stein today won judgments shutting down robocallers who made illegal health care-related robocalls. Because of this win, Scott Shapiro, Michael Theron Smith, Jr., and Health Advisors of America can no longer make robocalls or work for or with companies that make robocalls in North Carolina.
"I know how harmful and frustrating these robocalls are – that's why North Carolina has taken the lead in shutting down these scam callers," said Attorney General Josh Stein. "I'm pleased that we were able to win back some peace of mind for North Carolinians with this win. We'll continue our fight to cut down on robocallers."
Attorney General Stein sued the robocallers as part of a bigger case that begin in 2020 against John Caldwell Spiller II and his business partner Jakob Mears, the owners of Texas-based Rising Eagle Capital Group LLC and JSquared Telecom LLC, as well as Rising Eagle Capital Group–Cayman. The lawsuit against all of the defendants alleged violations of the federal Telephone Consumer Protection Act, the federal Telemarketing Sales Rule, and various state consumer protection laws.
The complaint alleged that Shapiro and Smith worked with Mears and Spiller to make illegal robocalls targeting people who never asked to be contacted by Health Advisors. In addition to the permanent robocall bans, the defendants are also banned for 10 years from engaging in telemarketing, lead generation, providing or selling telephone numbers, or calling numbers on the federal or North Carolina Do Not Call lists. Shapiro is further banned for two years from engaging in these activities nationwide. The court ordered monetary judgements totaling $146,153,860 for Shapiro, Smith, and Health Advisors combined, though payments will be largely suspended in favor of the operational bans as long as the defendants continue to abide by the terms of the judgment.
The defendants are also required to present a copy of the judgment to all businesses and new customers with which they conduct business for the next 10 years. These judgments resolve all ongoing litigation in this case.
Attorney General Stein is joined in these judgments by the Attorneys General of Arkansas, Indiana, Michigan, North Dakota, Ohio, and Texas.
Copies of the judgments are available here.
###