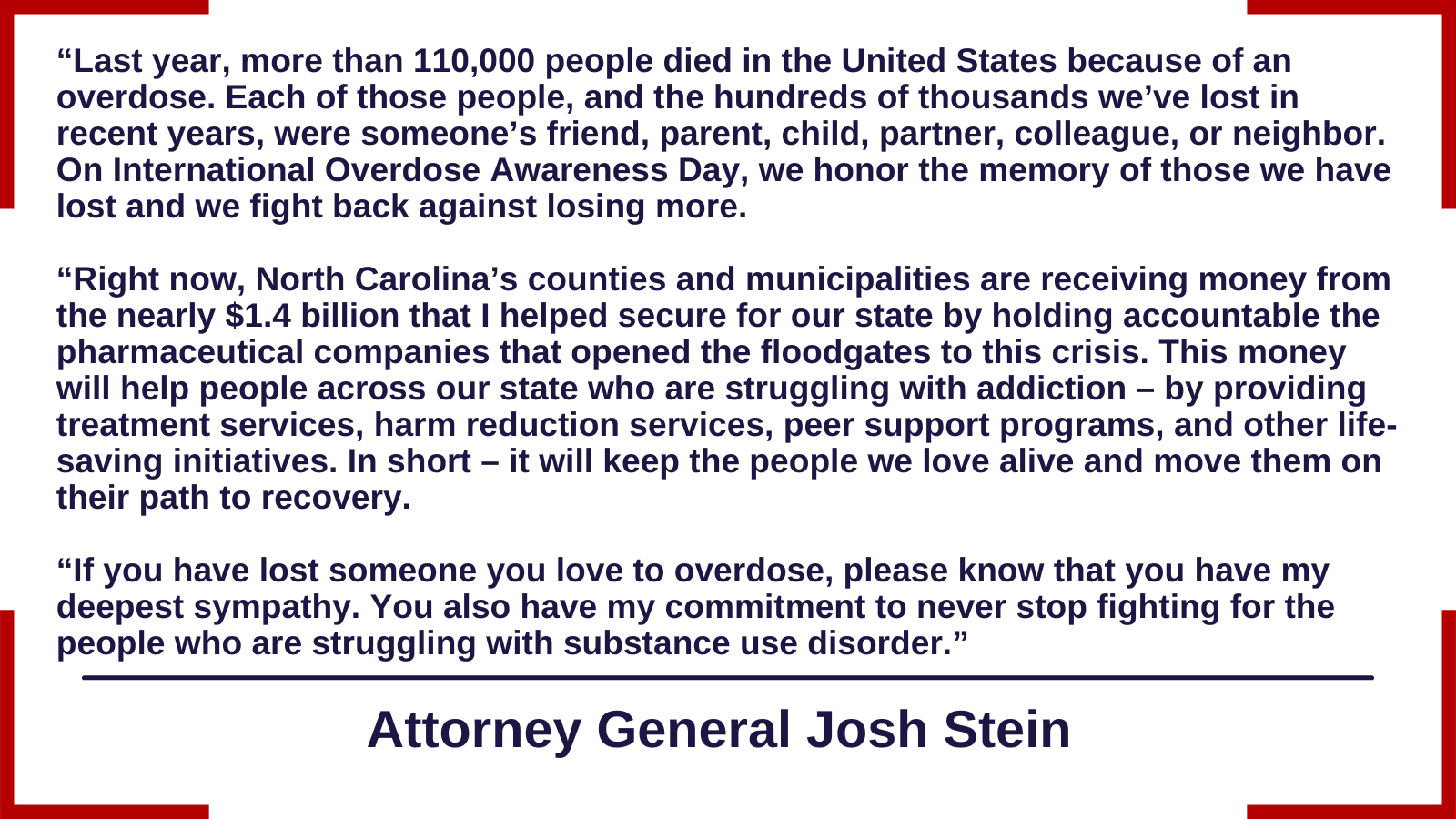 For Immediate Release:
Thursday, August 31, 2023
Contact: Nazneen Ahmed
919-716-0060
(RALEIGH) Attorney General Josh Stein released the following statement on International Overdose Awareness Day (August 31).
"Last year, more than 110,000 people died in the United States because of an overdose. Each of those people, and the hundreds of thousands we've lost in recent years, were someone's friend, parent, child, partner, colleague, or neighbor. On International Overdose Awareness Day, we honor the memory of those we have lost and we fight back against losing more.
"Right now, North Carolina's counties and municipalities are receiving money from the nearly $1.4 billion that I helped secure for our state by holding accountable the pharmaceutical companies that opened the floodgates to this crisis. This money will help people across our state who are struggling with addiction – by providing treatment services, harm reduction services, peer support programs, and other life-saving initiatives. In short – it will keep the people we love alive and move them on their path to recovery.
"If you have lost someone you love to overdose, please know that you have my deepest sympathy. You also have my commitment to never stop fighting for the people who are struggling with substance use disorder."
Recently, Attorney General Stein announced that North Carolinians can view how their local governments plan to spend the approximately $1.4 billion coming to counties and municipalities to combat the opioid overdose crisis. The information is available on the Community Opioid Resources Engine for North Carolina (CORE-NC), which was created in partnership with the UNC Injury Prevention Research Center, North Carolina Association of County Commissioners, and the North Carolina Department of Health and Human Services. Transparency and accountability are a hallmark of North Carolina's approach to opioid settlement spending. CORE-NC includes resources, payment schedules, and extensive county-specific data to help guide local spending and guidance on strategies that work. In addition, CORE-NC will serve as an information clearinghouse for reports on the use and impact of opioid settlement funds for the duration of the 18-year settlement.
North Carolina recently received an award for excellence from a public health coalition led by the Johns Hopkins Bloomberg School of Public Health for devoting almost all of these settlement funds to addressing the opioid epidemic and for creating CORE-NC to share information and promote evidence-based solutions.
###